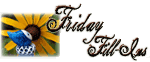 Time is flying. It is almost time to hustle out to the Black Friday fun...did I say fun? Anyway time for the Friday Fill In! I missed last week because I was at Women of Faith, but I am ready to goooooo!!!! How about you? Join in the fun by clicking the link...if you DARE!!!!!
1. My stomach has come up with a new definition of full...and it is not pretty.
2. Homemade stuffing is what I ate the most of on Thursday.
3. The yard is so full of weeds, we get daily (well weekly) business cards from the local landscapers, bless their hearts.
4. On vacation ANYWHERE with my husband is where I'd rather be at any given time.
5. The smell of cotton candy reminds me of being a child.
6. A full on foot massage is what I need right now!
7. And as for the weekend, tonight I'm looking forward to snuggling up with my husband and a mocha with a dollop of whipped cream, tomorrow my plans include finishing up a good book and Sunday, I want to take a long, soothing bubble bath!