Back to my alphabet list of films. Again these impacted me, but not necessarily positively or negatively. In fact, sometimes it may be the only film I can come up with that I saw that began with that letter. We'll see when I get to X and Y.
I is for: I Am Sam
When I lived in Rhode Island one of my jobs was at an ARC. What is an ARC? It once stood for Association for Retarded Citizens. It has expanded to much more now. It assists and advocates for those with developmental disabilities. Here is their mission statement:
Mission Statement

The Arc of the United States advocates for the rights and full participation of all children and adults with intellectual and developmental disabilities. Together with our network of members and affiliated chapters, we improve systems of supports and services; connect families; inspire communities and influence public policy.
All people count. All people should be treated with dignity and respect with no regard given to their physical and mental abilities or challenges. Working for the individuals represented by the Arc really was probably the best job of my life. I worked for three women in a group home and make no mistake...I worked for THEM. I worked to support their lives. There was a time not so long ago, that people with intellectual and developmental disabilities were not able to go to school, work, and unfortunately some didn't even get to live with their families but rather were institutionalized. One of the women I worked for had spent her first 30 years in an institution. That changed in the 1950s...here is a little history:
HISTORY

The Arc was founded in 1950 by a small group of parents and other concerned individuals. At that time, little was known about the condition of mental retardation or its causes, and there were virtually no programs and activities in communities to assist in the development and care of children and adults with mental retardation and to help support families.

In the early days the association worked to change the public's perception of children with mental retardation and to educate parents and others regarding the potential of people with mental retardation. The Arc also worked to procure services for children and adults who were denied day care, preschool, education and work programs.

I am going to got back to I Am Sam, but I just had to share why this had extra impact on me. If you would like more information on The Arc of the United States, please click on the link:
The Arc
Okay back to I Am Sam.
Sam is a mentally challenged young man who becomes a father. He has the sweet disposition of a child, and he wants nothing more to than to take care of his little girl Lucy. Sam is very self-sufficient having his own apartment, a job, and he has a great circle of friends. Caring for a baby is difficult for anyone, and Sam makes it through with the help of his neighbor and again his close friends. As Lucy gets older, there are new challenges. By the time Lucy is seven, there are questions of whether Sam should be raising her.
It is a very emotionally challenging movie. It brought me up high and low. You want this sweet man to keep his little girl that he loves so. If by chance, you haven't seen it...please do. There is a lot of warmth in this film. There are also a lot of questions not on just how Sam feels but about the young Lucy, and what may be coming into her mind.
J is for: Jaws
I don't know anyone who saw Jaws in the theaters in 1975 who wasn't completely freaked out! Jaws changed the way swimmers saw the beach for years. I saw Jaws when I was seven years old. Yep, seven. It was the first movie I saw at the walk in theater on my own. Well not totally alone. I saw it with Jennifer Woodward who was my brother's best friend Charles' little sister. She was eight. Can you imagine being able to drop your kid off at a movie at that age? That was a totally different time. :) Anyway this movie is also significant to me because it made me want to read the book, and since my grandma had it, I did. There were certainly some things that I couldn't totally grasp being a child, but I enjoyed it a great deal. That was a turning point in reading for me. I discovered that I liked some more adult fiction.
Some Jaws quotes:
Hooper
: I'm not going to waste my time arguing with a man who's lining up to be a hot lunch.
Brody:
That's some bad hat, Harry.
***Side note Bad Hat Harry Productions took their name from this scene and it is represented in their title card. Check it out if you watch House, M.D. :)
K is for: King Kong
I saw this movie with my friend Jennifer when it came out in 1976. I realize there was a movie before this (and they used part of the set from that one for the burning of Atlanta in Gone With The Wind), but I never saw that one. I'll be honest, I do not remember much about this, but I do remember King Kong falling off the Empire State Building. I sobbed. I thought of how horrible it was that he was taken from his home to a place ill equipped for him. The people were afraid of him and surely he was afraid as well. It broke my little girl's heart.
L is for: Lord of the Rings
This movie was huge to me for many reasons.
One...I loved The Hobbit as a teen and the entire Lord of the Rings Trilogy.
Two...Ummm well...who didn't think Aragorn was pretty darn hot?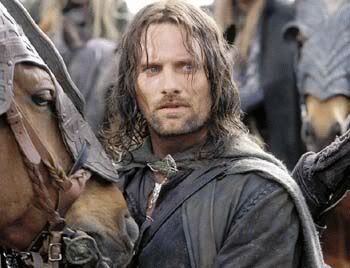 Come on now... :)
Three...This is just an amazing movie. The story rocks, the setting is stunning, the actors were incredible, and the special effects wowed. I do have to say that I was a little put off by Liv Tyler's voice in the first one. I don't know what they did to her, but it was weird.
All in all though...this movie impacted me hugely. It reintroduced me to fantasy. Love it!!!!!!
Some quotes:
Gimli:
Nobody tosses a dwarf.
Frodo:
Go back, Sam. I'm going to Mordor alone.
Sam:
Of course you are. And I'm coming with you.
Pippin:
What's that?
Merry:
This, my friend, is a pint.
Pippin:
It comes in pints?
[In low voice]

Pippin:
I'm getting one.
Aragorn:
Gentlemen, we do not stop till nightfall.
Pippin:
What about breakfast?
Aragorn:
You've already had it.
Pippin:
We've had one, yes. What about second breakfast?
[Aragorn turns and walks off in disgust]

Merry:
I don't think he knows about second breakfast, Pip.
Pippin:
What about elevenses? Luncheon? Afternoon tea? Dinner? Supper? He knows about them, doesn't he?
Merry:
I wouldn't count on it.
I think I may watch this one this weekend. :)