Yay!!!! time for Friday Fill Ins!!!!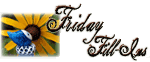 1. Please feel free to
tell me anything you want...I give great advice, and I listen well too
.
2. When
I have milk in my fridge
I can't help sniffing it occasionally.
3. My favorite thing to cook is
pork roast with mashed potatoes and gravy
.
4.
A good book
is something I can't get enough of.
5. That's the thing I love most about
thrillers...I can always find something to keep me on the edge of my seat.

6.
See's Dark Chocolate Bordeaux candy
always makes me think to myself, what the heck? 7. And as for the weekend, tonight I'm looking forward to
snuggling with the hubbly
, tomorrow my plans include
a craft bazaar
and Sunday, I want to
watch football
!