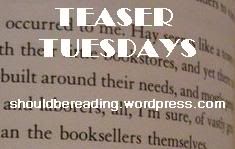 Teaser Tuesdays asks you to:
Grab your current read.
Let the book fall open to a random page.
Share with us
two (2) "teaser" sentences
from that page, somewhere between lines 7 and 12.
You also need to share the title of the book that you're getting your "teaser" from … that way people can have some great book recommendations if they like the teaser you've given!
Please avoid spoilers!
So here is my Teaser again for Flirting With Forty. Don't forget to check back for my review, a giveaway, and some links to other revies and giveaways.
My two teaser sentences:
But as Kai finishes his lunch, I feel a flutter of fear. I can't let myself be this happy here.
Flirting with Forty by Jane Porter page 181