Kim of
My Book Reviews and More
tagged me and I LOVE a game of tag so look down below and check out a little Christmas fun.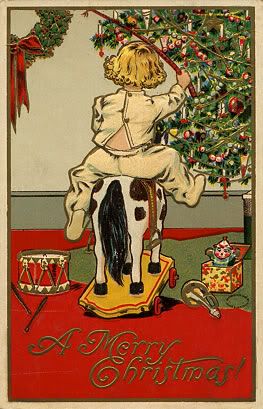 Some Christmas Fun

Answer these questions and then tag a person or two. Post these questions on your blog and link back to me.

This is a short quiz since we are all so busy this time of year.

1. What is your very first Christmas memory?

My first Christmas memory was when I was about four years old. My mom took me into her room to wrap my brother's presents. She then took him into his room to wrap mine. I don't exactly know why she did it, because I could tell from what he got that I probably got a girl's version. I was right. He got a boy's Hot Wheels drawing board and I got a Barbie version. Maybe it was so we wouldn't peak into each other's gifts. :)


2. Do you have a favorite Christmas gift?

When I was a single mom and quite poor, I really wanted a sewing machine, but I just could not afford it. My son's school had a mini store where all the children could buy inexpensive gifts for their parents. That Christmas my son bought me a sewing kit so I could sew. :) It was one of those little repair kits. I'll always love it the most.


3. Have you ever celebrated Christmas outside of your country?

No, and I probably wont. I like being with my family.


4. What is your favorite Chrismtas decoration?
My favorite Christmas decoration is a little porcelaine angel that my grandmother bought me for Christmas when I was five years old and I had decided to collect ornaments. I have a lot of ornaments, but that angel will always be special.


5. What is your favorite Christmas tradition?

Reading the Nativity with my son followed by making Christmas cookies and reindeer goodies with my son and then writing a letter to Santa to leave with the cookies.


6. Have you ever had a white Christmas?

I grew up partially in California and thought frost was snow. :) Later I moved to Rhode Island and discovered what real snow was until I moved to Maine and KNEW what real snow was. Now I am in Arizona, but we get snow in Prescott. I may not get a white Christmas now, but it is not certain at this elevation.

7. Have you ever gone Christmas caroling?

When I was a Brownie, we used to go to convalescent homes to sing Christmas caroles. I loved it.
*** I had to stop breifly because I got interested in seeing if there were any good Will Ferrell clips on youtube. I just go off like that sometimes.
8. What is your favorite Christmas movie or story?
I am torn between It's A Wonderful Life and A Christmas Story. It kind of depends on my mood.
9. Do you have a Christmas link you would like to share?
I don't have one in particular that I am crazy about. I often just look up crafts and see what appeals to me. I love making Christmas crafts. I do get Family Fun Magazine, Better Homes and Gardens, Family Circle, and Woman's Day...those tend to satisfy me during the holidays. :)

Now who do I tag?
Lindsey at A Kindred Spirits Thoughts
Wendi at Wendi's Book Corner
Luanne at A Bookworm's World