Still moving our way closer to a review of a fun book, some fun party plans and a great Lifetime movie... Flirting With Forty. I cannot wait to review the book, but I do want to keep the countdown going. Remember the Lifetime movie is coming out on December 6, if you are like me, you may want to read the book first. So here is a little glimpse at what you are looking for when you hit the book stores!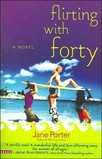 Pretty cute cover isn't it? Oh to be the queen on the board. :) As I mentioned before there are a lot of bloggers that will be reviewing Flirting With Forty by Jane Porter and some giveaways will be around too! You may want to stick around and read to the bottom, because there is a giveaway link to A Novel Menagerie's page...and I know you are going to just love her giveaway!
Now some party planning tips for your Flirting with Forty viewing party. :) Don't we all deserve a little pamper party now and then with the girls?
Party Planning Part 2:
Spa Mask for oily skin

: This one is awesome for the oily areas too. Please be sure to test an area before applying.
1 egg white beaten1/2 teaspoon of lemon juiceMix everything together and apply evenly to your face. When dry, take a warm washcloth and gently remove. This has been known to do quite a job on blackheads too.

Another Little Tip From Those of Us Who Have Seen 40:

Never underestimate the sex appeal of soft skin. Again ladies, take an extra couple of minutes before getting out of the shower and moisturize! You do not have to spend a lot of money. I just adore simple baby oil. Before I jump out of the shower I pour baby oil on and rub it in. Baby oil is very inexpensive (you can go store brand). Of course you can also go for some high end sesame oil, those are great too, but I save the sesame oil and scented oils for some fun massages with the hubby when the fancy aromas are more appreciative. A light baby oil rub is great because it is so light it will not interfere with your fragrances.
Party Favor Options 2: Sugar Scrub Jars:
You can make these for your guests in advance if you wish, and put them in pretty containers from a dollar store little baggies tied with bows. Really it is entirely up to you. They are a great treat for the bath.
Brown Sugar Scrub: Mix all the ingrediants together and add again to a bag or babyfood jar.
2 cup of brown sugar
1 cup of almond oil
1 cup of liquid Ivory hand soap
Olive Oil and Sugar Scrub:
4 cups of sugar
1 cup of olive oil
4 tablespoons of vanilla or you can go with an essential oil like lavendar, almond oil...really the sky is the limit.
Are you in a contest mood now? I hope so, because Sherri has a wonderful contest at her website
A Novel Menagerie
.
Her contest is entitled Love in the Tropics. Doesn't this just get you in the mood for a fun Flirting With Forty viewing party? Sherri has come up with some great questions to give you options on your entry, and her prizes are FANTASTIC...What are they? I really think you should cyber run down there and check it out for yourself, but here is a little hint to wet your whistle...one gift is of course Jane Porter's novel
Flirting With Forty
.