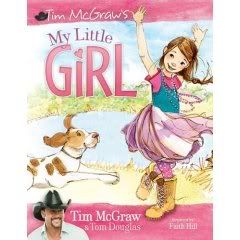 I enjoyed this encouraging book by Tim McGraw from the opening memory by his wife Faith Hill to the beautiful cover.
Katie is extremely excited about spending a special day with her daddy. What little girl wouldn't be? We get to join a father and daughter as they enjoy an adventure together of the sights of the beautiful clouds in the sky, light-hearted play time, lunch together, and bedtime prayer.
The artwork by Julia Denos is just superb. Truly Katie's day with daddy is brought to life. The sweet expressions of Katie are perfectly captured as well as Katie's adorable taste in clothing.
My Little Girl shows us that attention and time with those we love makes any day and an any-day activity special. The important thing is to show our love to our loved ones. Our children should know how special they are and that a day with them is special whether you are going to a ball or on a safari. I believe this book gives a wonderful opportunity to encourage a fun relationship with fathers and daughters and a reminder that it is the time you spend that is magical. It is also so nice to have a book that a daddy can read to his little girl. I am sure it is bound to spark a request for a daddy day for the reader and his daughter.