Oh Christmas parties! So many to go to so little time.


This year our work Christmas party has been a bear to plan. We set up at least 5 dates only to find out around each bend that they just would not possibly work. OOOOH the bah humbug moments! Why do we over extend ourselves so much around the holiday?

We discussed our options: 1. Not have a Christmas party -- Yeah, right. 2. Have it without at least three to eight people -- Not gonna happen, we are a small station as it is. 3. Since we all had to be at work during the day have a luncheon instead --EUREKA!!!! We all love an excuse to eat during the work day!

So we have found a solution that is actually happening everywhere. When you think about it, it really is a great idea. We do not have to worry about dressing up and spending money on another outfit. We do not have to rush home after work to get ready for a party. We do not have to worry about our children getting cranky. No one has to dress up as Santa this year! Though we have tossed around the idea of a Santa in a Snuggi (have you seen these yet?). Let me take a moment to introduce you to the Snuggi if you haven't caught it yet.



CAAAAREEEEPY!!!!! It is like they had too many left over Star Wars costumes or something.

Ummm...where was I?

So our next step was the white elephant gifts. Each year we buy about 10 dollars worth of ummm how do I say crap without saying crap? I don't think I can. Well...we all wrap our fine items and then do the whole trade back and forth. Some items are kind of cool. Some...not so much. I almost came home with rusty spurs and a black and white framed photo of Richard Nixon. I kid you not! Instead I came home with a belly dancing kit in a very tiny box (my husband grinned quite a bit at this one) and an oversized calculator.
This year we have decided we are going to chip in the ten dollars each and buy a goat or two goats. We are still trying to decide. We are joining in many other men and women and buying something meaningful for a family through
World Vision
. Think about it...a goat supplies milk that a family can make cheese and yogurt with. Goats are a hearty animal and can really make a difference in a family in a third world country. It has never been easier to bless a family. There are more than goats. You can donate the money to provide chickens, dairy cows, oxen, mules, sheep, and so many other animals. You can also donate to give a woman a sewing machine to earn a living, you buy a share in the building of a deep well and provide fresh drinking water! How cool is that?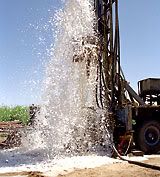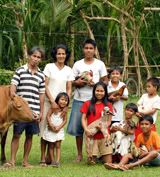 This is definitely going to be a cool white elephant gift. It will be the tan goats. :)

Would you like to join in? Talk with your friends, family, church and coworkers. Check out the
World Vision
site and see what you might be inspired to do. You can order a catalog too. This is a wonderful opportunity to truly bless someone this year.