We had a massive amount of Christmas CD giveaways this morning. I spent hours...seriously...HOURS sending them out and writing letters. I got this done literally ten minutes AFTER I was supposed to be on my way home. And now it is even later before I hook it up here. With Free Shipping Day...it has to be up now! I hope everyone is enjoying their week!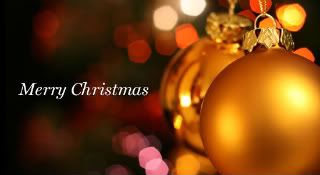 This is my last post before Christmas! Can you believe that Christmas is soooo close?! I am excited! I hope you are too.
Don't forget that today is Free Shipping Day! Not all stores are participating, but quite a few are getting into the free shipping spirit today! For more details and stores, go to www.freeshippingday.com. You can enter the name of the store you are looking for or even look according to category.
LINKY:
Free Shipping Day
COUPONS
I am starting to focus on saving money via groceries again, and I have been looking for any place I can get coupons. I found some awesome printables at Campbell's website Campbell's Kitchen . Head on over to Campbell's Kitchen to see what is cooking. Oh man!!!! Can you believe I just typed that?
Here are just a few of the printables:
Campbell's
® Cooking soups
--Save $1.00 on any four (4)
Campbell's
Condensed "Great for Cooking" soups.
Pepperidge Farm®
Cookies--
Save $1.00
on any one (1)
Pepperidge Farm
Cookie Collection, Holiday Cookie Bites or
Pirouette
® Rolled Wafers.
Campbell's® Chunky™
soups--
Save $1.50
on any three (3) can or microwavable bowl varieties of
Campbell's Chunky
soup.

Campbell's® Select Harvest®
soups--
Save $1.50
on any three (3) can or microwavable bowl varieties of
Campbell's Select Harvest
soup.

V8 V-Fusion®
Juice--
Save $1.00
on any one (1) 46 oz. variety of
V8 V-Fusion
Juice.

Pepperidge Farm®
Frozen Bread--
Save $1.00
on any two (2) packages of
Pepperidge Farm
Frozen Bread.

V8®
100% Vegetable Juice &
V8 Splash®--
Save $1.00
on any two (2) 64 oz.
V8
100% Vegetable Juice or
V8 Splash
beverages.

Pepperidge Farm
® Puff Pastry Turnovers--
Save $1.00
on any two (2) packages of
Pepperidge Farm
Puff Pastry Turnovers.

Campbell's® Select Harvest®
soups--
Save $1.50
on any three (3) can or microwavable bowl varieties of
Campbell's Select Harvest
soup.
LINKY:
Campbell's Kitchen Coupons
Fry's main page also has a wonderful link for printable coupons as well as links to my favorite sites (Shortcuts, Cellfire, p&g eSaver) where you can download the savings right to your card! I love the chance to get the most bang for my buck.
LINKY:
Digital Coupons
With the end of 2009, I have been thinking about ways I can up my savings quotient. I read in a magazine recently that more families waste money by grabbing items for dinner on the way home after work. This makes sense to me. You are most likely tired, in a hurry, hungry and probably not feeling at your creative best when it comes to whipping up that meal. I have to say, I have experienced that. I don't rush off on the way home and purchase a prime rib, but I definitely am not as price savvy as I am when I hit the grocery store for my weekly shopping romp. I am also usually toting my son along with me at this time, and really, he is hard to shop with. The kid knows how to get me to buy things I normally wouldn't like donuts and chocolate milk!
I have seen many blogs involved with Menu Planning Monday, and I thought this would be a great idea to embark on! I really have struggled with the whole motivation to sit down and do this and the worry of where the ideas will come from, but there really is no need to worry.
Organizing Junky
hosts Menu Plan Monday every week for bloggers to link up with their ideas. This is a great place to get a little inspiration. I am going to do some serious research in the next couple of weeks, and then I am going to dive in! I am pretty excited. It will be nice to see how much we can save. Check out Menu Planning Monday for yourself at Organizing Junky.
LINKY:
Menu Planning Monday
DEALS:
Arizona Snow Bowl opened today. If you like skiing and you have a birthday during ski season, you should definitely head on over for free skiiing on your birthday. You have to have the proper ID with you. Follow the link for more info.
LINKY:
Snow Bowl Free For Birthdays!
FREE MUSIC MUSIC MUSIC:
Free track "It Came Upon A Midnight Clear" from MercyMe Christmas Album "The Christmas Sessions" at Free CCM. AND!!!!! They are also giveing away an entire album for free on their website IF you sign up for their newsletter.
LINKY:
FREE CCM LINK "It Came Upon A Midnight Clear"
LINKY:
MercyMe 10 Live
FREE MAGAZINE:
Do you have a golf lover in your family? I don't, but if I did, I would sign them up for this freebie from Rewards Gold. I get several magazines totally free from Rewards Gold because of doing littler surveys. This freebies is for Golf Digest Magazine. If you have a golfer friend, this would be an awesome hook up for them!
LINKY:
Golf Digest
JAR GIFTS
This is my last posting for gifts in a jar. I love biscotti so I was pretty excited about this recipe. It looks very easy.
Biscotti Cookie Mix in a Jar
From:
AllHomemadeCookies.com
This would be a great gift for Christmas or even a nice thank you gift with a bag of yummy coffee!
In a large bowl, combine the following ingredients:
2 3/4 c. all-purpose flour
2 c. chopped almonds
1/2 tsp. baking powder
1/2 tsp. baking soda
1 1/2 c. sugar
1/4 tsp. dried lemon peel
1/4 tsp. dried orange peel
Place the mixture in a pretty jar or airtight container and include the following gift tag:
Biscotti
1 package Biscotti Mix
3 large eggs
1/2 c. butter, melted
1/2 tsp. anise extract
1 large egg, separated
Preheat oven to 375 degrees. Combine Biscotti mix with the eggs, butter, anise, and extra egg yolk from separated egg. Mix on low speed until the dough is smooth.
Roll dough out into two 12-inch logs, about 3 inches wide. Place logs onto a cookie sheet and brush with remaining egg white. Bake for 30 minutes or until golden brown. Remove from oven and reduce oven temperature to 325 degrees.
Cut the logs diagonally, into 1/2-inch slices. Bake the slices on their sides for another 12-14 minutes. Cool on wire racks and store in an airtight container
Blarney Stone Jar Cookie -
From
Joyce's Fine Cooking
Blarney Stones Cookie Mix In A Jar
1 3/4 cups flour; * mixed together
1 teaspoon baking soda; * mixed together
1 teaspoon allspice; * mixed together
1 cup sugar
3/4 cup golden raisins
1 1/2 cups peanuts; salted
Use a one quart wide-mouth canning jar.
Stir together the flour, baking soda and allspice. Set aside.
Layer the sugar, the raisins, the nuts and then the flour mixture,
packing each layer well.
Seal, decorate the jar and attach the recipe tag to the jar.
Blarney Stones Cookies
You will need:
3/4 cup butter, softened
2 eggs, slightly beaten
1 1/2 tsps vanilla
large mixing bowl
Yeild: 3 1/2 dozen cookies
Pour the contents of the jar into a large mixing bowl and mix the contents
thoroughly. Hands works best. Mix in the butter, eggs and vanilla until
thoroughly blended. Make teaspoon size balls and drop on to a greased
cookie sheet. Bake in oven at 375 degrees F. for 8 - 12 minutes until the
edges are lightly browned. Cool.
Lastly, there is an awesome book full of recipes and crafts for this holiday that you can download from Recipe Lion. I received several emails about this fabulous book. I just browsed it, and there are lots of great ideas!
LINKY:
Mason Jar Recipes from Recipe Lion
I will be back to post the sales, but I have to head out now.
Merry Christmas!!!!!!!