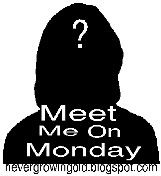 This is my first time joining in on Meet Me On Monday. Looks like a lot of fun. :) It also seems like a great way to get to know other bloggers. Ready to get to know a little bit more about me?
1. How many TV's do you have in your home?

We have two TVs in our home. One is in my son's play room and one is in the living room. We won our living room set. It is one of those big flat screen LCD thingamabops that we won at my husband's company Christmas party a few years ago. It was a nice win for us, because just a month before our home was broken into. It was a bright spot after that violation.



2. What is on your bedside table (nightstand)?

I have a very cluttered nightstand. There is a lamp with a pull chain that drives my hubby nuts because when you release it, the string bangs against the lamp's body and goes "tinka tinka tinka tink." My nightstand also has a container of ear plugs as my hubby snores. You will also find a bottle of water, lavender essential oil, and a bottle of jojoba oil that I added several essential oils to that works as a natural relaxer and sleep-in-conditioner. Lastly there is a little light my son gave me and a music box with a Norman Rockwell sculpture of the little girl looking in the mirror. Told you it was cluttered. OH! I forgot, there is also a playdough girl my son made me one year for Christmas and a Christmas tree.



3. How many pair of shoes do you own?

This is kind of tough. If you include sandals, I have about 30 pairs of shoes. Take those out of the equation and I have seven.



4. Can you change a flat tire?

No. I am sure I could figure it out if I had to, but I haven't done the job yet. Here's hoping that I never have to. I have been one of those women who so far has always had road trouble in convenient places. Well, except for this one time on 95 North in downtown Providence at around 3:00 am. I was fortunate to be within walking distance of a Holiday Inn, and made it home with little trouble.



5. Do you prefer sweet treats or salty treats?
If I have recently had something sweet, I will most likely want something salty and vice versa. Really I love all treats. :)