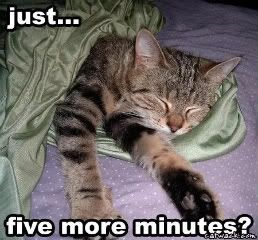 THAT WAS TOTALLY ME THIS MORNING!!!!
I love The Biggest Loser, and I absolutely look forward to each season. I seriously just fall in love with these people and absolutely cheer for their accomplishments. Most of the time I love them all. Occasionally, and really very rarely there is a contestant or two that I am not terribly fond of. I am not going to name any names. I imagine they know who they are. I really don't believe I am the only one that has felt a bit negative about a few. But that is life though isn't it? I think the hardest part of the show is seeing people eliminated. I wish they didn't let people go so early on. It would be nice to see someone get the guidance to make some real long term changes for a few weeks before the AXE falls on them.
The Biggest Loser also gives me the reminder of making my own changes. I tell you, there is nothing worse than seeing a contestant who started the show at over 200 pounds start coming down to your weight and then moving on down. OY!!!! That WILL NOT happen this year. I have made some weight changes already. Thanks to my hypothyroidism being diagnosed and my medication is beginning to work. I am finally on the move to losing some of the weight that I gained thanks to my thyroid. It is nice to watch what you eat and actually see results again (especially for me a formerly body conscious freak). I have lost 13 pounds so far. I figure I am going to work it hard core so that no one goes flying past me in the weight loss competition.
More working out is my newest step. Everyone has been talking about the 30 Day Shred. Well, thanks to
SWAGBUCKS
(referal link) and Amazon Mom, I was able to order The 30 Day Shred DVD with the Amazon gift cards I had earned through Swagbucks and got it shipped FREE thanks to Amazon Mom and the free three months of Amazon Prime Shipping! What a huge blessing! I didn't have to take the time out of my day to hit the store. I just logged on in and bingo! It was at my home in just a few days!
Now this is a 30 day program in three sets of ten. I am really excited about starting it, and I plan to report my progress, BUT I am not starting until next week. I am not putting this off in order to have a last hoorah (though THAT would be divine). I am putting it off until next Sunday when I can actually devote the time. This weekend I have out of my town work obligations that will make working out to the DVD a bit of an inconvenience.
This weekend I am going to the
Women of Faith Imagine Conference
! My station goes every year, and that means I am going to be having a working weekend. I'll be hoteling it, drinking massive quantities of coffee, and probably noshing on less than healthy food. I will get some walking in though. I am sure I can do some laps of the US Airways Center on my breaks from our booth. When I get home. I will get started. :) Yay me! No seriously, I am pretty excited for myself. Of course I would be even more happy if I was some celebrity who some kind of diet place would totally take care of for the endorsement opportunities, but THAT isn't happening. And sadly there just aren't any shows hi-lighting women who just want to drop about 20. I imagine they think there isn't enough drama. Truly I think they are wrong. That last 20 or 10 SUCK, and I have been quite a whiny little brat over weight issues. Nah...I am a peach all the time. Just ask my hubby. ;)
Where was I? Oh yes...I was going nowhere fast. Why don't I tell you a little bit of the coolness that will be happening at this year's Women of Faith conference. This year one of the Women of Faith speakers will be Michelle Aguilar who was I believe the winner of season 6 Biggest Loser. I am definitely interested in what she will be sharing. There will also be music by Natalie Grant and Mary Mary. Other speakers include Sheila Walsh and Luci Swindoll, Lisa Harper and special guest Marcus Buckingham among many others. It is always a great event, and really uplifting. For us it is a great chance to hear some amazing speakers and become inspired, meet other Christian women from all over the state and from several other states, and it is a great chance to meet with our listeners on a more personal level. If you are a Christian woman and you have yet to go, you just might want to give it a shot sometime. :)
Okay, back to business. Am I the only one who gets totally guilted out but loves The Biggest Loser?