Today we ripped this meme off a blogger named Iain Dale from the blog
Iain Dale's Diary
. It appears that Iain actually wrote this meme. So we may have been the first to steal the meme outside of the folks he tagged. In his bio it states, "Iain Dale is one of Britain's leading political commentators, appearing regularly on TV and radio. He writes a fortnightly political column for the Daily Telegraph and a fortnightly diary for the Eastern Daily Press." Enjoy! Link back to us at
Sunday Stealing
!

Cheers to all us thieves!

Sunday Stealing: The Twenty Firsts Meme
First Job:
My first job was as a jewelry inspector. It wasn't a glamorous job, oh hell it wasn't even a good job, but it was a heck of a lot better than the jobs some of my friends had. I came in after school and clipped plated jewelry off the dipping wires, made sure the plating looked good and put in in a box for the carders. I was allowed to listen to my Walkman while I worked and the owner let us keep a piece here and there so being that it was the 80s and costume jewelry was pretty huge, it was a job with perks. It was also a job I didn't stay with for a long time. I worked all of six months and bailed when I graduated high school for a summer long trip across the country. The money I made helped out with fun money while I was traveling.

First Real Job:
My first job was my first real job. Hence my calling it my first job. If my first job was some sort of fantasy job, I would have come up with something a lot more exciting like professional safe cracker or hit woman. I feel like I have suddenly woke up on a therapist's couch. :( If you are really kind of looking for first career type of job...I don't think I have ever really had a job I would present to any class on career night. Can you imagine speaking to a class about being a bartender, cocktail server or shot girl? I suppose I could have spoke to them about being a medical transcriptionist or a dental records tech, but I don't think anyone would come. :)
First Favorite Politician:
Claiborne Pell. You are lucky I could come up with one.

First Car:
Ahhhhh my first car was a light yellow 78 Mercury Monarch. I got it when I was 18 after I got my driver's license. It was not a beauty by any means. The driver's door quite often stuck so I would jump in on the passenger side, but it ran great. My first floor neighbor taught auto shop at the high school and he fixed it up for me with the help of his class. Sadly I also got into my first car accident in that little number and the truck that hit me pretty much ruined it. Now if there was a question about my first car accident...THAT would be a beaut.
First Record/CD:
This is kind of hard to admit and shows what an unbalanced young lady I was. I bought two albums on the same day. I think they show the very different sides of me at the time.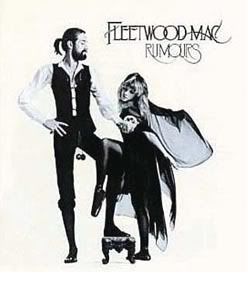 I bought Fleetwood Mac's Rumours and Shaun Cassidy's album (I don't recall the name but Da Doo Run Run was on it). I think he is like the first teen idol crush I had or something. I remember at the time knowing that the album was pretty much crap, but I bought it anyway. Hense I have never put anyone down for their love of New Kids on the Block, N'Sync, Back Street Boys (okay maybe a little), or any of the other multitudes of boy bands who are simply cranked out to get the little girls all crazy. Rumours however was an album that I was crazy about and listened to regularly. I think I listened to Shaun Cassidy's album once and stared at the cover after that. :)
First Sport Played:
Softball. I actually got into softball for one reason only. I wanted a decent baseball cap. Nowadays you could buy them anywhere, but back then you really only got a good one if you were on a team. I was never interested in being a poser. :) I had a habit of doing things for the extras and the outfits. :) I endured the tryouts for cheerleading simply because I wanted pom poms. I thought they were cool so I tried out. :) I wanted to become a wrestler when I was younger too, simply because I thought the costumes that the lady wrestlers wore were cute and I liked wrestling boots (this was the time of GLOW - gorgeous ladies of wrestling not the time of pumped up steroidish looking wrestling ladies).
First Concert:
Elvis Presley. I was six years old, and my family went to Vegas for a concertastic weekend. I saw Elvis one night and Frank Sinatra the next. I also had my first Shirley Temple and couldn't believe anything could taste THAT good. I remember Elvis bounded onto the stage singing CC Rider. :)
First Foreign Country Visited:
Mexico. Nothing really exciting there. My family went to Mexico a lot to see the glass blowers. I could watch that for hours when I was a child. We also would pick up marionettes. :) Did I spell that right?
First Favorite TV Show:
I am assuming we are not talking cartoons. Because truly the only thing I liked other than commercials when I was a child was cartoons. So brushing cartoons aside. My first favorite TV show would have to be...MASH. I never really watched a lot of television, because my parents were of the sort that believed children should be outside playing until the street lights came on. I spent my days typically banging up my knees doing something stupid like jumping off rooftops, riding my horse down the trails at the river bottom, and slipping on the rocks in the river by my house. I really looked forward to watching MASH with my dad though. It was the only night I was allowed to stay up late.
First Favorite Actor:
Jack Lemmon. I saw Some Like It Hot on some Saturday Film thing when I was a kid, and I just thought he was amazing. He also knocked it out of the park in The Odd Couple.
First Favorite Actress:
Jody Foster. She was in a bunch of Disney movies when I was a kid so I suppose that is the main reason.
First Girlfriend/Boyfriend:
I wasn't allowed to have a boyfriend when I was younger. In fact, my mom was pretty strict on all that stuff. She was on constant red alert when in regards to my virginity. One of my firsts was Michael Delvecchio. My mom really was against it so it ended pretty fast (like three weeks). To be honest, I may have looked ready to have a boyfriend, but I was absolutely terrified about having to kiss him or anything like that. I was a very scared lil thing back then. I was far more comfortable hanging out with my guy friends than having to be with just one of them.
First Encounter with a Famous Person:
Boy you make it sound a little naughty don't you? Encounter. Kind of sexy isn't it? Well I suppose it is more like meeting a celebrity. I met Sean Connery when I was very young. I remember knowing he was James Bond and wondering why he was hanging out in Palm Springs.

First Brush With Death:
When I was ten years old, my brother woke me and my mom up and told me to get out of the house. One of his friends was having a very bad drug trip and was talking about killing us. I remember sneaking out the window and my mom coasting the car out of the driveway until we got it to the street and staying at my grandma's that night.

First House/Condo Owned:
I was part owner of a house in San Bernardino.

First Film Seen:
I am afraid I cannot remember exactly what my first film was. I remember the first movie I saw on my own with my friend Jennifer. It was Jaws. Scared the skittles out of me!

First Favorite Recording Artist:
Stevie Nicks. I just loved her voice when I was a kid.

First Favorite Radio Station:
KLOS

First Book I Remember Reading:
And To Think That I Saw It On Mulberry Street


First Meme You Answered on Your Blog:


This was a meme sent to me from Sunny at That Book Addiction back in November of 2008. The point was to type 7 bookish things about yourself.


That's all folks!