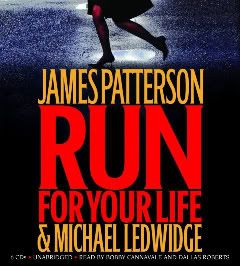 Category: FICTION, SUSPENSE & THRILLERS
Format: AUDIO BOOK
Subformat: CD (AUDIO)
Edition: Unabridged
Publish Date: 2/2/2009
Price: $39.98/$43.98
ISBN: 9781600244407
Pages: 0

Read by: Dallas Roberts and Bobby Cannavale

My Review: There really is nothing like an audiobook for me. I have a few favorite authors who I not only like to read their work, but I also enjoy listening to it. Listening to an audiobook is probably the closest I'll get to having my mom read to me like when I was a little girl. Of course, mom never read the books I enjoy now.

Run For Your Life introduces the reader/listener to Detective Michael Bennet who is really the go-to and never-miss guy. He is a problem solver, and it is a good thing, because there is a huge problem coming to New York and this problem has a mission statement that he intends to follow to the letter. His name is The Teacher.

Taking on the task of saving the city from this villian is not going to be an easy task for Mike. If there is a man for the job, Mike is definitely that man. With a home full of chhildren (10 to be exact) and most of them sick...this widowed police detective has his hands full inside and outside the home.

I enjoyed the readers of this book. I am often a little nervous before I start on a new audiobook because I am afraid that I am not going to enjoy the reader. A good reader can pull you into the world the author created, a bad reader can't pull you in with a chain and a tank. Dallas Roberts and Bobby Cannavale do a great job. Dallas immediately captured the personality of The Teacher. He had me from his first word. He really used his voice to portray exactly what I saw in my mind's eye while listening to Run For Your Life. Cannavale did a nice job as well though it did take me a bit longer to get comfortable with the character voice.

I have come to count on most of James Patterson's work. Nothing will beat the Cross books for me, but Bennet is a good character and I am looking forward to seeing what develops. Listening to Run For Your Life was a great escape from my sick bed experience fo the past two weeks.

If you enjoy a good bad guy just as much as a good hero, I really think you will like Run For Your Life. If you enjoy listening to audiobooks, I highly recommend that you pick this one up. You will be entertained.