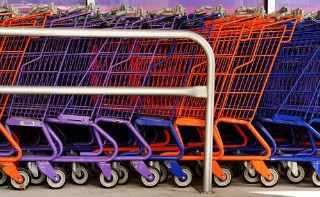 WEBSITE
Did you know that with many stores if you buy an item and it goes on sale shortly thereafter, you can get the difference back? I didn't discover this until I was in my teens and my aunt would take me shopping after Christmas. She would take me to lots of stores with our receipts and get the difference back. With technology, there is an easy way to keep track of your purchases and changes in price. Check out Eyeona.com. Snap a picture of your receipt after you make a purchase. If the price drops, Eyeona.com will send you instructions on how to get back the difference. Check out their website and app details at the link below. And yes...it is free.

LINK:
Eyeona
Don't forget to head over to Savingstar.com to load up your loyalty card with the latest deals. Remember that with Savingstar, your savings adds up. After you have earned $5, you can cash in.
LINK: SavingStar
REWARDS
I have shared before how much I like My Coke Rewards and how I turn in our codes to get free magazine subscriptions. And right now My Coke Rewards has a great reward if you enter five codes off of any participating product between 8/1 through 8/31, you can get a free 8x8 photobook from Shutterfly (the code for the album must be redeemed by 9/27 but it is a $29.99 value!). Well recently I started eating Lean Cuisine for lunch and I discovered that they have a reward program too! They have offered everything from aprons to gift cards. And each code you give is worth 20 points. Check out the details for both rewards programs at the links below.
LINK: My Coke Rewards
LINK: Lean Cuisine Rewards
FREE MUSIC
iTickets.com has two free downloads of the week. If you are a member you can download "Oh! Great Is Our God" by the Sing Team and "Sing a Song" by Jake Hamilton Jesus Culture Music.
LINK: Free Music Downloads at iTickets.com

FreeCCM still has the same songs available from last week which include music from Jonathan Seller, Onething Live, Caedmon's Call, Bart Millard, Disciple, Phil Wickham, Addison Road, The Afters, Heather Williams, Ashes Remain, Derek Webb, Sara Groves, Skillet, Jonny Diaz, Out of Hiding, David Gaulton and Sarah MacIntosh. If you haven't hit them up for the latest downloads, get them today.

LINK:
FreeCCM Free Music Downloads

New Release Tuesday's free music offerings for this week are Jordan Lara "City of Hope," " For My King" from the Key, as well as "People's Song" by AMP. Still available are also songs from Brothers McClurg, Je'kob, and Natalie Villa.

LINK:
New Release Tuesday
FREE MAGAZINE SUBSCRIPTION
If you are expecting or know a family who is, share this free subscription to American Baby Magazine with them while supplies last.
LINK: American Baby Magazine
Any wedding parties in your future? Pass along this link for a free issue of Bridal Guide while supplies last.
LINK: Free Issue of Bridal Guide
FREE EBOOKS
All these ebooks were free at the time of my posting. Be sure to look at the price before you download.

My Stubborn Heart by Becky Wade (
AMAZON) (BARNES & NOBLE) (CHRISTIANBOOK.COM)

The Betrayal (Precinct 11 Series #2) By Jerry B. Jenkins (
AMAZON) (BARNES & NOBLE)

Talk of the Town by (Welcome to Daily, Texas Book 1) by Lisa Wingate (
AMAZON) (BARNES & NOBLE)

When Calls The Heart (Canadian West Book) by Janette Oke (
AMAZON) (BARNES & NOBLE)

Secrets (The Michelli Family Series Book #1) by Kristen Heitzmann (
AMAZON) (BARNES & NOBLE)

Grace for the Char-Baked by Lisa Buffaloe (
AMAZON)
Quinoa Salad and Side Dishes: Quick and Easy Quinoa Salad and Side Dish Recipes by Sarah Clarence (
AMAZON)
The Mom 100 Cookbook Sampler by Katie Workman (
AMAZON) (BARNES & NOBLE)

Love of Cooking Salads (Love of Cooking Volume 1) by Maggie Brooks (
AMAZON)

Anti-Aging by Choice: Easy Lifestyle Changes to Slow the Signs of Aging (Anti-Aging Home Remedies Series) by Sandra Douglas (
AMAZON)
Dreaming of More for The Next Generation: Lifetime Faith Ignited by Family Ministry by Michelle Anthony (AMAZON)
Light of Eidon (Legends of the Guardian-King) by Karen Hancock (AMAZON)
When Night Falls by Margaret Daley (AMAZON)
A Bride for Pastor Dan by Katie Crabapple (AMAZON)

Jenna's Cowboy: A Novel by Sharon Gillenwater (
AMAZON) (BARNES & NOBLE)

A Hearth In Candlewood by Delia Parr (
AMAZON)

Homespun Bride by Jillian Hart (
AMAZON) (Barnes & Noble)

To Love Anew (Sydney Cove Series #1) by Bonnie Leon (
AMAZON) (Barnes & Noble) (Christianbook.com)

Child of the Mist (These Highland Hills, book 1) by Kathleen Morgan (
AMAZON)

A Very Special Delivery by Linda Goodnight (
Barnes & Noble)

Relentless A Novel (Dominion Trilogy #1) by Robert Parrish (
AMAZON)

Stuck in the Middle by Virginia Smith (
AMAZON)

Hide In Plain Sight by Mara Perry (
BARNES & NOBLE)

Making Waves: A Novel by Lorna Seilstad (
AMAZON) (BARNES & NOBLE)

Elisha's Bones by Don Hoesel (
AMAZON) (BARNES & NOBLE)

The 7-Day Doubt Diet by Renee Swope (
AMAZON) (BARNES & NOBLE)

Touchdown Treats! Quick and Easy Dip and Cheese Ball Recipes for a Winning Party by Ann Chambers (
AMAZON)

Circle of Friends Cookbook 25 Brownie & Bar Recipes from Gooseberry Patch (
AMAZON) (BARNES & NOBLE)

Love Me If You Must by Nicole Young (
AMAZON)

Paper Roses by Amanda Cabot (
AMAZON)

Priced To Move by Ginny Aiken (
AMAZON)

Design On A Crime by Ginny Aiken (
AMAZON)

Daughter of Joy by Kathleen Morgan (
AMAZON) (BARNES & NOBLE)

Invisible by Lorena McCourtney (
AMAZON) (BARNES & NOBLE) (CHRISTIANBOOK.COM)

Fools Rush In by Janice Thompson (
AMAZON) (BARNES & NOBLE) (CHRISTIANBOOK.COM)
GROCERIES
ALBERTSONS
Sanderson Farms Fresh Whole Body Chicken 67 cents lb (first 3)
Lean Ground Beef 80% Lean 3 lbs or More $1.99 lb
Large Size Cantaloupe 88 cents each
Jumbo Size Nectarines 99 cents lb
Albertsons Gallon Milk Select Varieties 2/$3 (limit 2)
General Mills Cereal 10.7 to 14 oz $1.99 Select Varieties
Hunt's Barbecue Sauce 21.6 oz Select Varieties 99 cents (limit 4)
Casa Fiesta Beans 15-16 oz Select Varieties 2/$1 (limit 6)
Best Foods Mayonnaise 22-30 oz Select Varieties $2.99
Albertsons Large Eggs 12 ct Grade AA 2/$3 (limit 2)
Powerade Sports Drink 32 oz Select Varieties 58 cents each
Blue Bell Ice Cream 64 oz Select Varieties $3.88
Virginia Ham Sliced Fresh in the Deli $3.99 lb
Essential Everyday or Albertsons Chunk Cheese 8 oz 3/$5
Pork Spareribs Buy 1/1 Free $4.99 lb
FRY'S
Kroger Boneless Chicken Breasts $1.65 lb
Farmer John Bacon Select Varieties $1.97 Each 12 oz (limit 4)
Northwest Red Cherries $1.19 lb
Clementines 3 lb Bag $2.99
Dole or Fresh Selections Salad Blends Select Varieties 5-12 oz 1/1 Free (save up to $2.99)
Lean Cuisine Select Varieties 6-12.5 oz $2 (when you buy six or more)
Fry's 32 pk Water 16.9 oz Bottles $2.99
Wholesome@Home roasted Chicken Savory, 2 lb $4.99
Zucchini or Yellow Squash 99 cents lb
Fresh cut Watermelon Bowls and Cups 99 cents lb
Cucumbers or Green Bell Peppers 2/$1
General Mills Cereal Select Varieties 4/$10 and get One Gallon of Fry's Milk when you buy 4 participating General Mills cereals
Powerade or Powerade Zero Select Varieties 32 oz 57 cents each
Chobani Greek Yogurt Select Varieties 6 oz 99 cents
SAFEWAY

Whole Boneless Pork Loin Sold Whole in the Bag $1.99 lb
Platinum Sweet Bi-Color or Yellow Corn From Colorado 4/$1.00
Red, Black or Green Seedless Grapes 79 cents lb
Hot House tomatoes 99 cents lb
New Mexico Hatch Chilies Hot or Mild 2 lbs/$1
Dannon Light & fit Activia or Pure Yogurt $1.88 4-6 pack Selected Varieties
Bartlett Pears 99 cents lb
Sweet Strawberries 1 lb container $1.99 Each
Jennie-O Turkey Store Lean Ground Turkey 20 oz $3.99