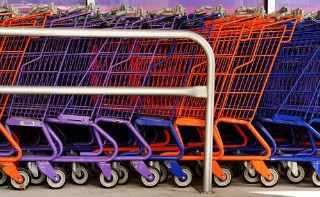 Today's favorite website is Recipe.com. I love to go there when I know of a few ingredients that I have on hand, but I'm not sure what to do with them. Recipe.com can also clue you in to what is on sale in your recipe list. Love that!
And for recipes this week, there is a great recipe for Roast Chicken with Two Lemons from Marcella Hazan that will work perfectly with the whole chicken sale at Fry's and with the leftovers you can also make this yummy Garlic Chicken Lettuce Wraps recipe (PS I don't use butter lettuce any lettuce on sale will do). Don't forget that you can also make (and freeze for later) your own soup stock by cooking the chicken carcass all day in the crock pot on low just fill the crock pot a bit less than half way with water and add the carcass.
FREE EBOOKS
(These books were free at the time of my posting. Always check the price when you download)
The Apostle: The Life of Paul by John Pollock (AMAZON) (BARNES & NOBLE)
A Dream Unfolding (Prescott Pioneers #1) by Karen Baney (AMAZON) (BARNES & NOBLE)
FREE MUSIC DOWNLOADS
FreeCCM - 7 Downloads including "View From the Top" from The Wrecking
iTickets.com - 2 Downloads including "The Struggle" from Tenth Avenue North
FREE FOR THE KIDS
Tuesday, September 4th is the LEGO Monthly Mini Model Build. Starting at 5 pm until supplies last at LEGO stores (two in AZ on in Chandler and one in Glendale), children ages 6 to 14 can build a LEGO owl while supplies last.
GROCERIES
ALBERTSONS
Fresh Chicken Breast or Thighs Boneless, Skinless no sodium $1.67 lb
Pork Sirloin Chops Boneless $1.67 lb
Dole Bananas 39 cents lb
Extra Large Raw Shrimp 26/30 ct or Large cooked Shrimp 51/60 ct Peeled $4.99 lb
Bartlett Pears 49 cents lb
Essential Everyday Shredded Cheese 7-8 oz Select Varieties (limit 4) $1.99
Old Orchard Cranberry Naturals 64 oz Select Varieties (limit 2) $1.49
Radish, Green Onions or Cilantro Bunches 2/$1
Jennie-O Smoked Turkey or ECHRICH Cooked Ham $3.99 lb
SAFEWAY
Red or Green Seedless Grapes 79 cents lb
General Mills Cinnamon toast Crunch 12.2 oz or Nature Valley Granola Bars 6.7-8.9 oz Select Varieties $1.49 (must buy 4 or more)
Jennie-O Turkey Store Turkey Bacon 12 oz 2/$5
Fresh Whole Pork Shoulder Blade Roast Bone-in Sold Whole In the Bag $1.87 lb
Marie Callender's Meals 10.25 to 196 oz Selected Varieties Excludes Steamers 4 for $10
White or Yellow Sweet Corn 3/$1
Purewal blueberries Dry Pint 11 oz 2/$4
FRY'S
Kroger Boneless Chicken Breasts or Tenderloins Fresh USDA Inspected $1.88 lb (limit 4)
Foster Farms Whole chicken Fresh, USDA Grade A 98 cents lb
Roma Tomatoes 88 cents lb
Raspberries 6 oz 98 cents (limit 4)
Dial or Coast Soap Select Varieties 2 Bars or Liquid Hand Soap 7.5-9.38 oz 88 cents
Boston, Romaine, Red or Green Leaf Lettuce 99 cents
BUY 10 SAVE $5 (Prices listed reflect the savings when you buy 10 participating items)
Marie Callender's Dinners 12-19 oz or Healthy Choice 9.5-12.5 oz Select Varieties $1.89
Ocean Spray Juice Cocktail 4 ct or 64 oz $1.79
American Beauty Pasta Select Varieties 16 oz 49 cents (was .39 last week this is still great)
Nature Valley or Fiber One Bars Select Varieties 5-12 ct $1.99
Kleenex Facial Tissue Select Varieties 50-184 ct 99 cents
Blue Diamond Almond Breeze Beverage Select Varieties Half Gallon $1.99
Mott's Juice Select Varieties 64 oz $1.79
3DAY SALE (Friday, Saturday and Sunday August 24th, 25th, & 26th)
Fry's Milk Vitamin D, 2%, 1%, or Fat-Free, Half Gallon (limit 4) 77 cents
USDA Beef Brisket Sold in the Bag $1.99 lb (limit 2)
Fry's Sandwich Bread Select Varieties 24 oz 88 cents (limit 2)