Yep it is that time again. I have just about recovered from Women of Faith. Thankfully I felt just good enough to get things in order for my day job. I hope that you find a little something for you! I'll be posting more Saturday evening, as we have a special conference coming up THIS weekend called Shepherding Your Teen with the Youth Transition Network. I'll be posting about what I learned.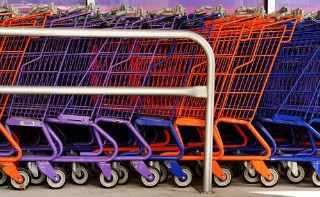 I thought it might be nice to do a little something about reusing an item or two.

If you are like me, you may have a wallet that is a little tight because of loyalty cards and membership cards. If you are also like me, it may be hard to find those cards when you need them. Here is an awesome tip. Take one of those Altoids mint tins and use it to hold your loyalty cards. This is a great place to keep them where the cards wont stretch out your wallet, and they will be easy to locate. These tins are also great to hold mini boo-boo kits. You can put in some bandages, aspirin, cough drops, Rolaids, and those little wet naps. They can also be used as mini play tins by adding some crayons and some folded up paper or even some Soduku sheets or crosswords and some golf pencils to keep you or the kids busy when waiting.

Mesh bags. I am always gathering up mesh bags from onions, nuts, and fruits. Here are a few ways to reuse them. You can use them as a scrubber for pots and pans, attach them to your gutter top to keep leaves out but water will still go in, you can also use them to hold small items that you are going to wash in the dishwasher like baby bottle nipples and caps, when you gather up all those itty bits and pieces of soap that kind of make the soap dish look creepy, pop them in a mesh bag and use that to wash extra dirty gardening hands or even scrub rough tootsies (doesn't that sound so much nicer than rough feet?) and if you want to offer the birds a little treat, you can place some suet in a mesh bag and easily hang it from a tree branch.

Ketchup bottles. Reuse cleaned ketchup bottles to make fun bath toys for the kids or make pancake or cupcake batter squeeze out without the mess.




Website Tips (A little website for the kids and one for you!)
-

If you have a child who is planning on taking the ACT, SAT or GRE you might want to direct them to Number2.com. Number2.com is a free site for SAT, ACT and GRE prep. They also have a great vocabulary builder section. Considering that my son is 15 and a sophmore in high school, we are definitely going to keep this site in my computer's bookmarks.


LINK:
Number2.com


Nowadays families are super busy. There are sports events to go to, lessons, work, parties and so many other things to keep track of, and Cozi has a way to keep track of it all for free. With Cozi you can keep your appointments on track, have the kids schedules set and even color coded, you can plan and print out your shopping lists, and lots more. And it is all for free! This is such an amazing tool! Truly keeping things organized can keep the stress down, finances up, and keep you at peace! Follow the link below to check it out.


LINK:
Cozi Online Organizer for Families
FREEBIES


Target has free samples now! These are great samples too. Follow the link below to get a sample of Tide Original with Acti-Life laundry detergent and Glad Odor Shield trash bags. With six foster kittens in our home, the odor shield bags would be a great freebie!


LINK:
Target Freebies


The first 10,000 to respond to Right At Home will get the Touch-Up & Go Pack. This pack includes a canister of Scrubbing Bubbles Antibacterial Bathroom Wipes, a pouch of Pledge Lemon Clean Wipes, a pouch of Pledge Multi Surface Wipes and a canister of Windex Original Glass Wipes. Sign up now for your chance.
LINK:
Right At Home Touch-Up & Go Pack.


The first 500,000 registrants will receive a coupon for a free bottle of Advil. This is definitely going to go fast so head on over ASAP.


LINK:
Advil


While supplies last you can get a sample of Ester-C Gummies. Now is definitely the time to take advantage of all the vitamins you can get.
LINK:
Ester-C Gummies



I have to bring this up again, because if you haven't signed up yet, you definitely want to take advantage of a free sample of Taster's Choice little coffee singles. This samples if for six varieties. These really come in handy when you want a coffee but you are on the go.


LINK:
Taster's Choice Singles


Free CCM has a new download this week for 33Miles new song "What Grace Looks Like" from their new CD "Today." Great title! You can still take advantage of their other free downloads from Caedmon's Call, Bart Millard, Disciple, The Afters, Phil Wickham and Sara Groves.


LINK:
Free CCM
iTickets.com has a free download of "You Belong To Me" from Michael W. Smith's CD "Wonder." This is good if you missed it on hear it first! You can also download "Your Will" by Ken Reynolds Featuring Darick Rutley from Gotta Have Gospel 8.


LINK:
iTickets free music


And speaking of Hear It First. Really you must sign up. This week's download was Matthew West's My Own Little World. Just sign up for their news letter and get to download new music EVERY Tuesday! You can also listen to Matthew's new album "The Story of Your Life" AND enter to win a special Matthew West prize pack. Seriously...do you want to pass this up? PS I also got to download "Love Amazing" by Circleslide.


LINK:
Hear It First
Here is another interesting treat. If you can't make it to the Make A Difference Tour or if you want to just enjoy the music in advance. Go to Hear It First today at 5 pm Pacific to watch the Make A Difference Tour. There is a suggested donation of $10.00.


LINK:
Hear It First Live


PREREGISTER FOR THE EVENT HERE:
Make A Difference Tour