Welcome to the 17th edition of
"Meet Me On Monday!"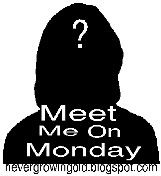 For me this is my second round on the Meet Me On Monday blog hop, and I just had a ball! I was able to learn new things about some wonderful bloggers. I am really looking forward to this time around. Java at
Never Growing Old
came up with this fab way to get to know a little something about each other. :) What a doll. Here is a run down from Java:
Blogging is a funny thing...we tell our most intimate thoughts for all to read and yet most of the time I find myself sitting and wondering, "who is this person!?" I know them...but yet I
don't
know them! I want to know who the person is behind all those words so I thought of a great way for all of us to "meet" each other!
Every Sunday I will post five
get to know you
questions that you can copy and paste into your own Monday post and we can all learn a little more about each and every one of us!!
Questions:
1. What is the best dish you can make?
This took some thinking. I would have to say that my best dish is
roast chicken with lemons
. I found this recipe one day, and I make it at least once a month. It is ridiculously easy to make, looks gorgeous, and I can use the leftovers to make several different meals (example garlic chicken lettuce wraps, chicken and black bean quesadillas, chicken enchiladas, chicken salad and more) for my family. After the first meal, I literally pull off all the meat and use the carcass to make my own chicken stock (a real money saver).
2. How often do you change your sheets?
I would say we change our sheets every two weeks. The key is to not make your bed immediately after getting up. It allows the bed to air out and not reek. What a dorky tip! Truly though we do wait two weeks. That is unless my cat hurls on the bed. He is a cute but weird cat that only feels safe when hurling on carpet or bedding. Yep...what a dear. ;)
3. What is the longest car trip you have ever taken?
In one sitting? Because I have driven cross-country. That of course took a while. We often spent summers driving across the country doing the whole Griswold thing. :) I have had long commutes. I used to drive from my old job at the casino and it would take about an hour and a half. I also used to drive to Maine a lot when I lived in Rhode Island so my son could visit with family there. That would take about 4 hours. When I see my doctor in California, I drive to stay with my brother and sister-in-law which is about 6 hours. I guess I didn't really need to mention my old commute. :) Okay...take your pick. :)



4. What is your favorite fruit?
Nectarines are by far my faves. I love when they are just so ripe that you are pretty much wearing them as well as eating them. Strawberries rock too. I think I love all fruit for the most part.
5. Would you rather have breakfast for dinner or dinner for breakfast?
Now that I am no longer in college. I would prefer breakfast for breakfast, lunch or dinner. I really would rather stay away from dinner for breakfast which in my college years amounted to cold pizza or leftover lasagna. By the way, I pretty much rock at making lasagna too. Just tossing that out there fore ya! :)