I am absolutely adoring meeting all the bloggers that join in together at
Meet Me On Monday
which is hosted by the very lovely Java at Never Growing Old. It is pretty awesome learning more about each other, as well as learning that we all may be in different locales, many of us have quite a few things in common.
Aren't you interested in learning a little bit more about your fellow bloggers? Haven't you wanted to just share some silly little tidbits about yourself? Then come join the fun!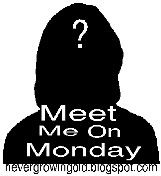 So here is a little more about me. :)
1. Do you sleep with a night light on?
No. I definitely do not. I thoroughly enjoy a dark and silent room. I have a husband who snores a bit so I deal with that by using earplugs (total and somewhat creepy silence yet I can still hear my alarm), and an eye mask can make for the total darkness. I also like to sleep with my head pillowized so there isn't much chance of light. When I was a child I was all about the night light, and in the 70s my parents hooked me up with this light which had a disk that would spin with the heat. Very trippy. It would change the room colors from green to blue to red to yellow and back again. No joke. At some point I got over the whole light thing. I don't exactly know when. I know when it wasn't, and that was sometime around when I read Stephen King's "The Shining." I had the nightlight on full force when I read that book. In fact if I could have made the room brighter when I read it, I would have!
Whoa...where was I?
2. What do you drink with dinner?
It depends on what we are eating. I jump from iced water to Koolaid. Every now and then I enjoy a Diet Coke. And in the summer it is all about fresh brewed iced tea!
3. Do you play the lottery? If so, how often?
Played it last night...lost. :( Dang lottery. My husband and I just play whenever we think about it. We were at the grocery store last night picking up some stuff to take to a friends house to watch MMA. While there we decided to pick up lottery tickets. Apparently about seven other people had the same idea just moments after us. It was a mad house, and to make matters worse, the dude next to me reeked of cigarette smoke. It is funny, I don't have issues with smoke (good thing since I worked in bars as well as a casino for years) it is the stale smell that gets me.
4. How often do you go to the grocery store?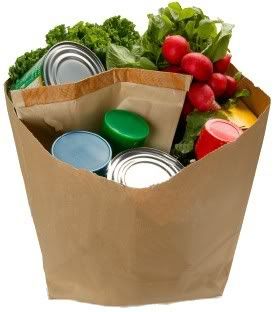 I go to there at least once a week (usually take a cooler and hit them one after another). I shop all the loss leaders, use all my coupons, and menu plan like a champ. I have discovered that for me, it is THE best way to save money. Occasionally I will go to the store like I did the other night in order to pick up goodies for a hang-out night with friends.
5. Would you rather travel back in time 500 years or travel forward 500 years?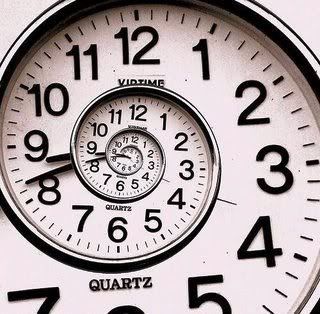 After looking at what was going down in 1510, I am going to have to say go forward 500 years. Well that is provided I can go back. With the great plague and whatnot going on, it wouldn't be too much fun, I'm guessing. Watching Henry the VIII rock the jousting world back in 1510 would have been pretty cool, but at 43...again, not as romantic as I might imaging in my teens. :) Knowing what I know now, I can't get past his rotundness and wife issues. ;)