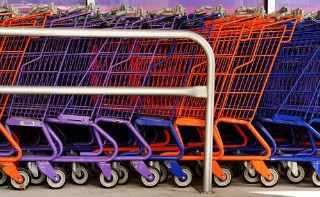 WEBSITE
I got married a little over five years ago, and we did things pretty small. We had an outdoor wedding and I bought sweet little sandalwood fans that I decorated with ribbon and silver hearts. I still have LOTS of those fans. Often after a wedding, the bride is left with favors and decorations that may be packed away only to be lost at some point or tossed. Here is a place where brides can sell their left over decorations and favors. It is called Ruffled. Ruffled is also a great place where brides-to-be can get wonderful wedding ideas and DIY tips for the big day.
RECIPE
Chicken breasts and thighs are on sale at Albertsons, so are Hunts canned diced tomatoes follow this recipe for Bruschetta Chicken Bake to make a different chicken dinner out of these sales items and a few inexpensive store staples. The recipe calls for 2 cups of shredded mozzarella, I go for 1 cup to lighten the calories.
FREE EBOOKS
The books listed were free at the time of my posting. They may not be now so check the price before you buy.
Almost Heaven by Chris Fabry (CHRISTIANBOOK.COM) (AMAZON) (BARNES & NOBLE)
God Can't Sleep: Waiting for Daylight on Life's Dark Nights by Palmer Chinchen (CHRISTIANBOOK.COM) (AMAZON) (BARNES & NOBLE)
Long Time Coming by Vanessa Miller (CHRISTIANBOOK.COM) (BARNES & NOBLE)
FREE SAMPLE
While supplies last sign up for your free sample of Garnier Fructis Fall Flight at Target's free sample site. You do take a quick survey asking about age group and product use before you qualify.
While supplies last sign up for a free sample of Prilosec OTC to block frequent heartburn symptoms after a quick survey to see if you qualify.
FREE MUSIC DOWNLOADS
This is pretty neat but it does require a wee bit of work. You can get $5 in MP3 credits from Amazon when you go to Scott Shared Values and answer a quick question. If you are already a member, you sign if, if not you sign up. After answering the question, follow the link to enter in the code they give you.
GROCERIES
Boneless Half Pork Loin $1.88 lb
Foster Farms Whole Chicken Fresh, USDA Grade A 77 cents lb (limit 2)
Yellow Peaches 78 cents lb
Bartlett Pears or Red or Black Plums 88 cents lb
Romaine, Boston, Red or Green Leaf Lettuce 88 cents each
Zucchini or Yellow Squash 88 cents lb
Navel Oranges 99 cents lb
Green Bell Peppers or Cucumbers 2/$1
BUY 10 SAVE $5 (Prices reflect the discount when 10 participating items are purchased)
Old Spice or Secret Deodorant Select Varieties 2-3.25 oz $1.49
V8 or V8 V-Fusion Select Varieties 46 oz $1.99
Coffee-Mate Creamer Refrigerated Select Varieties 32 oz $2.49
Nabisco Snack Crackers Select Varieties 5.5-10 oz $1.49
Capri Sun Select Varieties 10 ct $1.49 each
Boneless Pork Sirloin Country Style Ribs $1.49 lb
Fresh Safeway Drumsticks, Thighs or Leg Quarters Bone-in 99 cents
Red Raspberries 6 oz container 99 cents each
Safeway Farms Grape Tomatoes 10 oz Container 99 cents each
Whole Pork Shoulder Blade Roast Bone-in Sold whole in the bag $1.87 lb
Sweet White or Yellow Corn 3/$1.00
Lean Ground Beef 80% Lean 3 lbs or more $1.99 lb
Pork Loin Back Ribs Previously Frozen by 1 get 2 free
Pork Sirloin Chop Boneless $1.99 lb
Roma Tomatoes $1.00 lb
Large Eggplant $1.00 each
Red Ripe Strawberries 88 cents each (limit 2- Container size not listed)
Albertsons Gallon Milk Select Varieties $1.67 (limit 2)
Chicken Breast or Thighs Boneless, Skinless $1.77 lb
Powerade Sports Drink 32 oz Select Varieties 50 cents
Progresso Vegetable Classics Soup 18-19 oz Select Varieties 99 cents
Pillsbury Flour 5 lbs Select Varieties $1.99