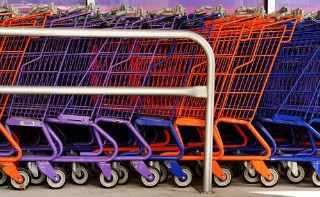 WEBSITE
It is September and that means it is time for me to work on winning prizes for Christmas presents. My favorite way is through blog giveaways. Blog giveaways can have lots and entries, but your odds are still quite a bit better than the large company giveaways. I have a lot of favorites, but to make it easier for those who aren't accustomed to blogging try The Steady Hand which is a gathering spot for many blog giveaways that use Rafflecopter entry forms. Not sure how to use a Rafflecopter form? Mommy Living the Life of Riley explains it here.
RECIPE
Turkey lunch meat is at a great price at Albertsons, but unless you have a lot of sandwich eaters, you may need a recipe option for some of the extra lunch meat. You can use the turkey to make a yummy stromboli or smoked turkey and cranberry pizza. Oh if you can help it, go for making your own dough rather than ready made. Here's a great recipe for pizza dough.
FREE ACTIVITIES
There is another free museum day, and this time it is brought to you by Smithsonian Magazine. The free museum day is September 29th. Follow this link to request two free tickets to a participating museum. This link will tell you what museums are participating among those are the Desert Botanical Garden in Phoenix, Sharlot Hall in Prescott and much more.
FREE EBOOKS
These books were free at the time of my posting. They change quickly so always look at the price before you download.
The Widow of Larkspur Inn by Lawana Blackwell (AMAZON) (BARNES & NOBLE) (CHRISTIANBOOK.COM)
The 2011 Book Blogger's Cookbook by Christy Dorrity, Amanda Hocking, Devon Dorrity, and Jason Morrison (AMAZON)
FREE MUSIC DOWNLOADS
New Release Tuesday has six songs available for download including "I Know" from LeCrae's new album "Gravity." While your there, you might also like to check out the free preview of Beckah Shae's new album "Rest." Free listen and downloads for members.
FREE SAMPLE
Get your free sample (while supplies last) of Twinings tea by following this link and scrolling to the bottom of the page.
GROCERIES
USDA Choice boneless Petite Sirloin buy 1 get 2 Free with in-store coupon ($8.99 lb)
Famous Driscoll Respberries 12 oz $1.88 each limit 2
Albertsons Gallon Milk Select Varieties $1.67 each limit 2
Campbell's Condensed Soup 10.5 to 11.5 oz Select Varieties 10 for $10
Jennie-O Blue Ribbon Oven Roasted Turkey Breast Sliced Fresh in the Deli $2.99 lb limit 2 lbs
Boneless Pork Loin roast Sold in the bag$1.88 lb
Fresh Broccoli Crowns or Cauliflower 99 cents lb
Extra Large Slicing Tomatoes 99 cents lb
ALSO GREAT BUY 8 SAVE $4 INSTANTLY -Price listed reflects the discount when 8 participating items are purchased.
Nature's Own Honey Wheat Bread 20 oz $1.49
General Mills Cereal 8.9-12 oz $1.99
Fiber One Bars 5 ct Select Varieties $1.99
Zatarain's Rice Mix 5.7-8 oz 69 cents
Wish-Bone Salad Dressing 16 oz $1.49
Herdez Salsa 4.4-7.5 oz 99 cents
Dial Complete Foaming Hand Soap 7.5 oz or Bar Soap 3 pack Select Varieties $1.50
Hass Avocados 69 cents
Jimmy Dean Breakfast Sausage Rolls or fully Cooked Selections 9.6 -16 oz selected varieties
1/1 Free
Bartlett, Bosc or Red Pears 99 cents lb
Red or Orange Yams 79 cents lb
Chicken of the Sea Chunki Light tuna 5 oz 89 cents
Barilla Pasta 5/$5
Fry's Medium Eggs Grade AA 30 ct $3
Kroger Chicken Noodle or Tomato Soup 10.5 oz Can 55 cents
Spam 12 oz can $2.29
Libby's Vegetables Select Varieties 14.5 to 15 oz Can 50 cents
USDA Choice New York Strip Steaks Boneless or Bone-in, Beef Loin 50% off limit 4
Kroger boneless Chicken Breasts or Tenderloins Fresh USDA Inspected $1.88 lb limit 4
Gala Apples or Navel Oranges 77 cents lb
Bananas 57 cents lb