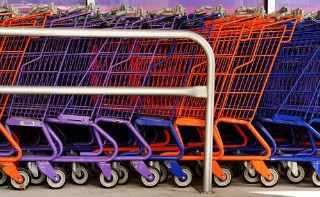 HOUSEHOLD TIPS
Today instead of sharing a favorite savings website, I thought I would share some household tips on the cheap.
If you have hard water stains, you can clean them up by making a mixture of two parts salt and one part vinegar. Rub it into the stains with a sponge or cloth.
I love this one, rub car wax on your stove top, buff it in, and messes will come off more easily! Brilliant right?
Clean your mirrors with shaving cream (not gel) and they will not only shine, but they wont fog up as easily.
Mix olive oil and lemon juice for a homemade furniture polish.
Polish sliver ware with a paste made of corn starch and water.
Lastly, want to make your own laundry detergent? Follow this link to a recipe I posted in March. It is amazing and makes so much! I made my last batch in September and I have only started using my second bottle. I still have half a tub of concentrated cleaner left to fill up more bottles. I figure I will easily get a year and a half out of this recipe.
FREE EBOOKS (These were free at the time of my posting. Always check the price before you download)
Springtime of the Spirit (The Great War) by Maureen Lang (AMAZON) (BARNES & NOBLE) (CHRISTIANBOOK.COM)
Homestead: Modern Pioneers Pursuing the Edge of Possibility (AMAZON)
How to Crochet for Beginners by Judith Rogers (AMAZON) Only free now for Amazon Prime! That was fast!
FREE MUSIC DOWNLOADS
iTickets.com has three music downloads this week including "Stand" from Britt Nicole.
New Release Tuesday has five free downloads this week including "Resuscitate Me" from Remedy Drive. You can also preview Remedy Drive's new album "Resuscitate" at New Release Tuesday this week.
FREE SAMPLE
While supplies last sign up for a free sample of Purina Healthy Weight at Walmart.
While supplies last sign up for a free sample of Finish Quantum for dishwashers.
Sign up for your free sample of Fleur fragrance while supplies last.
Bio-True contact solution is offering an opportunity for a free sample too.
GROCERIES
Kroger Boneless Chicken Breasts or Tenderloins Fresh $1.67 lb (limit 4)
Pork Loin Back Ribs or St. Louis Style Spare Ribs, Previously Frozen, Buy 1 Get 2 Free (limit two free per transaction) Save up to $7.99 lb
Red Seedless Grapes 75 cents lb
Campbell's Soup Select Varieties 10.5-11.5 oz 99 cents (good time to stock up on the creamy recipe enhancing soups)
Barilla Pasta Select Varieties 12-16 oz 99 cents
Bar-S Meat Franks Select Varieties 16 oz 99 cents
Hunts Tomatoes Select Varieties 14.5 oz 99 cents
Quaker Cereal Select Varieties 12.5-14 oz $1.88
Colgate Toothpaste or Toothbrush Select Varieties 6.4 oz or 1 ct 99 cents
Fresh Assorted Pork Loin Chops Bone-in $1.49 lb
Healthy Choice Meals 8.75-12.5 oz Selected Varieties Excludes Steamers 5/$10
Cacique Chorizo 10 oz 99 cents
Rotel Canned tomatoes 10 oz Selected Varieties 99 cents
Gerber 2nd Foods 2-pack 3.5 oz or 6 oz Gerber Graduates Lil' Meal Tubs, Selected Varieties
99 cents
Herdez Salsa 16 oz 2/$4
Lucerne Sour Cream 16 oz Selected Varieties $1.69
Assorted Pork Loin Chops bone-in $1.28 lb
Red Seedless Grapes 68 cents lb
Malt-O-Meal Cereal 11-12 oz 88 cents
Michelina's Entrees 4.5-9.5 oz 88 cents
Red, Yellow, or Orange Bell Peppers 88 cents each
Tomatoes on the Vine $1.88 lb
Radishes, Green Onions or Cilantro 2/88 cents
Broccoli Crowns or Cauliflower 88 cents
PLUS GREAT FLYER COUPONS
Purex Ultra Liquid Detergent 50 oz $1.88
Albertsons Large Eggs 12 ct 98 cents (limit 2)
Albertsons Apple Juice 64 oz Select Varieties $1.48
Albertsons Vegetables 14-16 oz 88 cents
Blue Bell Ice Cream 64 oz $3.88 (limit 4)