I have been pressed for time since my last Meet Me On Monday and have missed joining in the fun. It is awesome meeting all the bloggers that join in together at
Meet Me On Monday
which is hosted by the very lovely Java at Never Growing Old. It is pretty awesome learning more about each other, as well as learning that we all may be in different locales, many of us have quite a few things in common.
Aren't you interested in learning a little bit more about your fellow bloggers? Haven't you wanted to just share some silly little tidbits about yourself? Then come join the fun!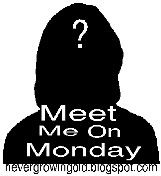 Questions:
1. Do you eat Sushi?
2. What kind of bath soap do you use?
3. How often do you talk to your Mom?
4. What TV shows do you watch on a regular basis?
5. Did you start Christmas shopping yet?
1 - Do you eat Sushi?
I do not eat sushi. I used to eat it. I ate it a lot.
Don't continue if you get easily icked out. Though I am not graphic the idea is clear.
One day a bunch of my friends and I went to a mall and ate sushi at one of the restaurants nearby. That night I had the most horrific case of food poisoning. See, I worked the graveyard shift at a casino. This shift started at 2:00 am. At about 3:00 am I began to feel nauseous. At first I thought it was just in my head. Several moments later, I decided not to take a chance and requested that my boss let me go home. On the way up to our locker room, I passed a guy with the STRONGEST COLOGNE. It was all it took to send me over the edge. I barely made it to the locker room and I literally lost it in several garbage cans once there. I felt so bad about that, but I had no control.
This is horrid, but I literally drove home with a huge Victoria's Secret shopping bag strap around my neck and the bag in my lap (bought a pile of VS stuff when we went shopping after eating). I kept that thing around my neck all the way home, and I was a good hour's drive away from home). I was literally a mess for three days.
I know that I could try it again, but I can't get the thought out of my head. The association is too strong which rots because I LOVED shushi up until then.
2. What kind of bath soap do you use?
I am a Bath & Body Works fan and a fan of Neutrogena. I always use some form of liquid bath soap in the shower with one of those puffy things. I also am fond of the handmade soaps you can buy at craft stores. There was a store I totally was crazy about in New Hampshire called
Zeb's General Store
(in fact they are online now too, but it isn't the same as walking about). They had the best handmade soaps!
3. How often do you talk to your mom.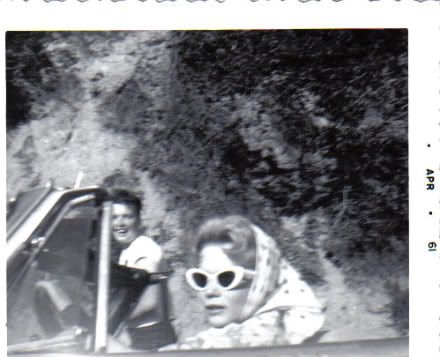 Pic of my mom taken back in 1961 (six years before I hit the scene).
We talk about once every two weeks and sometimes more. It really depends on what is going on. Last week I was in California and my niece and I talked with my mom for about 2 hours by using the speaker phone on my nieces cell phone. It was like a mini slumber party. :)
4. What TV shows do you watch on a regular basis?
Truly I like a lot of different programs. Not one program explains or describes who I am. I just like a lot of different things. :) In some ways I am a ghoul. I love true crime tv, zombies, and weird comedies. I also love stuff like Little House On The Prairie reruns. I cannot even list them all I watch here. Friday Night Lights is a fave and I am really going to hate seeing it go. It is on Direct TV right now before it goes back to network for its final season. I'm bummed.
5. Did you start Christmas shopping yet.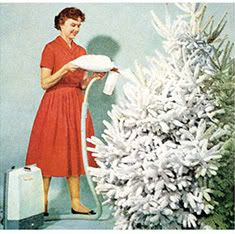 Yes but just barely. I really need to kick in in gear. I don't fret though. I get most of my stuff from Black Friday, Cyber Monday, and random shopping that goes on throughout the year. I put a lot of things in a box when I get a good deal.