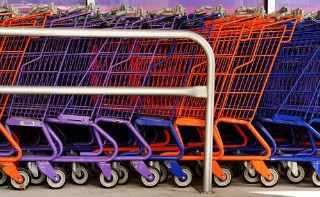 WEBSITE
Does the idea of buying another gift kind of freak you out a bit? Check out Wantful. Wantful is a wonderful site that makes gift giving super easy. Go to the site and give information about your recipient and occasion. Wantful will give you all kinds of options in your price range that maybe you didn't think of. The more you know about the person, the better the options are.
GIFT IDEA FOR YOUR VALENTINE
THIS or THAT
Spend $49.99 on a dozen pretty chocolate dipped strawberries via online gourmet shops OR buy three 4ct Chocolate Dipped Long Stemmed Strawberries for $17.97 ($5.99 per 4 ct)
Spend $39.99 online on a 4.5 inch mini rose pot OR pick your own mini rose pot at Fry's for $4.99
And let's not forget the printable coupons. Give the gift of your time to your spouse and also your kids. Maybe make a coupon granting the kiddos a matinee film with you, time at the park, or maybe handle their chores for the week. For your sweetheart you could offer a picnic, massage after a rough day, breakfast in bed, dinner & a movie. Seriously there are lots of options and this link allows you to make your own options or use premade printables from Homemade Gifts Made Easy. Don't forget your friends. Coupons are fun for them too.
FREE EBOOKS (Remember that these were free at the time of my posting. That can change at any time)
Maggie's Journey by Lena Nelson Dooley (CHRISTIANBOOK.COM) (AMAZON) (BARNES & NOBLE)
Not a Sparrow Falls by Linda Nichols (CHRISTIANBOOK.COM) (AMAZON) (BARNES & NOBLE)
FREE MUSIC DOWNLOADS
FreeCCM has ten free music downloads including Jennie Simmons song "Don't Lose Heart" from her album "The Becoming."
iTickets.com has two free music downloads this week including "Hold Me Now" from Red.
CONTEST INSTANT WIN
Subway is doing a special contest right now called the Footlong Frenzie. You can win a free bag of Doritos or 20 oz Coke by way of a My Coke Rewards Code. When you sign up to enter you can start off with a free code SOUTHWEST.
FREEBIES
While supplies last, sign up for a free sample of Nature Made Vitamelts from Target's website.
FREE ACTIVITIES
Are you a Diamondbacks fan? Why not head over to Chase Field for the 9th annual Arizona Diamondbacks FanFest. From 10 am to 5 pm, there will be all kinds of fun activities including a 5K run (check in from 6:30 am to 7:30 am), autograph sessions (kids free -adults have a limited number of $5 vouchers to purchase for autographs but that fee does go to the Arizona Diamondbacks Foundation, and opportunities to tour the clubhouse. This is a great event with a huge draw.
Enjoy the scenic views of some of Grand Canyon's stunning trails by checking out Google's Street view of the Grand Canyon. Lots of trekking with the special back-pack mounted cameras taking 360 degree photos have afforded us all the chance to see what we are missing. Maybe give us some extra exercise motivation for our own hike. Check out all the great trail views here.
With a celebration of all things chocolate, you might just want to head on over to the Glendale Chocolate Affaire at Murphy park in downtown Glendale. Admission is free and all the tasty fun starts Friday, February 8, 2013 from 5 p.m. to 10 p.m., Saturday February 9, 2013 from 10 a.m. to 10 p.m., and Sunday February 10, 2013 from noon to 5 p.m. You can also tour Glendale's fabulous candy makers Cerreta's. More details here.

GROCERIES (Tip: The price of lettuce has hiked up because of the freeze. Napa cabbage can make a really nice lettuce substitute in a pinch. It is lighter tasting and crisper than your typical cabbage and is much cheaper. Test it out for a lettuce wrap.)
ALBERTSONS
(Don't forget that Albertsons is starting their Monopoly game. Even if you don't care about the game, the pieces often come with some great coupons. If you are offered them from your cashier, take them.
Albertsons Gallon Milk Select Varieties $1.79 (limit 2)
Ragu Pasta Sauce 16-24 oz Select Varieties 99 cents (limit 4)
Premium Navel Oranges 99 cents lb
Russet Potatoes $2.99 each
Dole Bananas 39 cents lb
Chicken Breast or Thighs Boneless, Skinless $1.67 lb
Pork Loin Chops Boneless Buy 1 get 2 free (regular $6.99 lb)
Cold Water Lobster Tails 3 oz minimum previously frozen $3.77 each
Flier Coupon - 18 ct Albertsons extra Large Eggs $1.49 each (limit 2)
Jennie-O blue Ribbon Oven roasted Deli Turkey Breast or USA Gold Virginia Ham $4.99 lb (great price)
FRY'S
Red, Yellow or Orange Bell Peppers 88 cents each
Hass Avocados or Mangoes 77 cents each
Smart Ones Entrees Select Varieties 3.95-11.5 oz $1.88
Arizona Grown Minneola Tangelos or Navel Oranges 88 cents lb
Red Seedless Grapes $1.99 lb
Duncan Hines Cake Mix Select Varieties 16.5-18.2 oz 10/$10
Kroger Cottage Cheese, Sour Cream or Dip 24 oz $1.88
General Mills Cereal Select Varieties 8.9-13.1 oz
Powerade or Powerade Zero Select Varieties 59 cents each
USDA Choice New York Strip Steaks Bone-in, Beef Loin Family Pack Limit 2 $4.97 lb
SAFEWAY
Fresh Whole Boneless Pork Loin Sold Whole in the Bag $1.99 lb
Safeway Chicken Drumsticks, Thighs or Leg Quarters 99 cents lb
Rancher's Reserve Bonless Beef Bottom Round Roast $2.99 lb
Yoplait Yogurt 4-6 oz Selected Varieties 10/$5
Oroweat Variety Breads Selected sized and varieties 2/$5
Beef Back Ribs Bone in Previously Frozen $1.99 lb
Quaker Instant Oatmeal 11.5-15.1 oz Selected Varieties Buy 1 Get 1 Free (save up to $3.99 on two)
Crisp Cucumbers 79 cents each
Texas Ruby Red Grapefruit 88 cents each
Russet or Red Potatoes 99 cents lb