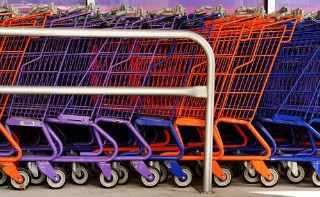 FREE MONEY SAVING CLASS
If you live in the Quad Cities area and want to learn some serious tips to saving money, sign up for the free Taming the Grocery Budget class which will be held at Trinity Christian School. Practical Saver, Kara Rozendaal knows the ins and outs of saving money. Kara's family spends $250 a month on grocery for her family of FIVE! You can learn so much at the best price...FREE. Sign up at this link.
COOLEST THING EVER
Now this is not going to be pretty, but I have heard time and time again how you can take green onions (or scallions) and put them in a jar of water and just keep cutting the green part to use in cooking. I tried it out when I could purchase a small bunch of green onions for 50 cents, and I have been able to use the green part (chives?) over and over again. It just keeps growing. Every penny saved helps. :)
FREE SAMPLE
Watch a video at Walmart's website and while supplies last you can get a free sample of Nescafe Mementos.
FREE EBOOKS (These books were free at the time of my posting. That can change at any time so always look at the price BEFORE downloading)
Children's Bible Comic Book- Kings and Prophets by Toni Matas (AMAZON)
A Portrait of Marguerite by Kate Lloyd (CHRISTIANBOOK.COM)
30 Perfect Popcorn Recipes: How to Make Sweet & Savory Gourmet Popcorn at Home by The Green Gourmet (AMAZON)
Detox Diet Book by Melissa Doviak (AMAZON)
FREE MAGAZINE
Rewards Gold has an opportunity for you to earn a free subscription to Martha Stewart Living magazine. I get a lot of magazines through doing reviews and surveys through Rewards Gold. The longest it usually takes me is about 15 minutes.
Know a new parent? They can get seven free issues of Parents magazine. A great start for those first time moms and dads.
You can also earn lots of rewards from Recycle Bank for learning about greener living, pledging to make greener purchases and more. It is super easy. Sometimes there are lots of points to earn. At the very least you can earn three points a day by reading and pledging to take a green action. You can earn magazine subscriptions, get coupons, gift cards and more. I've already earned 13...yes 13 magazine subscriptions with little effort.
MUSIC DOWNLOAD
Just in time for the Rock and Worship Roadshow Free CCM gives you the chance to download MercyMe's song "You Know Better" as well as nine other songs (some Christmas).
New Release Tuesday is giving you the opportunity to listen to Plumb's new album "Need You Now." It is released next week. Enjoy!
RECIPE
Boneless pork sirloin chops are on sale this week at Albertsons. You can do a lot with just a chop or two. Here are two awesome recipe links Super Fast Pork and Veggie Stir Fry from Spark People (peppers are on sale also) and Gingered Pork and Asparagus recipe from Taste of Home (asparagus is on sale too!).
GROCERY
ALBERTSONS
Boneless Skinless chicken Breast or Thighs $1.67 lb
80% Lean Ground Beef 3 lbs or more $1.99 lb
Fresh Boneless Pork Sirloin Chops $1.99 lb
Asparagus 87 cents lb
Large Navel Oranges $1 lb
Snacking Grape Tomatoes 12 oz $1 each
Large English Cucumbers $1 each
Red, Yellow or Orange Peppers $1 each
Albertsons Gallon Milk Select Varieties $1.79 (limit 2)
Green or Red Cabbage 49 cents lb
SAFEWAY
Boneless Pork Sirloin Country Ribs $1.49 lb
Red Delicious, Fuji Apples or D'Anjou Pears 88 cents lb
Rancher's Reserve Boneless Beef Chuck Cross Rib Roast $2.49 lb
Safeway Select Pizza Dough Balls 16 oz 2/$3
American Beauty Pasta 16 oz Select Varieties 99 cents
Hunt's Pasta Sauce 24 oz 99 cents
Safeway Farms Navel Oranges 8 lb Bag $5.99 each
Coupons (clip or download to your loyalty card)-
Quaker Big Chewy Bars 7.4 oz to 8 ct Chewy Granola Bars $1.88
Hunt's Canned Tomatoes or Sauce 14.5-15 oz 79 cents
Lay's Kettle Chips or Rold Gold Pretzels 8-8.5 oz Kettle or 7-16 oz Rold Gold) $1.99
FRY'S
Boneless Half Pork Loin Sold in Bag or Pork Spareribs Previously Frozen $1.97 lb (limit 2)
Strawberries 16 oz $1.28 each
California Navel Oranges 88 cents lb
Mangoes 88 cents lb
Cauliflower 88 cents lb
Roma Tomatoes 88 cents lb
Fry's Milk or Kroger Oranges Juice Select Varieties Gallon (juice from concentrate) $1.79 (limit 2)
VO5 Shampoo or conditioner Select Varieties 15 oz 79 cents
Blueberries or Blackberries 6 oz 2/$5
Organic Hass Avocados 88 cents