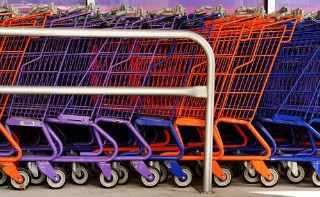 BEAUTY RECIPES
I suppose the idea of beauty recipes start coming to mind when the weather begins to get warmer. Winter-dried hair and skin need attention, and you can take care of all that without breaking the bank. Here are two great recipes you can try out.
Moisturizing Banana Hair Mask
Dry hair can be repaired and moisturized with this awesome mask.
1 Ripe Banana (the riper the better)
1 Tbs Honey
1 Tbs Olive Oil
Whip ingredients together until smooth and creamy (make sure it is really creamy and not clumpy). Apply mixture to damp hair and thoroughly massage in. Cover your hair with plastic wrap (I usually put a towel over this as well) and let sit for 30 to 60 minutes. This is a great time to catch up on your reading. Rinse thoroughly.
Yogurt/Honey/Banana Facial
Now this might sound weird but bananas are also amazing on the skin. Yogurt contains lactic acid which will smooth and soften the skin, honey is a natural antiseptic and...yay!!!! tightens pores! Add in the nutrient rich banana and you are good to go! Check out the recipe.
1/2 of a Ripe Banana
2 Tbs Plain Yogurt
1 Tbs Honey
First be sure to mix the yogurt thoroughly before measuring out for the mask. Blend all ingredients together and apply to the face avoiding the eye area. Leave mixture on face for 20 minutes and then rinse thoroughly.
FREEBIES
Whiles supplies last, sign up for a free Tully's K Cup sample. You can start by liking their Facebook page. :)
LINK: Tully's K Cup Sample
Thriving Family Magazine. I don't know if this is a single issue or a subscription to Thriving Magazine, but it is available now via Christianbook.com. Follow the link to get yours.
LINK: Thriving Family Magazine
Christianbook.com also has two three-month subscriptions to both Clubhouse Magazine and Clubhouse Jr. Magazine. These are for new subscribers only.
LINK: Clubhouse Magazine and Clubhouse Jr Magazine
Got a pup? While supplies last, sign up for a free sample of Rachel Ray's Nutrish Dog Food.
LINK: Nutrish Dog Food Sample
FREE THINGS TO DO
Free National Park Week starts April 21st and runs to April 29th! I love free National Park Week! There are lots of great parks right here in Arizona. Follow the link below to see what parks are free during this week from state to state!
LINK: Free National Park Week
GREAT DEAL
Don't forget that this Saturday is 50% off Saturday at Goodwill in Prescott! I plan on dragging my wonderful husband there as long as he doesn't have to work, because we need some good summer clothes for our upcoming vacation. Hope to see you there!
LINK: Goodwill
FREE EBOOKS
Interested in planting a garden? You might want to pick up the first book in the list. Keep looking though because there are lots of great ebooks you can get your hands on. If you are interested in getting involved with more DIY projects and living a greener lifestyle, I may have found the free ebook for you!
The Everything Grow Your Own Vegetables Book - Your complete guide to planting, tending, and harvesting vegetables by Catherine Abbott and Megan Shinn (AMAZON) (Barnes & Noble)
Practically Green - Your Guide to EcoFriendly Decision Making by Micaela Preston (AMAZON) (Barnes & Noble)
Promise Me This by Cathy Gohlke (AMAZON) (Barnes & Noble)
FREE CHRISTIAN MUSIC DOWNLOADS
FreeCCM is definitely a great first stop this week for free Christian music downloads. This week you can download songs from 33Miles, Sara Groves, Chris Rice, Fuzed Worship, Heather Williams, and Phillips, Craig & Dean.
LINK: FreeCCM Christian Music Downloads
iTickets.com has tw3o free songs this week. You can download "Your Joy" by Deluge and "Jesus Precious Jesus" by Travis Ryan.
LINK: iTickets.com Free Christian Music Downloads
Sign up for Hear It First's email newsletter, and you will get free downloads every week! I love getting their newsletter, because there is always great Christian music news AND fabulous FREE downloads.
LINK: Hear It First Newsletter
GROCERY SALES
SAFEWAY
Fresh Safeway Drumsticks, Thighs or Leg Quarters 99 cents lb
Safeway Canned Vegetables 14.5 to 15.25 oz Selected Varieties excluding peas 59 cents (limit 6)
Pantry Essentials Milk Gallon, Whole, 2%, 1% or Fat Free
Lucerne Shredded or Chunk Cheese 6-8 oz Selected Varieties 2/$4
Dreyer's Ice Cream 1.5 qt Selected Varieties $2.88
Pantry Essentials Breads or Buns Selected Sizes and Varieties 97 cents
Large Artichokes $2.49 Each
Crisp Cucumbers 3/$2.00
Navel Oranges 99 cents lb
Texas 1015 Sweet Onions 99 cents lb
Kiwi Fruit 3/$1.00
ALBERTSONS
Pork Loin Back Ribs Bone-in Frozen Buy 1 Get 2 Free With in-store coupon (limit 1 reward per transaction)
Fresh Boneless, Skinless Chicken Breasts $1.67 lb
Red Ripe Strawberries 3 lb $2.99 each (limit 2)
Doritos or Ruffles Chips 8.5-11.5 oz Selected Varieties $1.99 each when you buy 3
Yoplait Yogurt 6 oz Select Varieties 10/$5
Barilla Pasta 12-16 oz Select Varieties 12-16 oz 10/$10
Hormel Compleats or Dinty Moor Meals 2/$4
Secret or Old Spice Deodorant 2.6-3.25 oz Select Varieties $2
Healthy Choice Steaming Entrees 8-9 oz Select Varieties 5/$10
Rice A Roni or Pasta Roni 3.8-7.2 oz Select Varieties 88 cents (limit 4)
Ragu Pasta Sauce 16-24 oz Select Varieties $1.29 (limit 4)
Albertsons Apple Juice or Cider 64 oz Select Varieties $1.77 (limit 4)
In The Deli - Jennie ) Blue Ribbon Oven Roasted Deli Turkey Breast or USA Gold Virginia Ham Sliced Fresh to Order $4.99 lb
Kleenex Facial Tissue 50-120 ct Select Varieties 10/$10
Radishes, Green Onions or Cilantro 2/$1
Fresh Leaf Lettuce - Red, Green or Romaine 99 cents each
Large NAvel Oranges 99 cents lb
Hass Avocados 4/$5
FRY'S
Gold Medal Flour Select Varieties 5 lb $2.59
Kroger Tomatoes Select Varieties 14.5 oz 69 cents
Boneless Pork Loin Moist & Tender, Half Loin, Sliced Free $1.97 lb (limit 2)
Kroger Value Bonless Skinless Chicken Breasts or Tenderloins $1.88 lb (limit 4)
Red Tomatoes on the Vine 88 cents lb
Fry's Water 24 pack 16.9 oz bottles 4/$10
Farmer John Bacon Select Varieties 12 oz 2/$5
Eggo Waffles or Pancakes or French Toast, Frozen, Select Varieties 10.7-14.1 oz 2/$4
Minute Maid Orange Juice or Simply Lemonade Select Varieties 59 oz $2.29
Bananas 57 cents lb