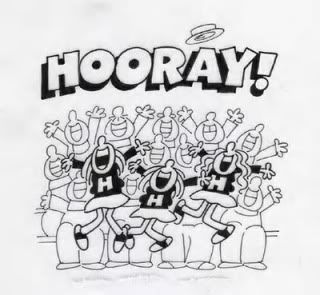 I just kind of pictured a little cheerleader when I wrote the title of this post. It is a little mantra that has been going through my mind lately. Yes, truly I keep hearing "SAVE SAVE SAVE." It is quite insistent. Of course another little mantra that has been banging on my mind's door has been "Spend Spend Spend!" It is one of those things that pop up when I am at a store and see a crazy good deal. A deal that is so good I just feel like it is a crime to pass up.

Like today (well today as I write this but it will post in the morning of what will be tomorrow - confused?), I went to Family Christian Stores, and honestly, I could have gone crazy. They have lots of great clearance sales going on right now, and I have a very hard time passing up the awesome deals. I used as much restraint as possible, and I managed to purchase just a few things. I bought a great ornament for Christmas which was 50% off (not dated and way cute so why not?), and I also purchased two of their awesome $5 items for members. If you have not perused that little section, I strongly advise that you do. They have a couple of great DVDs and some seriously great CDs too which could make FABULOUS stocking stuffers. Still at some point, you must call it quits on even the best deals. I did this...and it was a STRUGGLE!


OHHHHH, and don't forget to take their online shopper survey when you get home. That survey will hook you up with a 30% discount on regular priced items. It does have to be taken within 7 days of purchase and the coupon is good for 30 days from the date of the receipt. Well worth the time.
TRAVEL DEAL
Southwest Airlines has a great travel deal going on right now...in fact today is the last day to get in on the deals. These deals are for travel November 30 – December 14, 2011 and January 4 – February 15, 2012. The deals are in blocks of mileage: 0-450 miles $35, 451 to 1000 miles $65, 1001 to 1500 miles $95, and 1501 plus miles at $125. Follow the links below to their site and click on the button titled Cities and Fares to see the prices from your favorite departure city.
LINK:
Southwest
FREEBIES
Get a free sample of Garnier Fructis Color Shield by copying and pasting this link:
http://www.startsampling.com/sm/shieldcolor102000/
Get a free sample of Nescafe limited edition Peppermint Mocha by heading over to their Facebook page. Sign up while supplies last.
LINK:
Nescafe Peppermint Mocha
Parents, sign up now for 7 free issues of Parents magazine.
LINK:
Parents Magazine Subscription
Join Rewards Gold, refer two friends, complete a survey and do two reviews and you will qualify for a two year subscription to Entrepreneur Magazine.
LINK:
Rewards Gold Entrepreneur Magazine Subscription
Seventh Generation is giving away lots of free samples of their dish washing liquid this month on their Facebook page. Head over and submit your email and they will send you an update on when those samples are up.
LINK:
Seventh Generation Dish Washing Liquid
Sign up with the Land O' Lakes Simple Rewards Club and get a free 2011 Land O' Lakes Little Joys of Holidays Brochure (mailed to you or if you want it ASAP you can get the PDF) as well as access to printable coupons and other awesome printable items like coloring pages, baked gift labels, gift labels and plenty of fabulous recipes that are just perfect for the holidays.
LINK:
Land O' Lakes Simple Rewards Club & Land O' Lakes Little Joys of Holidays Brochure
FREE ACTIVITIES
Lakeshore Learning has some free Autumn activities for kids on Saturdays. The closest one I know of is at 4727 E. Bell Road in Phoenix. Those who live nearby really need to head over to their activities page and see what you can sign up to do. The activities run from 11 am to 3:00 pm.
LINK:
Lakeshore Learning
Michaels will have plenty of great crafting events coming up in this month and November too. Follow the link below so you can plan out your activity calendars now. Some crafts will be entirely free where others may require the purchase of an item that will be decorated for the holidays from Veteran's Day to Thanksgiving. Today's craft with the kids just may be tomorrow's gift.
LINK:
Michaels Activities
REFUND REBATE
Liquid Plumr has a refund form that is good from now to June 30, 2012. It is basically your typical satisfaction guaranteed types of forms. If you are not completely satisfied by your product, print out the form, follow ALL the directions, and pop it into the mail for up to $9.00 back. :)
LINK:
Liquid Plumr Refund Form
Christmas is about 65 days away, and yes, that may seem like a lot of time, but NOPE it isn't. Time to start planning and crafting and recipe gathering. I plan on making several yummy treats, and in November, I'll start sharing some recipes, but for now how about a link to a 40% off coupon to Hobby Lobby? This one is good until October 22nd. Print it now and get your savings.
LINK:
Hobby Lobby Coupon
FREE EBOOKS
Load up your Kindle, PC, Nook and whatever else you use for e-reading with some fabulous free Christian ebooks. These come and go so pick yours up while they are available.
Code Blue (Prescription for Trouble Series) by Richard Mabry
Amazon
Barnes & Noble
While We're Far Apart by Lynn Austin
Amazon
Barnes & Noble
Prairie Rose by Catherine Palmer
Amazon
Barnes & Noble
The Brotherhood (Precinct 11 Series #1) by Jerry B. Jenkins
Amazon
Barnes & Noble
Ransomed Dreams by Sally John
Amazon
Barnes & Noble
Invisible (Ivy Malone Mystery Series #1) by Lorena McCourtney
Amazon
Terror by Night: The True Story of the Brutal Texas Murder That Destroyed a Family, Restored One Man's Faith, and Shocked a Nation by Terry Caffey and James H. Pence
Amazon
Barnes & Noble
The Holy Bible English Standard Version
Amazon
MUSIC MUSIC MUSIC
Have you heard the new song by City Harmonic called "I Have a Dream" (It Feels Like Home)? Well, if you have been wondering where you can get your hands on it? Here ya go...head on over to iTickets.com and sign up if you haven't already. Then head on over to the downloads page for your FREE download of this awesome new song.
LINK:
iTickets Free Song Download
Not sure what I am talking about? Check out this video:
GROCERY DEALS
FRY'S
Pomegranates $1.00 each
Navel Oranges $1.00 lb
Jumbo Honeycrisp or Ambrosia Apples $1.00 lb
Jennie-O Grade A Frozen Turkeys 59 cents lb
Libby's Canned Vegetables Select Varieties 2/$1.00
Kroger Butter 16 oz $2.47
Fry's Milk $1.57 gallon (limit 2)
Rice-A-Roni or Pasta Roni 88 cents
Acorn, Butternut or Spaghetti Squash $99 cents lb
Raspberries 6 oz $1.88
SAFEWAY
Sweet Imported Navel Oranges 77 cents lb
Hass Avocados 69 cents each
Safeway Farms Russet Potatoes $1.99 10 lb bag
Ragu Pasta Sauce 4/$5.00
Marie Callender's or Healthy Choice Meals 5/$10
Yellow Onions 49 cents lb
Cluster Tomatoes on the Vine $1.49 lb
Bartlett, Bosc, Comice or Red Pears 99 cents lb
ALBERTSONS
Dole Bananas 39 cents lb
Fresh Whole Fryers 67 cents lb (limit 3)
Boneless Skinless Chicken Breasts $1.67 lb
Albertsons 12 count Large Eggs $1.00
Buy 10 Yoplai Yogurts for $5 plus get a coupon for free Albertsons 12 ct large eggs at your next visit
Michelina's Entrees 6-9 oz $1.00
Pict Sweet 10 oz Steamables $1.00
Banquet Value Meals 5-10.25 oz $1.00
Equaline Liquid Hand Soap 7.5 oz $1.00
Equaline Hand Sanitizer 8 oz $1.00
Bartlett, Bosc or Red Pears 99 cents lb
Raspeberries, Blackberries or Strawberries 6-16 oz 2 for $5.00