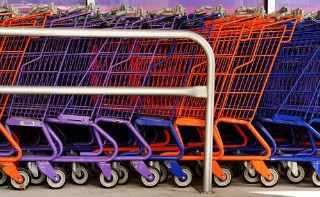 NATURAL MONEY SAVING TIPS
Sometimes very simple decisions can save your family money.
Heating - The cooler temperatures are slowly coming on which means the heating bill is going to go up, but there are things you can do to combat this at home.
1- Dress warm when at home. When I lived in Rhode Island, we had an apartment with one heater which was located in the living room. We learned to dress warm in the winter, use draft stoppers, and take advantage of hot water bottles.
Remember that you save up to 5% in heating costs for every degree you turn down your thermostat in the winter. If you dress warmer when at home, you can keep that thermostat down.
Using draft stoppers can help you save more energy because up to 11% of your home's heat loss is through doors and windows, and according to the US Department of energy drafts can cost 5% to 30% of your energy! That is crazy! The nice thing is it takes next to nothing to make your own draft stoppers. If you have a little sewing talent, you can make your own draft snakes. Click on
this link
to get directions on how to sew your own draft snake from The Rusty Bobbin. I have never gone as far as sewing to make a draft stopper. I typically cut the sleeves off of old sweatshirts or even use the legs of old sweatpants and just stuff them with grocery bags and tie them with ribbon. No these aren't at country-cute as a draft snake, but I don't really care too much about being cutesy anyway.
This could bed gone by the time this post hits our website, but just in case, you can sign up now for a free, no strings attached, offer for an eight month subscription of Working Woman magazine courtesy of ValuMags. These go fast, but give it a shot.
LINK:
Working Woman Magazine
New parents, there is a great free subscription out right now to Baby Talk magazine. This is totally free. Sign up while supplies last.
LINK:
Baby Talk Magazine
Sign up with Rewards Gold for a free subscription to Barron's Magazine (finance and investment magazine). With Rewards Gold you do a couple of reviews and surveys, and you are in. It is seriously one of my favorite magazine connections.
LINK:
Barron's Magazine
Kmart has some free samples too. Head on over to their site to see what is up for grabs.
LINK:
Kmart Freebies
While supplies last, you can get a set of free samples of Nescafe single serve coffee sticks. This is a Facebook offer and definitely a treat!
LINK:
Nescafe Samples
FREE CHRISTIAN MUSIC
Free CCM is always my first stop for free Christian music, and they have some amazing offerings this week including songs by Sara Groves, Shane & Shane, Phil Wickham, Heather Williams, Derek Webb, and Darlene Zschech.
LINK:
Free CCM Christian Music Download
FREE EBOOKS
Gooseberry Patch Thanksgiving Classic Cookbook ebook is available.
AMAZON
BARNES & NOBLE
Maid To Match by Deeanne Gist
AMAZON
BARNES & NOBLE
Prairie Rose by Catherine Palmer
AMAZON
BARNES & NOBLE
Ransomed Dreams by Sally John
AMAZON
BARNES & NOBLE
Embers of Love by Tracie Peterson
AMAZON
BARNES & NOBLE
Prevention: Healthy Recipes - Chicken
BARNES & NOBLE
COUPON
Hallmark has a choice of two printable coupons on their Facebook page. There are only 10,000 available for each so get there while you have a shot. One coupon is for buy one card get one free at any Hallmark Gold Crown store and the other is for $5 off of at least a $10 purchase also at a Hallmark Gold Crown store. Follow the link below to the facebook link to print now.
LINK:
Hallmark Coupons While Supplies Last
GROCERIES
ALBERTSONS
Albertsons Gallon Milk $1.57 each (limit 2)
Sanderson Farms Boneless Skinless Chicken Breasts or Tenders Buy 1 get 2 free $4.99 lb (limit 2 rewards)
Red Seedless Grapes 88 cents pound
Ground Chuck 5 pounds or more $1.99 lb
Chuck, Cross Rib, or Bottom Round Roast 1/1 Free $5.99 lb
Ragu 16-24 oz 2/$3 buy 2 get 1 Barilla pasta free
Albertsons Taco Shells 12 count 10/$10
Albertsons Horseradish, Dijon or Spicy Brown Mustard 10/$10
Gala, Granny Smith, Red Delicious, Golden Delicious apples or Bartlett Pears 99 cents lb
Hass Avocados 99 cents
Brussel Sprouts 99 cents lb
Roma Tomatoes 99 cents lb
SAFEWAY
80% Lean Ground Beef $1.99 lb
Red & Black Seedless Grapes 88 cents lb
Raspberries 5.6 oz 2/$3
Jennie O Turkey Store Lean Ground Turkey 20 oz 1/1 free $5.99
Hebrew National Beef Franks 11-12 oz 1/1 Free ($5.99)
O Organics Salads 5-7 oz 1/14 Free $3.49
Green, Red or Romaine Leaf Lettuce 99 cents each
Sweet Navel Oranges $1.49 lb
Green Seedless Grapes $1.49 lb
FRY'S
Boneless Pork Loin $1.97
Kroger Tomatoes 14.5 to 15 oz 2/$1.00
Fry's Large Eggs 1/1 Free (limit 2 Free)
Red Seedless Grapes 75 cents pound
Broccoli or Cauliflower 88 cents pound
Minute Maid Orange Juice 64 ounces $2.49
Campbell's Cream of Mushroom or Cream of Chicken Soup 10/$10
Gala Apples 5lb Bag $3.99
Nathan's Beef Franks Select Varieties 2/$6.00
Hass Avocados 99 cents
Celery 99 cents
Gala, Red or golden Delicious Apples 99 cents pound
T-Bone Steak USDA Choice Beef Loin bone In Family Pack 50% Off
Progresso Soup 8/$10