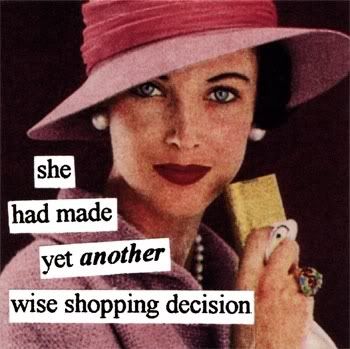 Yesterday as I was speaking to a sick friend I became inspired. Lightning didn't strike and no light bulbs flashed over my head, but my focus for today's post came to me like a shot. Thrifty ways to cure or at the very least ease booboos, owies and other ailments. Okay...booboos may not be an "ailment."
Got a cough? Chewing two Altoids Peppermints helps clear it up by literally clearing up phlegm and congestion. Who'd have known?
Oh...and though this is certainly not a pretty thing to note...Altoids also are good for revealing gas. Again...chew two.
Got a toothache? Put oil of clove on a cotton ball and apply to the tooth. If you lack the oil of clove, and I'd be surprised if you did have it, soak a cottonball with some vanilla extract and put that on the tooth.
Okay...I'm really not trying to get you sick here, but if vomiting is a problem, drink plenty of tea. The tannins in the tea will relax the stomach contractions that can cause that heaving.
Upset tummies are also calmed by flat cola. It works especially well on nausea.
Leg cramps (restless leg at night) can be alleviated by (don't laugh) placing a fresh bar of soap under your bottom sheet by where your feet will be. Apparently this works really well for restless leg syndrome and when the RLS comes back it is advised to just change the soap. Give it a shot.
Warts giving you the blues? Cut a square of banana peel. Rub the inside of the banana peel on the wart and then tape the square to the wart. I don't have a wart so I haven't tried it, but supposedly something about the potassium works the wart out.
Nose bleeds may stop more quickly when you try this quirky home remedy. Get a nose bleed? Have someone place cold keys behind your neck and back. I heard that a cold washcloth works that way too.
FREEBIES
Like Nine West on Facebook and while supplies last, you can get a free sample of their Love Fury perfume. The bottle is very, very cute. It looks like it has a very high high-heel stuck in it. Maybe my definition of cute is not quite like yours. :) Follow the link below.
LINK: Nine West Love Fury Sample
FREE MUSIC DOWNLOADS
Head over to FreeCCM.com because they have some great songs on deck for free for all members. You can download "Inside of Me" by Ashes Remain as well as songs from Jonny Diaz, The Afters, Building429, and Skillet.
LINK: FreeCCM Free Music Downloads
New Release Tuesday's free downloads this week are "Desperation Calls" by Kiros, "Anthology" by Thrice, "The Sound of Your Voice" by Jaci Velasquez and "Freedom Is Rising" by Worth Dying For.
LINK: New Release Tuesday Free Music Downloads
FREE BOOK DOWNLOADS
Bring on the Blessings by Beverly Jenkins (AMAZON) (BARNES & NOBLE)
Into The Free: A Novel by Julie Cantrell (AMAZON) (BARNES & NOBLE) ***This one is probably not going to be free for long as the book will be releasing very soon.
Legacy Lane (Book One in the Hart's Crossing series) by Robin Lee Hatcher (AMAZON)
Ruby (Dakotah Treasures #1) by Lauraine Snelling (AMAZON)
The Big 5 Oh! by Sandra D. Bricker (Amazon) (Barnes & Noble)
Nobody by Creston Mapes - Looking for a thriller with a message? Creston's "Nobody" will be FREE on Friday, February 17th through Sunday February 19th! (AMAZON) This will definitely be a short time so don't miss out!
FREE ACTIVITY
Lowe's Build and Grown Clinics for kids has two great activities that you can sign up the kiddos for. February 25th they can make a fabulous "Rumblin Race Car" and on March 10th the kids can make their own "Carnival Hoops" a sweet little basketball like game. Sign them up today.
LINK: Lowe's Build and Grow Clinic Free Activities
INEXPENSIVE ACTIVITY
Okay this one is not free BUT the kids can sign up for a Make It And Take It "Express Yourself Tote." Bandanna purchase is required for this activity. Learn more at the link below, and check with your local Michaels to see if they are participating.
LINK: Make It And Take It Event At Michaels
GROCERY DEALS
ALBERTSONS
Sanderson Farms Chicken Breast -Boneless, Skinless Small Pack regular retail $4.99 (1/2 free) limit 1
Pork Loin Roast Boneless sold in bag $1.88 lb
Red Seedless Grapes 77 cents lb
Albertsons Gallon Milk Select Varieties $1.57 (limit 2)
USDA Choice Beef Chuck, Cross rib or Bottom Round Roast boneless Regular Retail $5.399 lb 1/1 free
Iceberg Lettuce 88 cents
Ruffles or Tostitos Chips 9-13 oz $1.99 each (when you buy 3)
Campbell's Condensed Soup 10.5 to 11.5 oz Select Varieties 10/$10
Tilapia Fillet 16 oz bag frozen $7.99 each 1/2 free
Bottom Rounds Steak Family Pack $5.99 lb 1/1 free
C&H Granulated Sugar 4 lbs 2/$5
Large Navel Oranges 99 cents lb
Roma Tomatoes 99 cents lb
Hass Avocados 99 cents
Kale, Collard, Mustard, Turnip Greens 88 cents each
FRY'S
Fuji, Gala, Granny Smith, Red or Golden Delicious Apples 77 cents lb
Pork Spareribs or Boneless Pork Loin $1.97 lb
Kroger Cheese Select Varieties Bar, Shredded or Sliced 6-8 oz $1.77
Romaine, Butter, Red or Green Leaf Lettuce 99 cents
Broccoli or Cauliflower 99 cents lb
Colgate Toothpaste Select Varieties 6.4 oz or Colgate Plus or Triple Action Toothbrush 10/$10
MIX OR MATCH ANY 10 PARTICIPATING ITEMS SAVE $3 NOW AND $2 LATER (all prices reflect this savings)
Kraft Barbecue Sauce Select Varieties 18 oz 69 cents
Eggo Waffles, Pancakes or French Toast $1.99 each Frozen Select Varieties 10.7-14.1 oz
Best Foods Mayonnaise Select Varieties 30 oz $2.99
Dannon Yogurt $1.69 each Select Varieties 4-6 ct or 32 oz $1.69
Minute Maid Orange Juice Select Varieties 59 oz $1.99
Campbell's Chunky Soup Select Varieties 18-19 oz $1.33
Purex Laundry Detergent Select Varieties Liquid, 60-72 oz or Powder 44 Use or Fabric Softener
44 oz $2.99
Ritz Crackers Select Varieties 7.5 - 16 oz $2.19
Nutri-Grain Cereal Bars 8 ct 2.49 each
Spam Select Varieties 12 oz $2.19
Hormel Compleats 10 oz Select Varieties $2.19
SAFEWAY
Assorted Pork Loin Chops Bone-In $1.49 lb
Red Seedless Grapes 88 cents lb
Broccoli or Cauliflower 88 cents lb
Fuji, Red Delicious & Braeburn apples 99 cents lb
Marie Callender's or Hedalthy Choice Meals 8.5-19 oz Select Varieties Excluding Steamers 4/$10
Pantry Essentials Milk Gallon, Whole 2%, 1%, Creamy Fat Free or Fat Free Limit 2 $1.57
Buy 2 Coca Cola Product 12 packs get 2 Free of equal or lesser value plus Get 1 Free box of Nabisco Snack Crakers 5.5 to 10 oz Select Varieties
Starkist Solid White or Chunk White Tuna 5 oz Select Varieties 10/$10 (FRI, SAT & SUN Only)
12 Pack 7 Up 12 oz Cans Select Varieties 4/$10
Safeway Farms Navel Oranges 8 lb bag $4.99 each
Kiwi Fruit 3/$1.00
Sweet Navel Oranges 99 cents lb
D'Anjou Pears 99 cents lb
Green Onions or Red Radishes 2/$1.00
Yoplait Yogurt 8 pack 6 oz Select Varieties $3.99
Campbell's Condensed Soup 10.5 oz to 11.5 oz Select Varieties 10/$10
Eating Right Meals 6-11.5 oz 5/$10