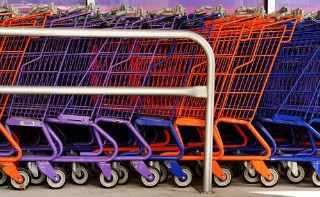 WHAT'S A GOOD BUY IN JANUARY?
January is here and it is time to cover what to buy. January is a perfect time to purchase winter apparel especially if it has been unseasonably warm. This is also a wonderful time to pick up electronics. New television models will be hitting the floor soon, and the older ones will be marked down. You can cash in on deals that rival Black Friday. Super discounts will also be found on furniture again as new styles hit the floors. And of course, I am sure you have noticed massive Christmas items on sale. Don't just pick up wrapping paper and ornaments, you can find great prices on gift sets too. I found some wonderful wire baskets marked half price at Walmart, and they can totally be used for any time of the year. There was also a plethora of ribbons that could be used for wrapping more than a Christmas gift. I found out a lot of this great information from a fabulous post by Dealnews at Wisebread. Check the whole post out because you will also find out what NOT to buy this January!
LINK: The Best and Worst Things to Buy in January
FREE GIVING
For every new "Like" Valspar Paint gets on Facebook from the 3rd to the 31st of January, Valspar will donate $1 to Habitat for Humanity up to $100,000! So give them a like and give to Habitat for Humanity for free, and tell your friends too!
LINK: Valspar Paint Facebook
FREEBIES
Sign up now for a free sample of Dove Damage Therapy Daily Moisture Shampoo & Conditioner. This is a free sample through Sam's Club that, at the time I write this, does not require a membership number. I do not know how long this will last. I tried to get this a week ago, and it was gone. So take a chance now.
LINK: Dove Damage Therapy Daily Moisture Shampoo & Conditioner Sample
I love all the free fries that have been offered lately. There's more if you like Gordon Biersch Restaurant on Facebook. Like them and look over on the left side of their Facebook page for a link to where you can print out a coupon for free garlic fries. I only found Gordon Biersch Restaurants in the Phoenix area.
LINK: Free Garlic Fries at Gordon Biersch
If you live near a Quik Trip, you might like to sign up for their Facebook customer appreciation free beverage. You can get a free 16 oz hot drink or a 32 oz fountain drink. Follow the link below to sign up. Quik Trips are in the Phoenix area.
LINK: Free Beverage at Quik Trip
On Saturday, January 14th IKEA is having a Bring Your Own Friends event. RSVP for the event and get a coupon for a free small breakfast before 11:00 am, a free tote bag, and 1/1 free entree between 11:00 am and 4:00 pm. There will also be awesome prizes given away during the event. Are you feeling in a shopping mood, then you really shouldn't miss this event. PS You are looking at the IKEA store in Tempe.
LINK: IKEA Bring Your Own Friends Event
Sign up for Zoe's Kitchen's Zmail, and you will get a coupon for buy 1 get 1 free entree on your birthday. For a Zoe's near you click on this link. To sign up for the Zmail club, click on the link below.
LINK: Zoe's Kitchen
FREE EBOOKS
It is the new year and that means another year older, and for many of us...another year away from school. That is why I thought you might like to take advantage of this fun eBook "I Used To Know That: Stuff You Forgot From School" by Caroline Taggart. I love books like this for those times when my son asks me for help with homework. (AMAZON) (BARNES & NOBLE)
Looking to lose some weight and learn more about good food choices? You might want to check out The Perfect 10 Diet by Dr. Michael Aziz. This book gives you information on how the body uses the food you eat and gives you details on the way some foods influence your hormones. (AMAZON) (BARNES & NOBLE)
If you have been planning on eating healthier this year and need some recipe assistance, download the Mr. Food Lighten Up! eCookbook. There are 20 great recipes for soups, salads, main dishes and desserts.
LINK: Mr. Food Lighten Up! eCookbook
Ever read the Left Behind series? If not and you would like to get your feet wet, you can get the ebook of "Left Behind" by Tim LaHaye and Jerry B. Jenkins for free right now. (AMAZON) (BARNES & NOBLE)
Also check out:
Paradise Valley (The Daughters of Caleb Bender) by Dale Cramer (AMAZON)
The Centurion's Wife (Acts of Faith Book 1) by Janet Oke and Davis Bunn (AMAZON) (BARNES & NOBLE)
Talk of the Town (Welcome to Daily Texas Book 1) by Lisa Wingate (AMAZON)