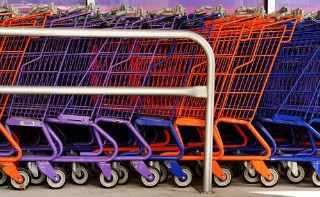 ***This morning, I had a few items to share that I had not had the opportunity to post on our blog. I made sure to highlight those this morning, but now it is time to give you all the juicy details.
Teens' Closet at The Rock

The Rock which is located at 655 Talwatha (right across from Prescott High School) is opening the Teens' Closet. They have worked hard to turn it into a cute little "boutique-looking" closet where teens (both guys and girls) can make an appointment to come in and shop for clothing and shoes absolutely free of charge. In the future they also plan on offering snacks or full meals if needed as well as coupons for free hair cuts. To make an appointment call or text 602-677-0841 or 928-899-5637. Teens can also talk with their school nurse, counselor or principal or email ignite@americanlutheran.net. If you would like to check out the Teens' Closet and learn more, you are invited to attend their open house on August 12th from 3:00pm to 5:00pm. They will have refreshments and activities for teens and an opportunity to learn more.

If you would like to donate new or gently used clothing, shoes, belts, etc., bring those items to The Rock or American Lutheran Church located at 1085 Scott Drive in Prescott Monday through Friday from 8:00 am to 4:00 pm. Mark the items as "Teens' Closet."
COMMUNITY WIDE EVENT
Grades 6 through 12 are invited to a Block Party at the American Evengelical Lutheran Church parking lot located at 1085 Scott Drive in Prescott. There will be door prizes (grand prize is an iPod Nano), Minute to Win It Games, Cotton Candy, Nachos, Popcorn, Snow Cones, and Music by the American Evangelical Lutheran Church Worship Team. This event runs from 5:00 pm to 7:00 pm.

COOLNESS WEBSITE STYLE
Okay, the site I simply HAD to share with you today is Zilok. Zilok is an online marketplace that allows businesses and individuals the opportunity to rent items to others. It is seriously cool. You can rent costumes, evening gowns, kayaks, canoes, motorcycles, power washers, and even vacation homes. Seriously this service can be a great way to get a little cash to offset the cost of different items. It is also a great way to rent some awesome recreational vehicles while away on vacation. Get the details about this fun site by following the link below.
LINK:
Zilok
If you have some used electronics that you would like to get off of your hands and make a bit of a profit at the same time, check out Gazelle. Gazelle will buy your game systems, cell phones, digital cameras, calculators, laptops and more. This is not a place to buy, but it is a great place to unload some items that are probably gathering some serious dust. Learn more by following the link below. Gazelle also has a branch where you can donate items to your favorite cause. They help you set up a page for the gadget drive, donors send their items to Gazelle, and the items go to your cause. Find out about that
here
.
LINK:
Gazelle
FREEBIES
Here are some more great Christian ebooks for you to check out.
Sixteen Brides by Stephanie Whitson (
Amazon
) (
Barnes & Noble
)
Miss Match by Erynn Mangum (
Amazon
) (
Barnes & Noble
)
Post-it Notes is inviting you to join their Super Sticky challenge. Where you can try their Super Sticky post-it notes that are, I guess, extra sticky so they will fulfill their purpose, but they also come off cleanly. Follow the link to join in.
LINK:
Post-it Notes Super Sticky Challenge
Lowe's Build And Grow Clinics have a wonderful activity this weekend to sign up the kids for. Saturday, August 13th, they can build a schoolhouse photo holder. It is seriously cute! While your signing up for that fun activity, look into signing them up for the August 27th activity where the kiddos can build a little school locker complete with chalk, stickers and a chalkboard. This is a great way to celebrate all things back to school.
LINK:
Lowes Build and Grow Clinics
One of my favorite companies is Kashi. They really know how to make good food...well, good. Kashi also has a totally generous free sample program. Just last week, they sent me a full-sized box of their pita crackers, and they were insanely good! They also often have great free snacks to be tried. Vickie shared this with me, and I had to share it back with you. Right now you can sign up for Kashi's 2-bite test. You can try their yummy Cinnamon Harvest cereal or their delightful Kashi TLC Peanutty Dark Chocolate layered granola bar. Sign up while by August 28th or while supplies last. Oh and if you haven't tried it, I highly suggest their Go-Lean Crunch with some yummy yogurt, it is a great combo!
LINK:
Kashi Samples
Mark your calendar for August 8th for a Monday, Life Saver freebie. The first 5000 to sign up on the 8th will get a coupon for an 85 count bottle of Life Saver minis. This is a Facebook freebie.
LINK:
Life Saver Minis
GROCERY SALES
SAFEWAY
Green, Red or Black Seedless Grapes 77 cents a pound
Red Lion Nectarines 99 cents a pound
Green Bell Peppers 2/$1.00
Marie Callender's or Smart Ones Meals - Select Varieties 5/$10
Green Leaf, Red or Romaine Leaf Lettuce 99 cents each
FRY'S
Large Eggs AA 12 count 88 cents each (limit 2)
Kroger Coffee - 26-34.5 ounce - Select Varieties $5.99
Cantaloupe 67 cents each
Blue Bell Ice Cream 64 ounces 2/$7.00
ALBERTSONS
Albertsons Gallon Milk - Select Varieties $1.57 each (limit 2)
Boneless Skinless Chicken Breast $1.67 a pound
New Crop Sweet Corn 6/$1.00
California Bartlett Pears 99 cents a pound
Red, Green Leaf or Romaine Lettuce 99 cents each
This weekend, I am going to tackle making my own liquid laundry soap...I am hoping to share the results with you so check back! :)