Where has the week gone? Well, technically I guess that the week is just beginning. I guess I really should be wondering where the month is going. I remember how as a child it seemed like Christmas would never get here. Now I feel like telling Christmas to slow down a bit. :) Time for a good break with some Monday hopping. I have been really enjoying Java from Never Growing Old's blog hop Meet Me On Monday, and although I am pretty tired this evening, I just can't pass it up.
Here is a little bit about Meet Me On Monday straight from Java's blog:
Blogging is a funny thing...we tell our most intimate thoughts for all to read and yet most of the time I find myself sitting and wondering, "who is this person!?" I know them...but yet I
don't
know them! I want to know who the person is behind all those words so I thought of a great way for all of us to "meet" each other!
Every Sunday I will post five
get to know you
questions that you can copy and paste into your own Monday post and we can all learn a little more about each and every one of us!!
"Its a great way to to meet new friends and for others to get to know me better....one Monday at a time!!!"
....as quoted by
the Chacogirl!!
I will make this SIMPLE and FUN!!!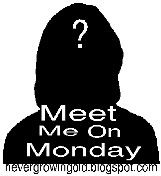 Questions:
1. What is your favorite kind of cheese?
2. What size is your bed?
3. What is your most overused phrase?
4. Green or purple grapes?
5. Shower, morning or night?
My Answers:
1. What is your favorite kind of cheese?
My favorite kind of cheese depends on what I am eating. If I am just grabbing some cold cheese to nibble on, I prefer Monterey Jack which I discovered was originally made by Mexican Franciscan Friars in Monterey, California. This fascinates me because until now I really had no idea why it was called Monterey Jack but thought "Hey, maybe it was made in Monterey!" This was quite the "Eureka!" moment for me. The Jack part is apparently thanks to David Jack, a business man who apparently mass marketed the cheese. This of course is all according to Wikipedia. Can you imagine if it was called Monterey Dave instead of Monterey Jack? Doesn't Monterey Dave sound more like a street musician? Good thing they went with Jack. By the way I also like Havarti, but telling you this is really more of an afterthought than anything else. :)
2. What size is your bed?
We have a queen sized bed. I am really looking forward to upgrading at some point. I want one of those cool sleigh beds. I would like a dark cherry or mahogany sleigh bed, but first we have to upgrade our home, because our bedroom isn't really suited for a large sleigh bed. Our home is nice though,it is ours, and we can afford it so wait for the upgrade I will. :) Where was I? Oh yes...queen sized bed. That's the answer. It isn't like you asked about the actually headboard and whatnot. :)
3. What is your most overused phrase?
I am not sure. There are some phrases or certain words that I have said more often than I like, but I am certainly not going to write them here. They are a bit insulting, and really I only use them when I am driving or watching someone behave like a total asinine creep. Actually I also use the phrase "I know...right?" There was a time when "That's what she said" was the big phrase at home too.
4. Green or purple grapes?
I am not a grape snob. I like them green, purple, red or black. My main concern is seeds. I HATE seeds.
5. Shower, morning or night?
I shower in the morning. I prefer a shower at night, but if I shower at night I wake up with hair that only looks normal on an anime character (and that is perfectly fine when you are young and was perfectly time when I was in my 20s and 30s, but I am in my 40s now, and the anime look just doesn't translate well on me anymore. Kind of why I do not have pink or purple hair anymore. So in order to look presentable, I shower in the morning.