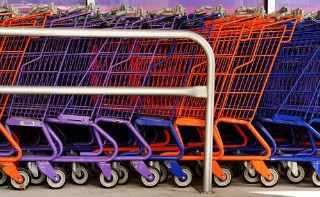 GREAT APP
A week or so ago, I was moaning to my husband about how badly I wished we had an app for our phone that could keep us on top of our grocery needs. An app that could keep track of what we needed and also share that information with whomever we chose. Grocery iQ is a perfect app for that. With Grocery iQ you can scan items at home when you run out so they can be added to a shopping list, and whomever you share that list with will know as well. This is a perfect plus for me and my husband. I have missed more of his texts and calls when he is out at the store and wants to see if there is anything we need. You can even organize your list by aisle which is a total time saver. Free for Android and iPhone. Learn more at GroceriQ.com.
TEACHER APPRECIATION WEEK GIFTS
Next week is Teacher Appreciation Week. Help your children share some appreciation for their teachers with these inexpensive gifts.
Pom pom yarn book marks are seriously cute. All it takes is some inexpensive yarn, scissors and a wee bit of patience. So simple, I could do it. I found this tutorial at Design Mom.
I found a great Back To School gift that can easily double as a teacher appreciation gift. A small jar of dipping caramel and an apple wrapped up all cute. This sweet gift is completely explained at Random Thoughts of a Supermom.
It doesn't get much easier than the gift of Fanta soda with the tag "You are a FANTA stic teacher." The printable and tutorial is available at the blog 4 Men 1 Lady.
Bake your teacher some tasty cookies and pick up some take out boxes at the craft store. There is a great printable and tutorial at Make Bake Celebrate (the cookies are awesomely decorated but any baked cookie will be just as sweet). The printable tag that says "Thanks to you, I'm one smart cookie" is sweet as can be.
Plan on getting some flowers for the teacher? Mom in Time Out has a great printable to go with flowers or put together a little garden kit like you will see at the website. Very cute.
If you have kids, you probably have crayons around. If you don't have crayons around, they are easy to pick up and use to make a simple crayon frame. Follow the tutorial at Mom It Forward.
Other quick ideas:
-Fill plastic lidded drinking glasses with single serve powdered drink mixes that they can add to the glass. Perfect for the teacher to quench their thirst with a treat at any time. You can also fill that plastic cup with a couple of snack treats as well as drink packets.
-If you can locate an old Scrabble game at the thrift store, you can combine the tiles to spell the teacher's name, glue it to the tile holder and give your teacher a creative desk plate.
FREEBIES
While supplies last, sign up for a free sample of Color Scents trash bags. Yes scented trash bags. :) Why not. Follow this link to their Facebook page to order yours.
While you are online, check out this Facebook freebie for a sample of Ovaltine while supplies last as well.
FREE SONG DOWNLOAD
Today is the National Day of Prayer. Head over to the National Day of Prayer website for more information, to find events in your area and for a free download of Sanctus Real's song "Pray."
GROCERIES
FRY'S
Boneless Half Pork Loin $1.77 lb Whole in Bag (limit 2)
Strawberries 16 oz 97 cents lb
Fry's Milk 2% Reduced Fat, Whole, Lowfat or Skim Half Gallon 88 cents each (limit 4)
Iceberg, Romaine, Red or Green Leaf Lettuce 99 cents
Large Lemons 3/$1
ALBERTSONS
Pork Spare Ribs Previously Frozen $1.88 lb
USDA Boneless Petite Sirloin Steak Buy 1 Get 2 Free ($8.99 lb)
Jumbo Cantaloupe $1 each
Tropical Mangos 3/$1
Red, Ripe Roma Tomatoes 99 cents lb
SAFEWAY
Fresh Whole Pork Shoulder Blade Roast Bone-In (sold whole in bag)$1.49 lb
Pantry Essentials Milk Gallon, Whole, 2%, 1% or Fat Free $1.79 (limit 2)
Hass Avocados 77 cents each
Large Limes 4/$1
Cacique Chorizo 10 oz Selected Varieties 99 cents each