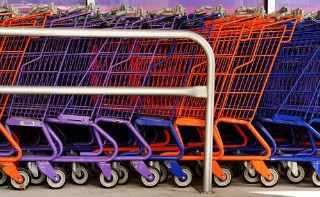 WORK THE SALES WITH A GREAT RECIPE
I love when I find a great recipe that takes advantage of a sale. There is a super great slow cooker recipe for sweet pork at the blog Butter, with a side of bread. Follow this link to check it out. It is beyond easy, and very inexpensive.

TRAVEL APP & WEBSITE
Heading out on a road trip and want to find a place fast and at a discount? Download the app from Hotel Tonight. You can save up to 70% on a room. The app works on iPhones and Android phones.
Get alerts for the best travel deals by typing in your location and destination at Air Fare Watchdog, and they will email you when they find an awesome deal.

FREE SAMPLES
While supplies last sign up at Target for a fee sample of Voots kids supplements. There is a small Q&A first to be qualified.
While supplies last you can sign up for a free sample for your cat with a sample of Purina One Healthy Metabolism Cat Food. You will see the sample request on the first banner.
ENTERTAINMENT DEALS
Wet & Wild in Phoenix is selling their season passes as a low cost when you buy four until April 21st. This is a quick savings if it is a place you are going to visit more than twice, and with the warm Arizona weather coming, that might be a good idea. Get details at their website.
FREE ACTIVITY FOR KIDS
Sign the kids up for a free Lowe's Build & Grow Clinic on May 11th where the kids can learn and make a sweetheart frame.
FREE MUSIC DOWNLOADS
The Afters has a new album that was released on Tuesday called "Life is Beautiful" and right now you can get a free download of the song "Life is Beautiful" at Free CCM as well as four other great songs.
FREE EBOOKS (Keep in mind that these books are free at the time of my posting. That can change so always look at the price before downloading)
One Chance by Daniel Patterson (AMAZON)
The Narrow Path by Gail Sattler (AMAZON) (CHRISTIANBOOK.COM)
GROCERIES

ALBERTSONS
California Grown Sweet Corn 6 for $1
Boneless Half Pork Loin (sold in the bag) $1.99 lb
Boneless, Skinless Chicken Breast or Thighs $1.88 lb
Fresh Romaine, Green or Red Leaf Lettuce 99 cents each
Ataulfo Mangos 69 cents each
SAFEWAY
Rancher's Reserve Boneless Beef Top Round London Broil $2.79 lb
Jumbo Navel Oranges 77 cents lb
Tender Asparagus 99 cents lb
Boneless Pork Sirloin Country Style Ribs or Pork Sirloin Chops $1.99 lb
Pantry Essentials Milk $1.79 gallon 2%,1% or Fat Free (limit 2)
FRY'S
USDA Boneless top Sirloin Beef Loin, sold in Bag (limit 2) $3.99 lb
Strawberries or Blackberries 6-16 oz 2/$3
Zucchini or Yellow Squash 99 cents lb
Fry's Large Eggs Grade AA, 12 ct 2/$3 (limit 2)
Eggo Waffles Minis Pancakes or French Toaster Sticks Frozen Select Varieties 6-10 ct $2.29