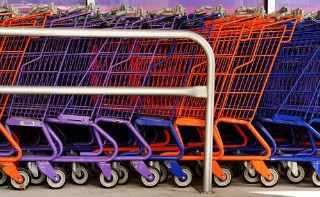 PLANTING FROM THE FRIDGE
A while back I shared that I was planning on doing some gardening this summer and I was looking for tips to have some success. One of the tips shared with me was that there are several produce items that you can regrow. I shared in the past how you can keep green onions on hand by simply placing them in a jar of water and that they will grow and grow and grow (LOVE THAT!), but I thought it would be cool to share these others.
-Romaine lettuce - My mom shared this one with me. Whenever she buys Romaine lettuce, she cuts off all the leaves as far as she can and then cuts the bottom with a cross shape and places it in water. Within days it begins to root. Once they grow a bit she pots them up and lets them continue on growing until she is ready to enjoy the lettuce and start it all over again.
-Celery - A listener shared this with me. Cut a store-bought celery down to about 2 1/2 to three inches from base. Place in water for ten days. As it begins to show regrowth you can cut some of the older stalk away (not all just the outer ring) after ten days and decent growth and root it should be ready to plant. It sprouts in weeks and is definitely quicker than seed. I saw some people do this with water, but I was told that soil is the way to go with the celery because when you move it to soil it kind of freaks out if it has only been in water.
-Ginger- Ginger is great for the tummy and easy to plant. Buy a ginger root with lots of nubs. Plant it (nub side up) in a pot and let it grow. It should be ready to harvest in 4-6 months (yes it isn't fast but it is cool).
-Garlic - It is rare that you need the entire garlic head. Soooo what you are going to do is pull off a couple of cloves to plant. Peel off the garlic's paper skin and plant it point up in soil. Each one will grow you another head.
-Pineapple- I am not sure what you do once the plant gets going but I understand that you can grow a pineapple plant from the crown of the pineapple. Here's the skinny - Remove the bottom leaves from the crown (about an inch or two) and put in a container of water. It should grow some good roots in 3 to 4 weeks. Once that happens plant in soil and let it grow. Apparently this takes a while but a pretty plant is still a pretty plant and these are supposedly ready to harvest in 11/2 years. That is a nice payback for something you already bought.
-Potatoes and Sweet Potatoes - Both of these can be grown because of the eyes. If you are like me and occasionally lose the opportunity to use all your potatoes, try cutting the potatoes into chunks with those long "eyes." Whey do they call those eyes? They really look more like feelers. I guess feelers is just a bit too creepy. Anyway make sure your chunks have one or two eyes. Let them dry a bit and then plant in soil about four inches deep with "eyes" facing up. A good compost will help these grow. You can grow sweet potatoes by placing their ends in water and letting shoots grow. Once they grow like the eyes do, you can separate and plant.
FREE MAGAZINES WELL SORT OF
Now is the time to join Recyclebank if you haven't yet. They are doing a retro recycling with the Eco Time Capsule each week in April and you can get lots of points from reading their tips from the decades (70s and 80s so far). Make a pledge and get 10 points per pledge. Use these points to get rewards like magazine subscriptions, coupons, discounts and gift cards. I use them for magazines mainly and I have picked up 12 subscriptions so far...all free. Some of the subscriptions can be continuous others are only for one year where you have to wait another year before ordering. Recyclebank gives you lots of easy ways to earn points. Check in daily for chances to pledge for free points (recycling pledges nothing weird) and now for their Eco Time Capsule. The best part is you learn a lot of great tips on recycling and saving money.
FREE EBOOKS -These were free at the time of my posting. That can change. Always look at the price before you download.
Understanding the Times by Ken Ham (AMAZON) (BARNES & NOBLE)
Soon - The Beginning of the End by Jerry B Jenkins (AMAZON) (BARNES & NOBLE) (CHRISTIANBOOK.COM)
Leather and Lace by DiAnn Mills (AMAZON)
FREE MUSIC DOWNLOADS
FREECCM has four great music downloads from Sara Groves, Hawk Nelson, Phil Wickham and Addison Road. Get there by following this link.
This isn't a free download but you can listen to a free preview of The Afters' new album "Life Is Beautiful" right now as a member of New Release Tuesday! It releases on April 16th. This is a great chance to check it out. Find it by clicking here.
New Release Tuesday also has some great music downloads. One of my favorites is "Is It Ever" by the JJ Weeks Band. Check it out. I think you'll like it. All the downloads are for members but it is FREE! Check it out here.
GROCERY SALES
ALBERTSONS
Pork Loin Chops - Boneless Buy 1 get 2 Free (limit one reward per transaction for like item only)
Split Chicken Breasts, Thighs, Drums or Leg Quarters Jumbo Pack 99 cents lb
Red Ripe Strawberries 3 lb Package $2.97 each (limit 2)
Large Tropical Mangos 2/$1
Albertsons Gallon Milk Select Varieties $1.79 (limit 2)
SAFEWAY
Buy 1 Get 1 Free Mix and Match Meat Sale - Rancher's Reserve boneless Beef Chuck Pot Roast or Cross Rib Roast, Pork Loin Chops bone-in, Small Size Packages, Sanderson Farms boneless Skinless Chicken Breasts with Rib Meat, or 90% Lean Ground Beef Small Size Packages
Red Grapefruit 88 cents each
Safeway Farms Whole or Sliced Mushrooms 8 oz $1.99
Crisp Cucumbers 79 cents each
FRY'S
USDA Choice New York Strip Steaks Bone-in Beef Loin 50% off
GREAT MIX AND MATCH SALES Buy 5 Save $5 Prices below reflect sale when five participating items are purchased
Best Foods Mayonnaise Select Varieties 30 oz $2.99
V8 or V8 V-Fusion 36-46 oz $1.88
Lawry's Marinades Select Varieties 12 oz 99 cents
Blue Diamond Almond Breeze Select Varieties 1/2 Gallon $1.99