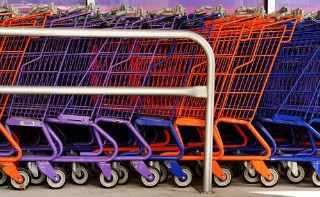 TEA TRICKS
Tea is not just a wonderful beverage both hot and cold. Tea has a multitude of uses which makes it extra thrifty.
-Polish furniture with a small amount of brewed tea on a cloth. It will help clean the wood and shine it up too. It also works great on wood floors as a follow up to your regular cleaning. Use small amounts and let air dry.
-Fill a spray bottle with some brewed tea and use it to clean glass and mirrors around the home. This works really well on greasy fingerprints. How do fingerprints get so greasy anyway?
-If you fill that spray bottle with black tea, it is supposed to also work wonders on killing dust mites by lightly spraying around. Definitely check that it will not stain by testing areas.
-Used tea bags placed in a small bowl or open container can assist in removing refrigerator odors.
-Just like cucumber, cooled tea bags work wonders on swollen eyes and are calming and soothing. It is always nice to put used ones in the fridge just in case.
-Smelly feet can be relieved with a bath in tea. The tanins in the tea work wonders in taking the smell out.
-Tenderize tougher cuts of meat by letting it marinate in black tea.
-Help heal plantar warts by placing a used tea bag on the area for 20 minutes a day.
-Take the ouch out of razor burn and help healing by placing a wet tea bag on the area.
FREE FOOD
Like bacon? According to Denny's it will pretty much cure what ails ya. So why not join their Baconella promotion for a coupon for two free strips of bacon. Really how can it be wrong?
FREE SAMPLE
While supplies last, sign up for a free sample of Gucci Black.
FREE EBOOKS (Remember that these books were free at the time of my posting. That can change at any time so always look at the price before committing to a download)
Trauma Plan by Candace Calvert (CHRISTIANBOOK.COM) (AMAZON) (BARNES & NOBLE)
Tangled Ashes by Michele Phoenix (CHRISTIANBOOK.COM) (AMAZON) (BARNES & NOBLE)
Distant Dreams by Judith Pella and Tracie Peterson (CHRISTIANBOOK.COM) (AMAZON) (BARNES & NOBLE)
FREE MUSIC DOWNLOADS
Download AudioAdrenaline's song "He Moves You Move" from their new album "Kings & Queens" as well as nine other songs totally for free at FreeCCM. You just have to be a member . PS They don't spam you.
GROCERIES
SAFEWAY
Safeway Corned Beef Brisket Point Cut $1.79 lb (while supplies last)
Fresh Boneless Pork Sirloin Chops or country Style Ribs $1.69 kb
Green Cabbage 39 cents lb
1lb of Strawberries $1.48each
Eggo Frozen Breakfast 9.8 - 16.4 oz Select Varieties $1.99
Safeway Apple Juice 64 oz Select Varieties $1.67
Jennie-O Turkey Store Extra Lean Ground Turkey Breast 20 oz $5.99
Bigelow Tea 18-20 count Selected Varieties 2/$4
Organic Grapefruit 99 cents each
ALBERTSONS
Split Chicken Breast or Drums, Thighs & Leg Quarters Bone-in, Jumbo Pack 99 cents lb
Great American Tilapia Fillets 1 lb Bag Frozen Buy 1/3 Free (only $2.50 lb with deal)
Seedless Green & Red Grapes $1.47 lb
Albertsons Gallon Milk Select Varieties $1.79 (limit 2)
Bar S Jumbo Meat Franks 16 oz or Meat Bologna Regular or Thick 12 oz $1
Fresh Red Potatoes 69 cents lb
Atlantic Salmon Fillet Farm Raised $6.99 lb
Loin Back Ribs or St. Lous Style Ribs Previously Frozen Buy 1 Get 1 Free (Save up to $7.99 lb)
Carlita Taco Shells 12 ct Select Varieties $1
Red Ripe Roma Tomatoes 99 cents lb
FRY'S
Pork Full Line, Fresh, Moist & Tender Buy One Get One of Like Item Free
Full Line USDA Choice Roast Sale Bottom Round, Sirloin Tip, Eye of Round Top Round, Beef Chuck or Shoulder 50% off (Save up to $6.99 lb)
Red Potatoes 5 lb Bag $1.88
Green Cabbage 3 lbs for 99 cents
Cantaloupe 88 cents
Iceberg, Romaine, Red or Green Leaf Lettuce 99 cents
Broccoli or Cauliflower 99 cents lb
Thomas' English Muffins Select Varieties 2/$5
Johnsonville Breakfast Links or Ground Sausage Select VArieties 10.28 - 16 oz $2.99
Fuji, Gala, Red or Golden Delicious Apples or Navel oranges 99 cents lb