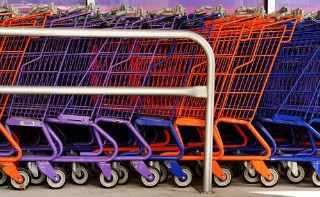 Can you believe it is already 2013? I love the beginning of a new year. There is simply an excitement in the air. Truly I feel like there is just so much opportunity. Like the opportunity to look at things in a new way. That is one of the things I'll be doing this year with leftovers. Looking at them differently to see what kind of options I can come up with from them. This leftovers idea also extends into repurposing things around the house before we simply get rid of them. Of course, we never just get rid of anything. You never know who can make a treasure out of what you no longer use. So let's get started and see what we can come up with today for thrifty tips.
SAVINGS THAT ADD UP
Don't forget to load up the latest Saving Star coupons to your Fry's and CVS loyalty cards. They are great ways to get extra money without even giving it much though. Just save coupons to your card, and as you buy the items those savings will load into an account that you can cash in for paypal, Amazon gift cards or even deposit into your account.
GREAT RECIPE USING THIS WEEK'S SALES
Tilapia is on sale at Albertson's this week, and it is the perfect ingredient for fish tacos, and fish tacos are super easy. I have two great recipes to try. The first recipe uses panko crumbs to make your tilapia nice and crunchy (Kikoman has a great panko for a great price almost any time Albertsons). The second recipe is a grilled recipe. Oh, and I totally recommend soft corn tortillas for either. They work great with fish tacos and last a long time in the fridge & freezer. Another great option too is to make the fish in either way and make a salad with some lettuce and crunchy tortilla chips. Either way, they are a great way to take advantage of a good white fish sale.
CLEAN HOUSE
Spring cleaning doesn't just have to be done when the weather starts warming up. Cleaning up and cleaning out is a great thing to do after Christmas. Even if you do a pretty minimal Christmas, you can usually locate some items that you no longer use that you can donate or find other uses for. If you do some serious closet cleaning, you might just find some great shirts that you no longer where, but you would like to still hold onto in another way. Now that the weather is chilly, maybe you could make some cute scarves from your old t-shirts. Check out Kevin & Amanda for a great tutorial for a ringlet scarf. I love this one, because you don't have to sew just cut and tie.
Do you have a lot of books at home, and you are finally at that point where you realize you will not be reading them all again and again? Trade them out through PaperbackSwap.com. My favorite book trading site. List the books you would like to trade. With your first ten listed, you will even get free credit for two books. Make your wish list for books you would like, and when they are available, you can request them with your credits, and the other book owner will send them to you. You only pay when you send books out which is at an average of about $2.47 for media mail. It is a great way to get some good reads and clear out those shelves. You can also do the same thing with your movies and music with SwapaCD & SwapaDVD.
FREE EBOOKS
There are a couple of really good reads today. Please remember though that what is free today may not be free when you read this ALWAYS check the price before you download.
The Well-Lived Laugh: Designing a Life That Keeps You Smiling by Rachel St. John-Gilbert (CHRISTIANBOOK.COM) (AMAZON) (BARNES&NOBLE)
Love Isn't Supposed to Hurt by Christi Paul (CHRISTIANBOOK.COM) (AMAZON) (BARNES&NOBLE)
FREE MUSIC DOWNLOADS
Did you get an MP3 player for Christmas or perhaps you just want to expand your music library in a free and totally legal way? Jesus Freak Hideout has an exceptional line up of songs for you to download. First there is their collection titled "Songs We've Been Trying To Tell You About (And Others We Haven't - Volume 1). This collection contains 37 tracks from various artists covering many genres from AC, Rap, spoken word (yep spoken word), Hip Hop, Indie and Ska. Definitely give it a check out and remember, what you don't like, you can drop. Download it free by going to their page which covers the track listing here and then scroll down to the listing. Your link to the download is where it says "DOWNLOAD it Free." Want more? Jesus Freak Hideout has more with a Volume Two collection. This collection contains 38 tracks! Check it out at this link here and follow their page to the download site. So there you go...75 tracks. That ought to keep you pretty busy. :)
FREE ACTIVITIES FOR KIDS
Lowe's has a surprise Build & Grow Clinic on January 12th. They don't say what the clinic will be, but these are always a great time for the kids and of course totally free. Follow the link to sign up for the clinic in your area.
Lego builds happen each month at your local Lego store. Here in AZ, we only have one in Chandler and Glendale, but these are a great opportunity for your kids ages 6-14 to build a great toy and have lots of fun for free. These are only available while supplies last and the build typically starts at 5 pm. If you have a store near you, give them a call to confirm the time and date. According to the Lego website the build will be on Tuesday, January 8th.
GROCERIES
FRY'S
Fry's is having another case sale. Be sure to see what great deals they have. Here are just a few:
Libby's Vegetables Select Varieties 14.5-15.25 oz 50 cents each (12 case count limit 2 case equivalent)
Progresso Soup Select Varieties 18-19 oz 88 cents (12 case count)
Maruchan Noodles Select Varieties 3 oz (24 case count) 16 cents each
Kroger Honey Select Varieties 16 oz $2.99 (12 case count) OOOH so good for sore throats!
Kroger Boneless Chicken Breasts Frozen 3 lb bag $1.59 lb (limit 2)
Atlantic Salmon Fillets Fresh Farm Raised $4.77 lb
Fry's Half Gallon Milk, Whole, 2% Reduced Fat, 1% Lowfat or Skim 88 cents (limit 4)
Yoplait Yogurt Select Varieties 4-6 oz 20/$10
Zucchini or Yellow Squash 99 cents lb
SAFEWAY
Fresh 93% Lean Ground Beef 7% Fat or Ranchers Reserve Boneless Beef Chuck Cross Rib Roast
$2.99 lb
Pantry Essentials Milk Gallon, Whole, 2%k 1% or Fat Free $1.67 limit 2
Lean Cuisine Meals 6-11.5 oz Selected Varieties $1.97
Sweet Navel Oranges 2 lbs for $1
Tomatoes on the Vine $1.99 lb
Romaine, Red or Green Leaf Lettuce 2 for $3
Hass Avocados 10/$10
Ripe Bananas 57 cents lb
Gala, Fuji, Granny Smith, Red or Golden Delicious apples $1.49 lb
Yoplait Yogurt 4-6 oz Selected Varieties 10/$5
ALBERTSONS
Premium Seafood Tilapia Fillets
1lb Frozen Buy 1 Get 2 Free $7.99 bag
Albertsons Large Eggs 18 ct Grade AA $1.88 each with coupon
Fuji or Braeburn Apples $1 lb
Jimbo Size New Crop Cantaloupe $1 Each
Pork Half Loin Roast Boneless Sold in the Bag $1.99 lb
Fresh Roma Tomatoes $1 lb
Romaine, Green Leaf, Red Leaf Lettuce or Spinach $1 each
English Cucumbers $1 each
Large Mangos $1 each