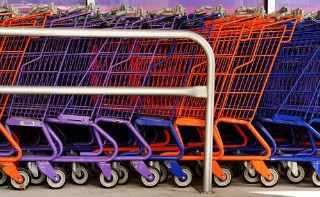 THRIFTY GIFT
Christmas is coming soon. In fact it is about 46 days away. I thought a fun thing to do up until then is share some tips and tutorials on gifts that you can make for Christmas. There will be a new gift each week
Today's gift...Moonsand or Cloudsand. Same stuff really just different names. Moonsand and Cloudsand are great for sensory tables for kids. They are fun for molding and shaping, and really just feel pretty awesome. I used two different recipes and they were both really easy and under $10 to make. I followed two recipes for this. Here's what you need:
Four cups of sand
2 cups of corn starch
1 cup of water
OR
9 cups of flour (I bought two 5 lb bags for $1.50 each and used part of one)
1 1/4 cups of baby oil (I already had the generic baby oil)
(No need for another pic of ingredients)
Sand Directions: This could not be easier. Measure out sand (I picked mine up at the craft store for $2.99 a bag- I bought 2) and corn starch (the corn starch was on sale for 16 oz for $1.50 perfect measurement), mix together thoroughly.
Slowly pour in the cup of water and stir thoroughly.
At first it clumps up big time, but it is broken up and mixed easily.
Pros - Molds nicely. Can re-energize it for molding with some water spritzing.
Cons - The sand I used was a bit stinky, BUT this would definitely keep one from popping it into their mouths.
Flour Directions: Super simple. I measured out a half recipe of four cups of flour and 3/4 cup of baby oil. The recipe mixed really quickly. The oil balled up a bit, but it really molded nicely and it felt soft like a cloud.
Pros - Molds nicely, mixed quickly, smelled lovely.
Cons - None that I can think of really.
I made both batches in plastic shoe boxes that I picked up at Goodwill (50% off sale so they averaged 75 cents each). The boxes make nice storage and packaging for the gift. Both sands were easy to break up and remold again and again. Both were very inexpensive. Give it a try.
FREEBIES
Mrs. Dash is still giving away free samples on their Facebook page. They are giving away up to 20,000 until November 29th. If you haven't signed up yet, get it today. This usually goes live at 12pm EST.
Get beautiful free Thanksgiving printables for your Thanksgiving celebration at Catch My Party. Thanks to Tip Junkie for sharing this great tip. Tip Junkie also has a great paperdoll printable that will allow for lots of fun for the girls at home during Thanksgiving. You might also want to check out the various free Thanksgiving printables from Paper Glitter.
Members of Pillsbury's Not So Secret Club can sign up for a free calendar. There are usually great recipes and often great coupons too. If you aren't a member, sign up today.
While supplies last sign up for the Facebook freebie offer from Finish Dishwashing Detergent. You don't have to share the deal to get it.
FREE MUSIC DOWNLOADS
FreeCCM has ten free songs this week including "Hearts Cry" from Chandler Roberts.
iTickets.com has two free song downloads available today including Third Day's "Hit Me Like A Bomb" from their new album "Miracle."
FREE EBOOKS (Remember these books were free at the time of my posting. Always check the price before you download as they can and do change quickly)
The Negotiator by Dee Henderson (AMAZON) (BARNES & NOBLE) (CHRISTIANBOOK.COM)
Castaway Kid: One Man's Search for Hope and Home (Focus on the Family Books) by R. B. Mitchell (AMAZON) (CHRISTIANBOOK.COM)
Old World Murder by Kathleen Ernst (AMAZON)
The Staycation Jar: 200 Family Fun Ideas For Creative Meals, Main Events, Silliness, Love Projects by Erica McNeal (AMAZON)
GROCERIES
SAFEWAY
Frozen Grade A 8-24 lbs 79 cents lb, Limit 1 with an additional $25 purchase (limit 1) Whiles Supplies last
Butterball Turkey Frozen Grade A 10-24 lbs 99 cents lb, Limit 1 with an additional $50 purchase (limit 1) While supplies last.
Raspberries or Blackberries 6 oz Buy 1 Get 1 Free (Save $3.49 on two)
Fuji Apples or Bartlett Pears 99 cents lb
Texas Ruby Red Grapefruit 99 cents lb
Avocados 99 cents lb
Marie Callender's or Healthy Choice Meals 8.5-19 oz Selected varieties $1.99
Kellogg's Raisin Bran 18.7 oz or Corn Flakes 12 oz 2/$4
ALBERTSONS -
Will match the price on their Honeysuckle White Turkey Grade A Frozen to the lowest advertised price offered by Fry's, Safeway, or Bashas' OR You Can Receive a Free Turkey with a $100 purchase up to 15.99 lbs
Boneless, Skinless Chicken Breasts $1.77 lb
Pork Loin Chops boneless Buy 1 Get 2 Free (regular retail $6.99 lb)
New Crop California Navel Oranges 2/$1
Land O' Lakes Butter 1 lb Quarters Select Varieties 2/$5 (limit 4)
Albertsons Large Eggs 99 cents (limit 2)
Libby's Vegetables 14.5 ti 15.25 oz 2/$1
Johnsonville All Natural Ground Sausage 16 oz $2.99 (mix this up with ground beef to spice up a meatloaf)
Red, Green or Romaine Fresh Leaf Lettuce 99 cents
Butternut, Acorn or Spaghetti Squash 99 cents lb
Roma Tomatoes 99 cents lb (more "meat" in a roma tomato)
FRY'S
Kroger Frozen Turkey 10-20 lb 79 cents lb
Fry's Milk, Whole, 2%, Reduced Fat, 1% Lowfat or Nonfat Gallon (limit 2) $1.57
Blackberries 6 oz 99 cents
Bar-S Bacon 12 oz $1.97 (limit 4)
Boneless Half Pork Loin Sold Whole in Bag Sliced & Wrapped Free $2.19 lb (limit 2)
Frozen Turkey Breast Bone-In $1.69 lb
Gala, Granny, Red or gold or Fuji Apples 99 cents lb
Hass Avocados or Red & Yellow Bell Peppers 99 cents lb
Zucchini or Yellow Squash 99 cents lb
SPECIAL CASE SALE (buy by the case or single)
10 Case Count Kroger Value Sugar 4 lb bag $19.99 case or $2.29 each
24 Case Count Nestle Morsels 10-12 oz $47.99 case or $1.99 each
24 Case Count Dole Pineapple 20 oz can $19.99 case or 10/$10 each