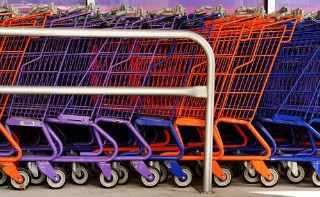 THANKSGIVING
Now this is not your typical thrifty tip, but there are several community Thanksgiving celebrations that I found out about here in Arizona that I wanted to share with you. This is by no means every place, but these are the ones I have located. If I find more, I will definitely list them here:
Queen Creek - November 17
Central Christian Church's Queen Creek campus and Canyon State Academy are offering an annual community Thanksgiving dinner to the Queen Creek area on Saturday, November 17th from 3 to 5 pm at Canyon State Academy located at 20061 East Rittenhouse Road. This dinner is free.
Chino Valley - November 20
Chino Valley Word of Life Assembly Church will host a free community Thanksgiving on Tuesday, November 20th from 4 to 7 pm. Chino Valley Word of Life Church is located at 490 West Road 1 North in Chino Valley.
Tucson - November 21
Thanksgiving dinner and Community Blood Drive at Picture Rocks Community Center at 3:30 pm located at 5615 North Sanders Road. The blood drive will run from 1 to 4 pm.
Payson - November 22
Free Community Thanksgiving at 1206 North Beeline Hwy in Payson. There will be three seating times: 11:30 am, 12:30 pm, and 1:30 pm. Dinner is free but tickets can be picked up so they can better prepare for how many will be attending. Volunteers can help out by calling 928-476-2151. Volunteers will also deliver a Thanksgiving meal to the homebound. Call by November 19th to arrange that delivery by calling 928-474-2151
Prescott - November 22
Community Thanksgiving meal - Salvation Army held from 10:30 am to 1:00 pm at Prescott Mile High Middle School located at 300 South Granite Street in Prescott
Sedona - November 22
Sedona Elks Lodge at 110 Airport road will host their annual free community Thanksgiving dinner with live music. Dinner will be served from 11 am to 3:00 pm. Volunteers are welcome call 928-282-7571. They served 1086 meals last year!
Tucson - November 22
St. Demetrios Greek Orthdox Church will host the Salvation Army Thanksgiving Community Dinner from 11:00 am to 1:00 pm. St. Demetrios is located at 1145 East Fort Lowell Rd in Tucson.
CRAFTY GIFT
Because I love all things beauty related and because I have lots of canning jars, I thought that it would be fun to make a yummy sugar scrub. You can make a sugar scrub with just about anything you have on hand. I happened to have some lemon on hand so the choice was easy. Here is a recipe for a simple, pretty sugar scrub. Homemade sugar scrub, homemade bath salts (yes we'll probably go there too), some nice bath scrunchies or sponges and maybe a towel or bath pillow can make a nice gift basket this Christmas. Here is the ridiculously simple recipe.
1 Cup of sugar
1/2 Cup of oil (I used coconut oil. You can use extra virgin olive oil, but I find it can overpower your scents)
3 teaspoons lemon juice
Zest of one lemon
DIRECTIONS:
Combine sugar, oil, lemon juice to make a sugary paste (feel free to add more sugar or oil depending on desired consistency).
Add in lemon zest and stir well.
No joke...that is it! Easy as can be and usually there is enough left over to add to any little container you may have at home for you. Make batches however you like by just doubling up.


FREE EBOOKS

(These books were free at the time of my posting. ALWAYS check the price before you download)
Seal of God by Chad Williams (AMAZON) (BARNES & NOBLE) (CHRISTIANBOOK.COM)
Livvie's Song (River of Hope Series) by Sharlene MacLaren (AMAZON) (BARNES & NOBLE) (CHRISTIANBOOK.COM)
Circle of Friends 25 Breakfast and Brunch Recipes by Gooseberry Patch (AMAZON) (BARNES & NOBLE)
FREE MUSIC DOWNLOADS
FreeCCM has ten free music downloads including "O God Save Us All" by Disciple
BLOG FOR BOOKS Do you like to read Christian books and are you willing to share about the books you read? If so, think about blogging for books. There are a few publishers you can start out with who will be happy to share books with you for your reviews and buzz. What you do is read the book and review it on your blog as well as sites like Amazon.com, Christianbook.com, Barnes & Noble, Goodreads and the like. It is really easy to set up a blog. A good way to get started too is by reviewing books you already have. Here are some links to check out: Bethany House, Book Sneeze, and Blogging for Books.
SAVE MONEY ON GROCERIES Don't forget to download the latest coupons on Savingstar.com. The savings adds up and once you have accumulated at least $5, you can cash it in for a gift card.
GROCERIES
FRY'S USDA Choice Holiday Strip roast or super Value Pack Steaks Bone-in, Beef Loin $4.77 lb (limit 2) Kroger Frozen Turkey 10-20 lbs 79 cents lb (limit 1 with $25 purchase) Cook's Fully Cooked Half Ham Bone-in $1.47 lb (Limit 1 with $20 purchase) Philadelphia Cream Cheese 4 for $5 Kroger Butter Select Variety 16 oz 2/$5 Russet Potatoes 10 lb bag 88 cents (limit 2) First of the Season California Navel Oranges 77 cents lb Broccoli or Cauliflower 99 cents lb Golden or Red Yams 79 cents lb Fuji, Rome, Cameo & Granny Smith Apples 99 cents lb
ALBERTSONS Honeysuckle White Frozen Turkey 10-20 lbs 79 cents lb (limit 1 per transaction with $25 purchase) Russet Potatoes 10 lb Bag 88 cents each (limit 1) Coke 12 pack 12 oz Select Varieties 4/$9 (When you Buy 4 - Limit $25 purchase) Sara Lee Oven Fresh Pies 27-37 oz 2/$5 Albertsons Large Eggs 18 ct Grade AA 2/$3 (limit 2) Farmer John Bacon 12 oz Regular, Thick or Maple $1.99 Coffee-mate Flavored Creamer 32 oz Select Varieties $2.99 Albertsons Half & Half 32 oz Select Varieties $1.99 Powerade Sports Drink 321 oz or Fuze Drinks 16.9 oz Select Varieties 10/$10 Delicious Red or Golden Yams 79 cents
SAFEWAY Safeway Turkey 79 cents lb ($25 purchase required) Ranchers Reserve Whole Beef Ribeye Roast $4.99 lb Dreyer's Ice Cream 1 Quart Selected varieties 2/$6 Simply Orange Juice 59 oz chilled Selected Varieties 2/$6 Pantry Essentials Milk Gallon, Whole, 2%, 1%, or Fat Free $1.77 (limit 2) Lean Cuisine Simple Favorites 8.5-11.5 oz 5/$10 Nabisco Snack Crackers 5.5-10 oz $1.79 American Beauty Dry Pasta 16 oz Select varieties 5/$5 Ocean Spray Cranberry Cocktail Drinks 64 oz 2/$4 Mission Estilo Casero Tortillas $2.69