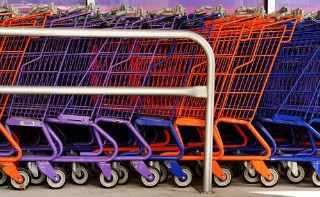 PRETTY COOL TREAT
Recently I stumbled on a super cool tip, making dipping caramel out of sweetened condensed milk. Here's what you do. Take a can of sweetened condensed milk (remove the label) and put in a large pot of water completely covering the can. Bring the water to a boil and let boil for 3 to 3.5 hours continually keeping the cans fully covered (I keep another pan of water on hand and boil it up to keep adding to the larger pot). Let the cans cool over night. When you are ready to enjoy, open up the can and stir the mixture up well. I like to buy the kind with a pull top because they are easier to open. You can keep these cans in the fridge for months and even label them all cute for gift baskets. PS - I have also read that you can do this in a crock pot if you foil the pot on the inside first, again cover the cans with water and let it cook for at least six hours to overnight on low. I haven't tried that...YET. :)
FREE ONLINE CLASS
Do you dream of being the next cupcake diva or what's a guy diva? Devo? Get a head start by taking this FREE online class and learn to make buttercream, a total cupcake staple, from a Food Network star!
FREE SAMPLE
Through the month of October you have a chance to get a free sample of Cream of Wheat Instant Hot Cereal in Chocolate! This offer goes fast, but it starts daily via Facebook at about 8 am EST.
While supplies last, sign up for free samples of Bragg Sprinkle & Sea Kelp Delight seasonings, and Bragg Premium Nutritional Yeast as well as information on Bragg products. I haven't tried the seasonings yet, but I have used Bragg liquid aminos, and they are awesome!
FREE EBOOKS
(Keep in mind that these ebooks were free at the time of this posting. Always check to make sure it is still free before downloading.)
The Sister Circle (The Sister Circle Series #1) by Vonette Bright and Nancy Moser (AMAZON)
The Hour That Matters Most: The Surprising Power of the Family Meal by Stephanie Allen, Les and Leslie Parrot, and Tina Kuna (AMAZON) (CHRISTIANBOOK.COM) (BARNES & NOBLE)
FREE MUSIC DOWNLOADS
FreeCCM has eight free downloads including Chris Rice's "Great Is They Faithfulness."
iTickets.com has two free downloads this week including Brandon Heath's song "The Harvester" from his new CD "Blue Mountain."
$2 Free dollars in Amazon MP3 credit. Follow this link to Amazon and post what your best care package item would be for a student care package, share that choice on Facebook with the share and claim button, and you will get the free MP3 credit. I don't know how long the credit lasts so I'd pick something fairly soon.
GROCERIES
SAFEWAY
Sweet White or Yellow Corn 8/$2.00
Progresso Traditional or Rich & Hearty Soup 18.5 to 19 oz Selected varieties 4/$5
Honeycrisp Apples $1.48 lb
Hass Avocados 99 cents each
Primo Taglio Black Forest Ham, Chicken Breast or Pepper Jack Cheese $5.99 lb (deli)
Pepperidge Farm Milano Cookies or Baked Naturals 5-8.5 oz Selected Varieties $1.99
Bush Best Variety Beans 15-16 oz Select Varieties 5/$5
ALBERTSONS
Sanderson Farms Tray Pack Chicken Breast Boneless, Skinless Buy 1 get 2 Free (retail $4.99 lb - so a fraction over $1.66 lb)
Pork St. Louis Style Spareribs Buy 1 get 2 Free (retail $6.99 lb - roughly $2.33 lb)
Super Lean Ground Beef 93% Lean 3 lbs or more $2.77 lb
Large Size Cantaloupe Arizona or California 99 cents each
Red, Yellow, or Orange Bell Peppers 99 cents each
Bar S Meat Bologna 12 oz 10 for $10
Kraft Handi-Snacks Pudding 4 pack 2/$1.00
Coffee-mate Creamer 16 oz 2 for $3.00
Old Orchard Cranberry Naturals, Albertsons or Essential Everyday Apple Juice 64 oz Select Varieties $1.49 (limit 2)
Jennie-O Deli Style Turkey Breast or USA Gold Virginia Ham in the deli $3.99 lb
FRY'S
Entire Selection of Fresh Pork Buy One Get One of Equal or Lesser Value of Like Item Free
USDA Choice Boneless Chuck Roast Buy One, Gert One Free
Foster Farms Whole Chicken Fresh USDA Grade A Buy One Get One Free
Strawberries, Raspberries or Blackberries 6-16 oz Buy One Get One Free
Crest Toothpaste Select Varieties 4.2 oz or Oral-B Cavity Defense Toothbrush 1 ct 10 for $10
Broccoli or Cauliflower 99 cents lb
Organic Bartlett Pears 99 cents lb
Lean Cuisine 6-12 oz or Stouffer's Entrees 6-20 oz Select Varieties$2 each when you buy 6 or more