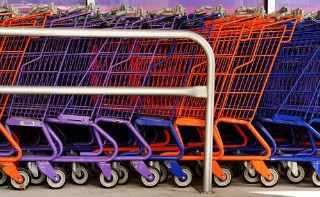 WEBSITE LOVE
School is starting up for many, and I thought it would be nice to share a cool site to help out the homeschoolers. Donna Young is a homeschooling mom who started the awesome site DonnaYoung.org back in 1998, and she has a wonderful site that is loaded with resources that will help all homeschoolers and their parents.
LINK: Donna Young
FREE KID'S CUTS
While the appointments are available, JCPenny is offering free hair cuts to kids in from grades K through 6th. Get all the details at the link below and be sure to call and see if your JC Penny is participating.
LINK: JC Penny Kids Cuts Free
SAVINGS THAT ADD UP
Don't forget to load up the newest coupons on your Saving Star account. There are some good ones that should be really easy to take advantage of. And if you haven't signed up, now is the perfect opportunity for you to do so.
LINK: Saving Star
FREE AUDIOBOOK
Christian Audio has a free audiobook download every month. This month's download is "The Disciplines of the Christian Life" by Eric Liddell. You do need an account to download.
LINK: Free Audiobook Download "The Disciplines of the Christian Life"
FREE SAMPLES
Watch the Purex commercial and get a free sample of Purex. If you have received a sample from them in the past 12 months you will not qualify. If you aren't sure, give it a shot. They'll know. This is available while supplies last.
LINK: Purex Sample
Don't miss out on your chance to get a free sample of Nescafe Mememento. I am not sure if you will get the Caramel Latte or Mocha, but I do know that it will be good!
LINK: Nescafe Memento Samples
While supplies last sign up for your free samples of GasX strips.
LINK: GasX
While supplies last sign up for a free sample of Huggies GoodNites underwear.
LINK: Huggies GoodNites Sample
College students can get a free six month Amazon Prime membership. Amazon Prime is a wonderful benefit to have. There are lots of movies and television shows you can watch for free via Amazon with a Prime membership, lots of free Kindle books and book borrowing, free two-day shipping and lots of other great benefits. You must have a .edu address. This is a great deal if you are a student.
LINK: Amazon Prime For Students Six Month Membership
Moms you can also take advantage of a free trial to Amazon Prime. This one is for three months and enables you to get great deals on diapers and wipes. Learn all the details at the link below.
LINK: Amazon Mom Membership - 3 Free months of Prime
While supplies last, sign up for a free sample of Natural No Calorie sweetener NECTRESSE.
LINK: NECTRESSE free sample
FREE MAGAZINE SUBSCRIPTIONS
These subscriptions were free as of my posting. They can be taken up quickly.
ValueMags has a free subscription available right now for Outdoor Life magazine which is a a great magazine for those who enjoy hunting and fishing.
LINK: Outdoor Life Magazine
American Baby has a free subscription available while supplies last. If you know some new parents are are one yourself, sign up.
LINK: American Baby
FREE MUSIC DOWNLOADS
Not only does iTickets.com give you updates on the latest Christian happenings in your area, but they also have free MP3 downloads every week. This week you can download "One God" from Ghost Ship and "Unstoppable" from Amplify. You do need to be a member but it is free, and I haven't gotten any spam from them.
LINK: iTickets.com free music downloads
FreeCCM has several free downloads. Today's newest is Jonathan Seller's "You Reign" and still available are "Measure of a Man" from Onething Live, Caedmon Call's "Family" as well as Bart Millard's "Closer Walk With Thee," their 10 Free Songs of Summer which includes songs from Jonny Diaz, Skillet, Heather Williams, Phil Wickham, Derek Webb, Sara Groves, The Afters, Addison Road, Ashes Remain and Disciple. You can also download music from Out of Hiding, David Gaulton, and Sarah MacIntosh. You do need to be a member. Just follow the link below.
LINK: FreeCCM Free Music downloads
New Release Tuesday has added some more great downloads this week including "From Every Stormy Wind That Blows" by Brothers McClurg, "Initium (Faith's Spark)" by Je'Kob, "LOL" by Natalie Villa, "City Of Hope Mix Tape V1" a 5 Track EP by Jordan Lara, "The Daily Gospel" by Restoration, "Measure of a Man" by onething Live and "Waiting" by the Key.
LINK: New Release Tuesday Christian Music Downloads Free
FREE EBOOKS
All these ebooks were free at the time of my posting. Be sure to look at the price before you download.
Knowing the Truth About Jesus The Messiah by John Ankerberg and John Weldon (CHRISTIANBOOK.COM) (AMAZON) (BARNES & NOBLE)
Gods & Kings: A Novel by Lynn Austin (CHRISTIANBOOK.COM) (BARNES & NOBLE)
When Calls The Heart (Canadian West Book #1) by Janet Oke (AMAZON) (BARNES & NOBLE) --I also saw this in another Kindle version for a fee so be sure to check the price before you pick the book.
Saving Sailor: A Novel by Renee Riva (AMAZON) (BARNES & NOBLE)
Container Gardening: A Beginners Guide to Successful Container Gardening by Alice C. Murray (AMAZON)
The Breakfast Taco Book by Hilah Johnson (AMAZON)
Love of Cooking: Labor Day (Love of Cooking Holiday Series) by Maggie Brooks (AMAZON)
Amazing Cakes by Instructables Authors (AMAZON)
Smart School Time Recipes: The Breakfast, Snack, and Lunchbox Cookbook for Healthy Kids and Adults by Alisa Marie Fleming (AMAZON)
How to Make and Sell Homemade Soap by Suzanne A. Young (AMAZON)
Easy Appetizer Recipes by Instructables Authors (AMAZON)
Love Finds You In Imana, Iowa by Melanie Dobson (AMAZON) (BARNES & NOBLE)
When Night Falls by Margaret Daley (AMAZON)
A Bride for Pastor Dan by Katie Crabapple (AMAZON)
Jenna's Cowboy: A Novel by Sharon Gillenwater (AMAZON) (BARNES & NOBLE)
A Hearth In Candlewood by Delia Parr (AMAZON)
Homespun Bride by Jillian Hart (AMAZON) (Barnes & Noble)
To Love Anew (Sydney Cove Series #1) by Bonnie Leon (AMAZON) (Barnes & Noble) (Christianbook.com)
Child of the Mist (These Highland Hills, book 1) by Kathleen Morgan (AMAZON)
A Very Special Delivery by Linda Goodnight (AMAZON) (Barnes & Noble)
Relentless A Novel (Dominion Trilogy #1) by Robert Parrish (AMAZON)
Stuck in the Middle by Virginia Smith (AMAZON)
Hide in Plain Sight by Marta Perry (Barnes & Noble)
Making Waves: A Novel by Lorna Seilstad (AMAZON) (BARNES & NOBLE)
Elisha's Bones by Don Hoesel (AMAZON) (BARNES & NOBLE)
The 7-Day Doubt Diet by Renee Swope (AMAZON) (BARNES & NOBLE)
Touchdown Treats! Quick and Easy Dip and Cheese Ball Recipes for a Winning Party by Ann Chambers (AMAZON)
Circle of Friends Cookbook 25 Brownie & Bar Recipes from Gooseberry Patch (AMAZON) (BARNES & NOBLE)
Love Me If You Must by Nicole Young (AMAZON)
Paper Roses by Amanda Cabot (AMAZON)
Priced To Move by Ginny Aiken (AMAZON)
Design On A Crime by Ginny Aiken (AMAZON)
Daughter of Joy by Kathleen Morgan (AMAZON) (BARNES & NOBLE)
Invisible by Lorena McCourtney (AMAZON) (BARNES & NOBLE) (CHRISTIANBOOK.COM)
Fools Rush In by Janice Thompson (AMAZON) (BARNES & NOBLE) (CHRISTIANBOOK.COM)
GROCERIES
SAFEWAY
Fresh 80% Lean Ground Beef 20% Fat $2.49 lb
Signature Cafe Whole Roasted Chicken 30 oz $5.49 (In the deli)
Pantry Essentials Milk Gallon, Whole, 2%, 1% or Fat Free (limit 2) $1.67
Smart Ones Meals 3.95to 11.5 oz 5/$10
Yoplait Yogurt 10/$5
Sweet Strawberries 1 lb Container 88 cents each
Red Seedless Watermelon $2.98 Each
English Cucumbers or Bell Peppers 10/$10
Sweet Mangos 99 cents each
Kiwi Fruit 3/$1
Kellogg's Frosted Flakes 10.5 oz, Raisin Bran 18.7 oz Cereal $1.88
FRIDAY ONLY
C&H Granulated Sugar 10 lbs $5 each
20 Pack Coca-Cola Products $5 Each (limit 3)
FRY'S
Red Seedless Grapes 59 cents lb
Campbell's Pork & Beans 11 oz 39 cents
Chobani Greek Yogurt 99 cents
Powerade or Powerade Zero Select Varieties 32 oz 57 cents
Lay's Potato Chips 10-10.5 oz or Kettle 8.5 oz $1.99
Tide or Gain Laundry Detergent 50 oz $5.99
Zucchini or Yellow Squash 99 cents lb
Hot House Cucumbers or Red Bell Peppers 99 cents each
Hass Avocados or Mangoes 99 cents each
Hebrew National Franks 11-12 oz 2/$6.00
FRY'S FLIER COUPON
Fry's Buns 8 ct 2/$1 (limit 2)
Kroger Ketchup 24 oz 2/$1 (limit 2)
Bar-S Select Varieties 16 oz Excludes Beef 2/$1 (limit 2)
ALBERTSONS
USDA Choice Petite Sirloin Steak Boneless, Regular Retail $8.99 lb 1/2 Free
Chicken Breast or Thighs boneless, Skinless $1.67 lb
Dole Bananas 39 cents lb
Albertsons Gallon Milk Select Varieties 2/$3 (limit 2)
Bartlett Pears 99 cents lb
Navel Oranges 99 cents lb
Boneless Prok Loin Chops or St. Louis Style Spareribs $2.77 lb
Large Size Tropical Kiwi Fruit 3/$1
Yellow or Zucchini Squash 99 cents lb
Honeydew Melon 49 cents lb
Roma Tomatoes 99 cents lb
Butterball Turkey Bacon 6 oz 2/$3.00
Midnight Beauty Black Seedless Grapes 99 cents lb
BUY 8 SAVE $4 (PRICE LISTED REFLECTS SALE PRICE WITH PURCHASE OF 8)
Kraft Dinners or Skillets 10.8-15 oz Select Varieties 99 cents
Stougger's Red Box or Lean Cuisine Entrees 6-20 oz $1.99
Smucker's Strawberry Jam, Welch's Grap Jam or Jelly 22-32 oz Select Varieties $1.99
Kellogg's Cereal 12-18 oz $1.99
Suave Shampoo or Conditioner 22.5 oz or body Wash 12 oz 89 cents
Kraft Macaroni & Cheese 7.25 oz 69 cents
Sara Lee Soft & Smooth Whole Grain White or Honey Wheat Bread 20 oz $1.49