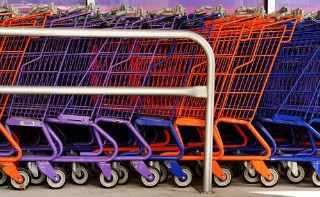 WEBSITE
If your college student is looking to save money on textbooks, you might want to check out textbook rentals at CampusBookRentals.com. Not only can you rent a book if you decide that you would like to purchase it, you can do that as well. You can save up to 90%. You can also sell your books to Campus Book Rentals.
LINK: Campus Book Rentals
GREAT EVENT
You can be a part of helping New Life Pregnancy Center by attending their Concert for a Cause on Friday, August 3rd at Mountain Ridge Baptist Church in Glendale. The concert is featuring Josh Wilson and opening act Cold Soup. It is free and they are asking for donations of packs of diapers in sizes 3 to 5 for entries into a raffle. You can get the complete details by following the link below.
LINK: Concert for a Cause
With school about to start here in Arizona, there are a lot of great back-to-school shopping deals that you might want to take advantage of for some future gift making. The two things that spring to my mind are composition books and crayons. You can buy both for a huge discount right now.
So what can you do with inexpensive composition books and crayons? I always stock up on the composition books for note taking in church, journal writing, and for keeping track of tips that I find in magazines, newspapers, online and the news. I glue the articles in the books and write in the other tips I find. It is a nice way to keep track of the tips I find without holding onto the bulky magazines. You can really jazz up the books too. Here is a link to a tutorial from Squidoo on how to make an Altered Composition book.
I have seen people melt broken crayons into cute little crayon shapes, but this page at Parenterest has many, many different craft ideas that you can turn into gifts that can be easily and cheaply made by utilizing those currently inexpensive crayons. Maybe you can make some nice teacher gifts.
Colored pencils can also be picked up at a very reasonable price. Kaboose has a really simple craft utilizing colored pencils to make a cute vase or pencil can.
FREE MAGAZINES
Do you know a family who are expecting or recently had a baby, share this free subscription to American Baby magazine while supplies last.
LINK: American Baby Magazine
While supplies last new parents can also get a subscription for seven issues of Parents Magazine.
LINK: Parents Magazine
I don't know how long this will last, but I just saw the opportunity to earn Martha Stewart's Living Magazine at Rewards Gold. If you aren't a member you need to join, invite two friends, take a survey and do four reviews (short) on breakfast foods. It really takes very little time. I don't know how long this will be available. So give it a shot.
LINK: Rewards Gold Martha Stewart Living Magazine
FREE EBOOKS
All these ebooks were free at the time of my posting. Be sure to look at the price before you download.
Herbs Gone Wild - Ancient Remedies Turned Loose by Diane Kidman (AMAZON)
Love Finds You In Imana, Iowa by Melanie Dobson (AMAZON) (BARNES & NOBLE)
The Furious Longing of God by Brennan Manning (AMAZON) (BARNES & NOBLE) (CHRISTIANBOOK.COM)
Saving For Retirement Without Living Like a Pauper or Winning the Lottery by Gail MarksJarvis (AMAZON) (BARNES & NOBLE)
A Foodie's Guide To Yummy Appetizers and Snacks by Dante and Jennie Morelli (AMAZON)
The Truth About Butterflies: A Memoir by Nancy Stephan (AMAZON)
Vintage Cookie Recipes by Amy Renee (AMAZON)
Circle of Friends Cookbook - 25 Burger Recipes (AMAZON) (BARNES & NOBLE)
30 Delicious Dump Cake Recipes by Lori Burke (AMAZON)
When Night Falls by Margaret Daley (AMAZON)
Accused by Janice Cantore (CHRISTIANBOOK.COM)
A Bride for Pastor Dan by Katie Crabapple (AMAZON)
Jenna's Cowboy: A Novel by Sharon Gillenwater (AMAZON) (BARNES & NOBLE)
A Hearth In Candlewood by Delia Parr (AMAZON)
Homespun Bride by Jillian Hart (AMAZON) (Barnes & Noble)
To Love Anew (Sydney Cove Series #1) by Bonnie Leon (AMAZON) (Barnes & Noble) (Christianbook.com)
Child of the Mist (These Highland Hills, book 1) by Kathleen Morgan (AMAZON)
A Very Special Delivery by Linda Goodnight (AMAZON) (Barnes & Noble)
Relentless A Novel (Dominion Trilogy #1) by Robert Parrish (AMAZON)
Stuck in the Middle by Virginia Smith (AMAZON)
Hide In Plain Sight by Mara Perry (AMAZON)
Making Waves: A Novel by Lorna Seilstad (AMAZON) (BARNES & NOBLE)
Salads For Every Season - 25 Salads From Earthbound Farm by Myra Goodman (AMAZON) (BARNES & NOBLE)
Elisha's Bones by Don Hoesel (AMAZON) (BARNES & NOBLE)
The 7-Day Doubt Diet by Renee Swope (AMAZON) (BARNES & NOBLE)
Touchdown Treats! Quick and Easy Dip and Cheese Ball Recipes for a Winning Party by Ann Chambers (AMAZON)
Circle of Friends Cookbook 25 Brownie & Bar Recipes from Gooseberry Patch (AMAZON) (BARNES & NOBLE)
Love Me If You Must by Nicole Young (AMAZON)
Paper Roses by Amanda Cabot (AMAZON)
Priced To Move by Ginny Aiken (AMAZON)
Design On A Crime by Ginny Aiken (AMAZON)
Daughter of Joy by Kathleen Morgan (AMAZON) (BARNES & NOBLE)
Invisible by Lorena McCourtney (AMAZON) (BARNES & NOBLE) (CHRISTIANBOOK.COM)
Fools Rush In by Janice Thompson (AMAZON) (BARNES & NOBLE) (CHRISTIANBOOK.COM)
FREE MUSIC DOWNLOADS
New Release Tuesday has several free songs for you to download this week including "The Daily Gospel" by Timothy Brindle, "Measure of a Man" by onething Live, "Waiting" by theKey, "Here We Go" by KB, "Isaiah 55" by Katie Gustafson, and "Shipwreck" by Your Memorial. You need to be a member or like them on Facebook.
LINK: New Release Tuesday Free Music
iTickets.com besides being a great resource for Christian concerts is also a great resource for free Christian music. This week's free songs are "Chains are Broken" by Blake Goss and "Great is our God" by Young Oceans.
LINK: iTickets
FreeCCM has a free download this week also of "Measure of a Man" by onething Live, Caedmon Call's "Family" as well as Bart Millard's "Closer Walk With Thee," their 10 Free Songs of Summer which includes songs from Jonny Diaz, Skillet, Heather Williams, Phil Wickham, Derek Webb, Sara Groves, The Afters, Addison Road, Ashes Remain and Disciple. You can also download music from Out of Hiding, David Gaulton, and Sarah MacIntosh. You do need to be a member. Just follow the link below.
LINK: FreeCCM Free Christian Music
GROCERIES
SAFEWAY
Rancher's Reserve Boneless Beff Top Round London Broil Steak $2.29 lb
Fresh 90% Lean Ground Beef $2.99 lb
Marie Callender's or Healthy Choice Meals 8.5-19 oz Selected varieties 5/$10
Olathe Sweet Corn from Colorado 4/$1
Red Lion Nectarines 88 cents lb
Bar S Jumbo Meat Franks 16 oz Selected Varieties 99 cents
Farmer John Breakfast Links 8 oz Selected Varieties 99 cents
Lucerne Chunk or Shredded Cheese 16 oz Selected Varieties $2.99
Nabisco Ritz Crackers or Newtons 1/1 Free (Save up to $4.29 on 2 6-15.1 oz Selected Varieties
Fresh Express Salads 8-16 oz Selected Varieties 99 cents each
ALBERTSONS
Extra Lean Ground Beef 85% Lean 3lbs or more $2.49 lb
London Broil, Cross Rib or Bottom Round Roast or Steak Bonerless, Family Pack $5.99 lb Buy 1 Get 1 Free
New Crop Northwest Blueberries 11 oz 97 cents (limit 4)
Albertsons Gallon Milk Select Varieties 2/for $3
Sanderson Farms Jumbo Pack Chicken bone-in, Choose from Split Breast, Drumsticks, Thighs, Leg Quarters or Whole Fryers 88 cents lb
General Mills Cereal 8.9-12.2 oz Select Varieties $1.99 each when you buy four (limit 2 rewards per transaction)
Broccoli Crowns or Cauliflower 99 cents lb
Tomatoes on the Vine $1.99 lb
GREAT COUPONS IN FLYER (lots of great deals with coupons)
Blue Bell 1/2 Gallon Ice Cream $3.77 each (limit 2)
Ken's Salad Dressing 16 oz 99 cents (limit 2)
FRY'S
Yellow Peaches or Nectarines 75 cents lb
Kroger Boneless, Skinless Chicken Breasts or Tenderloins, Fresh, USDA Inspected $1.67 lb
(limit 4)
Cantaloupe 97 cents
Hass Avocados 88 cents
Bananas 57 cents lb
Huge 99 cents sale includes:
Chef Boyardee Pasta Select Varieties 7.5 oz cup or 14.5-15 oz can 99 cents
Libby's Can Vegetable Select Varieties 14.5-15.25 oz 3/99 cents (limit 12)
Hamburger, Chicken or tuna Helper Select Varieties 4.5-7.5 oz 99 cents
Progresso Soup Select Varieties 18-19 oz 99 cents
Kroger Vegetables Frozen Select Varieties 10-12 oz 99 cents