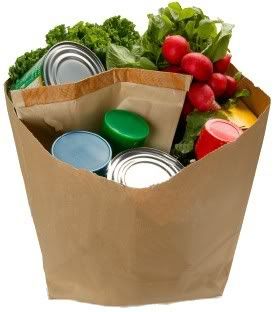 The new year is almost here. Wouldn't it be a lovely time to start fresh with some new financial plans? Now is the perfect time to start keeping track of expenses and work on polishing up your budget. Do you need some budget pointers? It is nothing to be ashamed up. Follow this link to Christian PF's article called "How To Make A Budget." It is a perfect baby step to getting everything in line. While you're there, check out the other awesome articles at Christian PF.
One thing that really helped me stay on task and on budget was following Menu Plan Monday (a fabulous little stop at I'm An Organizing Junkie's website). Every Monday meet up with other bloggers and plan your dinners for the week. Some people go all out and even plan lunches and breakfasts too. That is a little more than I can handle, though with my son always eating peanut butter sandwiches for lunch, I am not too far off. :) Even if you do not have a blog, you can still take advantage of Menu Plan Monday by following the blog, getting dinner ideas, and still plan your own and write them in on your calendar. Really, I cannot stress enough how helpful this can be for staying in your budget.
GREAT WEBSITE
Yesterday in our office kitchen, a food question got me to thinking. Dave had half a grapefruit in the refrigerator and wondered if it was still good. I followed my old standby..."Is it slimy?" Yes...not terribly scientific, but it is my go-to response, BUT...really what we could have done is look it up at StillTasty.com. If you are unsure about whether you have food that is still good to eat, this is the stop for you. The question of what to keep or toss will be answered easily which will limit waste and upset tummies. Oh and the grapefruit? When cut up you should wrap it and then put it in the refrigerator. Cut up wrapped grapefruit will still be good for 3-4 days. Frozen grapefruit will last while keeping its quality for 10-12 months. Though why you would freeze grapefruit is truly a mystery to me, but another good thing about StillTasty.com is they have a recipe for you to do just that right there at the website.
LINK: StillTasty.com
FREE ACTIVITY
If you haven't seen the movie Courageous yet, head on over to Sedona on December 31st for the Courageous movie night which will be held at Christ's Center Wesleyan Church in Sedona. There will be two showings of this awesome movie. One at 4 pm and one at 7 pm. You will need a ticket in order to attend so drop them an email at CourageousSedona@gmail.com or call 928-282-9767.
FREE EBOOKS
With the new year around the corner, you might like to download One Year Alone With God : 366 Devotionals on the Names of God by Ava Pennington. You can download it now at Amazon.com.
Have a Bible at your fingertips if you have a smart phone or reader and download The Holy Bible English Standard Version available at Amazon.com and Barnes & Noble.
I don't know about you, but winter is the right time for soups and chilis. Amazon has Gooseberry Patch Chili Cookbook eBook. Get it while it's hot (oh how bad was that pun?).
Walgreen's is one of my favorite photo printing places. I love that I can upload pictures online, set them up to print in the sizes I want, and then I can pop over to my local Walgreen's and pick up my fabulous prints rather than wait, wait, wait for them to arrive. I also like how they give you amazing deals. For example, right now you can upload your pics, click on "prints" and you can order 25 4x6" prints and pick them up for free at the Walgreen's you pick. Just be sure to use the code PRINTNOW at check out and choose the in-store pick up! :) This is good through Saturday, December 31st! Don't wait on this one. I'm sure you have pictures from Christmas that you would love to print!
LINK: Walgreen's
PictureMe Portrait Studios has a coupon on their website right now for a free Going In Circles portrait collage. This coupon expires on January 31, 2012.
LINK: PictureMe Portrait Studio Collage
FREE MUSIC
iTickets.com free Christian music downloads this week include "Reflection of You" by The Revolution and "Saving Grace" by the Jason Eaton band.
LINK: iTickets Free Christian Music
FREEBIES
You can get one free issue of Ladies Home Journal (March 2012). I do not have any idea why it is March's issue, but either way, it is free, and it just might give you some lovely ideas. Sign up while supplies last.
LINK: Ladies Home Journal Free Issue
Kmart has a huge pile of free samples that you can order. There are even free magazine subscriptions for American Baby and Baby Talk.
LINK: Kmart free samples
GROCERY DEALS
FRY'S
Boneless Pork Loin $1.99 lb (limit 2)
Roma Tomatoes 2 lbs $1.00
Campbell's Soup 51 varieties 10/$10
Dole Salad Blends Or Kits 5-12oz $1.00
Fry's Bottled Water 24 pack 16.9 oz 4/$8.88 (FRIDAY, SATURDAY & SUNDAY ONLY)
Mangoes $1.00 each
Green Bell Peppers Or Cucumbers 2/$1.00
ALBERTSONS
Fresh Express Garden Salad 12 oz 99 cents
Boneless Skinless chicken Breasts $1.57 lb
Fresh Blueberries or Blackberries 6oz 99 cents each
Albertsons Ruby Red Grapefruit, Apples Juice or Cider 64 oz $1.49 with flier coupon (limit 4)
USA Gold Virginia Ham or Jennie O' Turkey Breast (deli) $4.99 lb
Bar S Bacon 12 oz $2.99
Healthy Choice complete Meals or Steaming Entrees 4/$10
Red, Orange or Yellow Bell Peppers 99 cents each
Grape Tomatoes 2/$3.00
Collard, Mustard, Turnip or Kale 99 cents each
Fresh Broccoli Crowns 99 cents lb
Bunch Radishes or Green Onions 2/$1.00
Large Navel Oranges 99 cents lb
SAFEWAY
Hass Avocados 68 cents each
Buy 1 get 2 Free when you buy Everybody's Nuts or POM Wonderful Pistachios 7-8 oz packages select varieties
Eating Right Or Safeway Select Meals 5/$10 Select Varieties
Fresh Safeway Chicken Thighs or Drumsticks Bone-in 99 cents lb
Prego Pasta Sauce 23.25-24 oz 2/$3
Campbell's Select Harvest Soup Select Varieties 2/$3.00
Crisp Celery 99 cents each
On The Vine Cluster tomatoes $1.99 lb
Green Onion or Red Radish bunches 2/$1.00
Kiwi Fruit 3/$1.00
Texas Ruby Red Grapefruit 2/$1.00