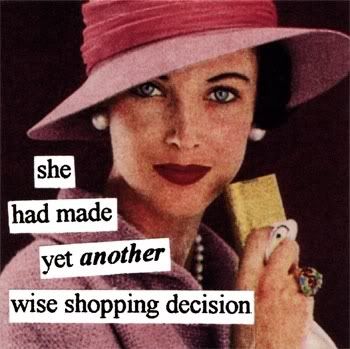 FABULOUS WEBSITE
This weekend, my husband and I watched a bunch of little videos about money saving. This introduced me to a website that I had never been to before. I really liked it and I think you will do. Check out DailyFinance.com. Daily Finance has some great articles and information on many aspects of finances from the headscratchers to the simple home finances. There are lots of great articles too. In fact I read a cool one the other day on people who are hiring themselves out as Black Friday shoppers. Considering how early some stores are now opening, this could be a great way for someone to earn a little extra money if, of course, they enjoy the chaos of Black Friday shopping (which I do but I am definitely not looking into renting myself out). Check that article out
here
. Are you trying to figure out if college is a viable decision in this financial climate. Check out Daily Finances article
How to Go to College Without Going Broke (and Yes, You Still Should)
.
FREEBIES
Last week I posted some freebies for the military and veterans so be sure to check out that blog. This week I have a few more to add so let's get to that real quick.
Arby's has a free classic roast beef sandwich for all military and veterans on Veteran's Day which in case you don't recall, November 11th. Not a veteran? Sign up for Arby's Extras and get a free roast beef sandwich with the purchase of a beverage for just signing up?
LINK:
Arby's Extras
7-Eleven stores will thank all active, veteran and retired military members and their immediate families with a free small slurpee from 11am to 7pm on November 11th. Proof of current or former U.S. Military service is required. Remember that this is at participating 7 Elevens so do ask.
LINK:
7 Eleven Free Slurpee on Veteran's Day
Heading to California? Knott's Berry Farm is hosting military tribute days from November 1st to the 24th. Veterans will get free admission for themselves and one guest and up to six more tickets for $17 each! Proper military ID must be presented.
LINK:
Knott's Berry Farm
Oh and a little bird told me that the Olive Garden restaurant they visited recently also told them that they would have free dinners for Veterans. They didn't have a lot of details so call your local Olive Garden to see if they are participating.
Sign up for Del Taco's Raving Fan EClub and you will get two chicken soft tacos as well as a FREE shake on your birthday. This sound exceptionally wonderful to me right now.
LINK:
Del Taco Raving Fan EClub
FREE EBOOK COOK BOOKS
Recipe Lion has a great FREE eCookbook available right now 24 Thanksgiving Dinner Recipes and Fall Craft Projects eCookbook.
LINK:
Recipe Lion Cookbook
Follow the link below for the Best of Betty Crocker Fall 2011 Cookbook. Download while you can or print it up.
LINK:
Best of Betty Crocker Fall 2011
Fall and Winter are great times for soups and stews. Betty Crocker also has a great Soups, Stews and Chilies cookbook with lots of great crock pot recipes too. This is through NxtBook.com.
LINK:
Betty Crocker Soups, Stews and Chilies
FREE MUSIC
Sign up with FreeCCM and get some great free downloads. Available now are songs by Chasen, The Choir, Andy Cherry, Sara Groves, Phil Wickham, Shane & Shane, Heather Williams and Derek Webb.
LINK:
Free CCM Free Christian Music
GIFTS YOU CAN MAKE
Every week, I have put some focus on gifts you can make. This week I am going to be a little self serving with this list. I have been in the process of saving those plastic Kool Aid tubs so I can fill them with different nut gifts. Here is a list of some amazing recipes I found.
The Union Square's Cafe Bar Nuts
- This recipe involves mixed nuts with a great combo of fresh rosemary leaves, cayenne pepper, dark brown sugar and unsalted butter. I can taste it already! I picked up this recipe from Food Network.
Spiced Mixed Nuts
- Again use mixed nuts (raw) to make a fabulous spicy mixed nut treat for giving. I found this awesome recipe at Real Simple.

Sweet and Sassy Nuts
- These treats have a little sweet and a little spice with cumin, cinnamon and chipotle chili powder. This comes from one of my faves Good Housekeeping.

Sugar and Spice Candied Nuts
- You may be thinking "What is with the spice obsession?" It is simply that a little sweet really gets set of great with a little kick. You definitely want to look into this amazing mixed nut recipe from the Smitten Kitchen.

Coffee-Glazed Nuts
- Do you know someone whose eyes glaze over with delight at the mere idea of coffee? This could be the gift treat for them. I found this simple recipe at NestleMeals.com.
Butter Toffee Nuts with Sea Salt
- This is a fave of mine. I love anything with even a hint of toffee. I was thrilled to find this recipe at Oprah.com.

Chocolate Covered Caramelized Nuts
- I can't even imagine making nuts without including some chocolate covered goodies. This recipe calls for either Brazil nuts or almonds. You definitely want to use a larger nut which you will see as you read the recipe. Oh, I found this recipe at About.com Candy.
Gourmet Chocolate Covered Nuts
- I like this recipe because it involves a crock pot. You still have to watch it of course, but still that is definitely a favorite cooking item in my home. The recipe also is for six pounds! You have to love that kind of yield. I found this also at About.com, but this time under desserts/baking.
Chocolate Covered Pecans
- Pecans are one of my favorite nuts. This recipe calls for semi-sweet chocolate chips and heavy cream. Both items are on sale like fury during the holidays. I found this recipe at Allrecipes.com.

Norwegian Candied Nuts
- I debated putting this up here. I want to make this recipe because I am part Norwegian. I told myself that if I could spell Norwegian at this hour (it is 12:21 AM as I type this), I will add the recipe link. It looks relatively simple, and from what I have read when hunting this recipe down, it is quite delicious. I got this particular recipe from recipegoldmine.com, but I found the same one EVERYWHERE. Seriously, just goodsearch it, and you'll find it.

Jalapeno Nut Mix
- I am a sucker for jalapenos. One of my favorite treats is jalapeno popcorn that I get at Treats in town. Because of this love, I HAD to search for a jalapeno nut recipe. This one sound quite good and comes from Recipes.com and it looks like they got it from Southern Living.
GROCERY DEALS
The following is just a smattering of some of the deals that caught my eye:
SAFEWAY
Assorted Pork Loin Chops, Bone-In $1.99 lb
Hass Avocados 2/$1
Select Varieties of Campbell's Condensed Soups 99 cents
Arm & Hammer Liquid Dertergent 60.5 to 75 oz 1/1 Free (save up to $5.99 when you purchase 2)
Blackberries or Raspberries 5.6 to 6 oz 2/$3
Texas Ruby Red Grapefruit 2/$1.00
Jumbo Yellow Onions 2/$1.00
Flier Coupons- C&H Granulated Sugar $2.49 (limit 2)
Flier Coupons- Nestle Baking Morsels 11-12oz $1.399 (limit 2)
FRY'S
Jennie-O Grade A Frozen GTurkeys 59 cents lb (limit 1) with additional $25 purchase
Farmer John or Bar S Bacon 12 oz $1.99 each (limit 2)
California Navel Oranges 88 cents lb
Sara Lee Bread, Select Varieties 99 cents (limit 2)
Fry's Gallon Milk, Vitamin D, 2%, 1% Low Fat, NOnfat Gallon $1.57 (limit 2)
Satsumas Mandarins 5lb bag $3.99
Anjou, Bartlett, Bosc or Red Pears 88 cents lb
Cooks Smoked Shank Half Ham $1.27 lb (limit 1)
Romaine, Red or Green Leaf Lettuce 96 cents
Bunch Celebry $1.18
Gala or Fuji Apples 99 cents lb
Kroger Brown or Powdered Sugar 2lb 3/$5
Kroger Flour 5lb Select Varieties $1.89
Libby's Pumpkin 15 oz Can $1.99
Kroger Breakfast Sausage 16 oz Roll, 12 oz links or Patties, 8-9 oz Fully Cooked 2/$6
Mom's Best Natural Cereals 3/$4 (These Rock!)
Buy 10 Save $5 (There are quite a few of these deals. These were my faves.)
Annies Natural Macaroni & Cheese 69 cents
Kroger Salad Dressing Select Varieties 99 cents
Cool Whip 8 oz 99 cents
Lipton Recipe soup Mix 2 count 99 cents
ALBERTSONS
Red Seedless Grapes 75 cents lb
Broccoli Crowns 69 cents lb
Doritoes 11-11.5 oz 1/1 Free (save $4.29)
93% Lean Ground Beef $2.29 lb
Boneless Pork Loin in Bag $1.97
10 for $10
Albertsons Cereal 11.8 to 20 oz
Oats 18 oz
Albertsons Hot Chocolate 8-10 count
Hunts Spaghetti Sauce 26-26.5 oz
Hunts Diced Tomatoes
Davinci Pasta 16 oz
Progresso Vegetable Classic Soups 18-19 oz
Banquet Value Meals 5-10.25 oz
Chef Boyardee Pasta (Select Varieties) 7.5-15 oz
Roma Tomatoes 99 cents lb
Hass Avocados 99 cents each