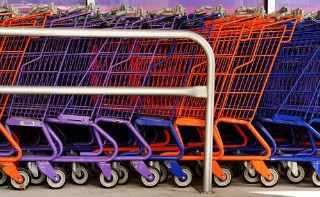 WEBSITE
I am crazy about my phone's Kindle app and my Nook. The one thing that I wasn't too crazy about was that I couldn't really pass an ebook on to someone else like I can a regular book. I was psyched to see that I can borrow lendable books through ebookfling.com. It is a great site where you can post your lendible books and borrow other's lendable books for 14 days. When you lend a book, you get credit to borrow a book. You can also buy credit for $2.99 which really isn't a bad price to pay for a read.
LINK:
eBookFling.com
You have probably heard of Groupon or LivingSocial but I have got to share with you Barkingdeals.com and Meowingdeals.com. These two social shopping sites are for pet owners. You can get deals on toys, travel items, food and lots more at 50 to sometimes 90% off. You also get free shipping! There is one deal a day and when it is gone, it is gone. Check them out at the link below.
LINK:
Barkingdeals.com
LINK:
Meowingdeals.com
FREEBIES
Man oh man, when I started online freebie hunting about 11 years ago, there were TONS! You could always find great freebies. They go a lot faster now. But I do have a few to share. But truly act right away, because they will probably be gone in a blink.
If you have a facebook account, follow the link below for a free sample of Emergen-C Kidz. While there you can also take the pledge to commit to a fun and healthy lifestyle for you and your family, and Emergen-C will donate 25 cents to Vitamin Angels.
LINK:
Emergen-C Kidz
If you haven't picked up Emergen-C for us big kids, head on over to the link below. Be sure to click on Free Samples.
LINK:
Emergen-C
Maybe it is because the weather is slowly getting cooler or maybe it is because I have a stuffy nose, but a free sample of Twinings tea sounds great to me. Visit the Twinings Pantry and check out the various tea varieties and pick three to try. I don't know how long this great sample will last so head on over right away.
LINK:
Twinings Tea Sample
FreeCCM has more great music this week. Sign up if you aren't a member already. Seriously, you wont regret it. You can get songs right now from Laura Story, Darlene Zschech, Bart Millard, Ashes Remain, The Afters and Caedmon's Call.
LINK:
Free Christian Music Downloads
FREE EBOOKS
Love Finds You In Homestead, Iowa by Melanie Dobson (
Amazon Kindle
)
Sons of Thunder (Brothers in Arms) by Susan May Warren
(
Amazon Kindle
)
Summer of Fire (Yellowstone series) by Linda Jacobs
(
Amazon Kindle
)
(
Barnes & Noble Nook
)
My Heart Remembers by Kim Vogel Sawyer
(
Amazon Kindle
)
(
Barnes & Noble Nook
)
The Preacher's Bride by Jody Hedlund
(
Amazon Kindle
)
(
Barnes & Noble Nook
)
The Choice (Lancaster County Secrets, Book 1) Suzanne Woods Fischer
(
Amazon Kindle
)
(
Barnes & Noble Nook
)
GROCERY SALES THAT SNAP
ALBERTSONS
Fresh Boneless Chicken Breasts $1.77 lb
Red Ripe Strawberries 99 cents 1 lb container
Albertsons Gallon Milk $1.57 (limit 2)
Ground Chuck 5 lbs or more $1.99 lb
Bartlett, Red or Bosc Pears 99 cents lb
10 for $10 Sale mix and match
Chef Boyardee Canned Pasta select varieties
Chicken of the Sea Solid White Albacore Tuna 5 oz
Rosarita Beans Select Varieties 15-16 oz
Progresso Vegetable Classics Soups 18-19 oz
Hunts Ketchup 24 oz
Banquet Value Meals 5-10.25 oz
Motts Apple Sauce 23-24 oz
Mix and Match buy 8 Save $4
General Mills Cereal 8.9-12 oz $1.49
Betty Crocker Helper 4.4-7.8 oz 99 cents
Betty Crocker Super Moist Cake Mix 15.25-18.4 oz 99 cents
Betty Crocker Frosting 12-16 oz 99 cents
Old El Paso Tostada or Taco Shells 10-18 ct 99 cents
Gold Medal Flour 4.25-5lbs $1.99
FRY'S
Pluots 88 cents lb
Pork Baby Back Ribs or St. Louis Style Spare Ribs $2.77 lb
Driscoll's Respberries 97 cents lb
Roma Tomatoes 99 cents lb
Romaine, Red or Green Leaf Lettuce 96 cents
Buy 10 Participating Items save $5.00
Capri Sun or Kool-Aid Jammers $1.49
Kraft Salad Dressing (select varieites) $1.49
Ritz Crackers 7.5-16 oz $1.99
Blue Diamond Almond Breeze $1.99 half gallon
SAFEWAY
Red Lion Nectarines 77 cents lb
Green Bell Peppers 2/$1.00
Jennie-O Turkey Store Line Sale buy 1 get 1 free on Ground Turkey, Turkey Sausage or Turkey Burgers (save up to $5.99)
Hass Avocados 99 cents
Dairy Glen Milk Gallon Whole, 2%, 1%, or fat free $1.57