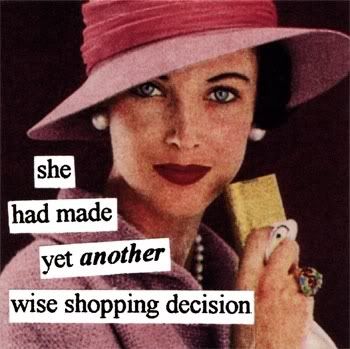 SHOPPING REMINDER
Don't forget that now is the time to cash in on all the end of summer sales. You can pick up some serious deals right now up to 70% off on swimsuits, beach accessories, pool accessories, barbecue grills, and summer clothes. Pick it up now and pack it up for next season.
FREE MONEY SAVING CLASS
Two weeks ago, I gave you a heads up on
Practical Saver
Kara Rozendaal heading up a fabulous money saving class at the Prescott Public Library. Well that class is tonight! If you haven't checked it out, head on over to our calendar page and call Kara up and get in on this blessing. Kara seriously knows her stuff, and has shared her wisdom with shoppers all over Arizona. The class is from 6 to 8pm. You will learn soooo much!
LINK: Calendar info
FREE FAMILY FUN
September 24th is Museum Day, and you can get free museum admission. Sign up at the Smithsonian Magazine site (link below) and once you submit your information a ticket will be emailed to you. This ticket is good for admission for two to one of the participating museums. Make sure that you bring your ticket with you. Now what museums are participating in Arizona? Check it out, but also remember to check with them as well...just in case:
Dragoon
Tempe
Tucson
Mesa
Mesa
Tucson
Bisbee
Casa Grande
Cave Creek
Phoenix
Phoenix
Wickenburg
Tucson
Phoenix
Tucson
LINK:
Free Ticket Entry For Two To Participating Museums
This Saturday the kids can build a Fire Truck at the Lowe's Build and Grow Clinic. If you haven't yet, sign them up now.
LINK:
Lowe's Build and Grow Clinic


FREEBIES
If you have a Twitter account, you can get a free $2.00 credit for Amazon Android App Store. I love the free app a day, but sometimes they do have apps that I would like to have, but I am not ready to cough up the bucks. With the $2.00 I can make it a slight throat clearing instead (wow...am I lame). :) Follow the link below if you would like to learn more.
LINK:
$2.00 Amazon Android App Credit (must have Twitter)
Sign up for your free sample of Dove Nourishing Oil Care Leave-In Smoothing Cream sample. I wonder if this will get rid of my static hair issues. You know the drill, this sample is available while supplies last. PS You do have to sign up as a member for this.
LINK:
Dove Nourishing Oil Leave-In Smoothing Cream
Sign up for a free sample of Disney's gummy vitamins. You can select Cars or the Princess variety. Follow the link below. Get them while supplies last.
LINK:
Disney Vitamin Gummies
This sample goes very fast. Check out Spiru-Tein protein shakes. I have gotten the Cappuccino flavored shake before, and it was excellent.
LINK:
Spiru-Tein Shake
FreeCCM has lots of great free Christian music downloads each and every week. They are also a great stop for music news and contests. This week's downloads are from Derek Webb, Laura Story, Ashes Remain, Darlene Zschech, Bart Millard, The Afters, and Caedmon's Call. You do have to be a member, but it is free and totally worth it.
LINK:
Free CCM Christian Music Downloads
New Release Tuesday always has great music reviews as well as some great free music. This week you can get "One Thing Remains" by Jeremy Riddle, "Mystery of Grace" by Ginny Owens, "The End Of Me" by Jason Gray, "We Are Your People" by Darlene Zschech, and "By Faith" by The Sonflowers. Some of these free downloads expire on September 26th so don't wait to long.
LINK:
New Release Tuesday
PS I mentioned contests. NRT has several going on right now. You only have to enter once. :)
LINK:
NRT Contests
GROCERY DEALS
ALBERTSONS
Assorted Pork Chops bone-in $1.98 lb
Fresh Atlantic Salmon (farm raised) $4.88
Hunts Spaghetti Sauce 26-26.5 oz 88 cents
Tilapia, Flounder or Pollock Filets 16 ounces 1/2 free
Red, Yellow or Orange Bell Peppers 88 cents
American Beauty Pasta 16 ounces 88 cents
Ribeye Steak bone-in $4.88 lb
Mission Soft or Whole Wheat Taco Tortillas 2/$3.o0
Chicken of the Sea Chunky White Tuna 5 ounces 98 cents
Kraft Handi-Snacks PUdding 4 pack 98 cents
Chiobani Greek Yogurt 6 ounces select varieties 98 cents
Tomatoes On the Vine 14 ounces $1.88 each
SAFEWAY
Rancher's Reserve Boneless Beef Top Round London Broil Steak $2.29 lb
Red Seedless Grapes 88 cents lb
Yellow Nectarines 99 cents lb
Roma Tomatoes 99 cents lb
Red or Green Bell Peppers 99 cents lb
Farmer John Meat Weiners 99 cents
Gala Apples 88 cents lb (Friday, Saturday & Sunday only)
FRY'S
Kroger Value Boneless Skinless Chicken Breasts or Tenderloins $1.67 lb
Hass Avocados 77 cents each
Red or Yellow Bell Peppers 88 cents each
Shamrock Dairy Sale 40% off
Bar S Franks 16 ounce 10/$10
Green Onions or Radishes 2/$1.00
Cucumbers or Green Bell Peppers 59 cents