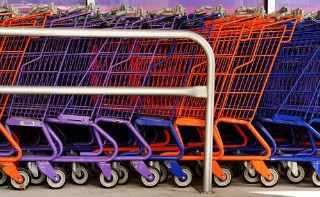 WEBSITE
You know I love to share a cool website when I can. Today's share is Google Tip Jar. Google Tip Jar has great tips from posters all over who share on ways to stay healthy, save energy, save money, and more. Just click on any topic on the left side. You can spend lots of time at the Google Tip Jar learning all kinds of tips, sharing your own, and even voting for tips. Some of the tips are a little basica like take your lunch to work to save money, but others really are worth the look. Check it all out at the link below.
LINK:
Google Tip Jar
FREEBIES
If you have dogs or pups, you might want to sign up for a free sample of Natural Nibbles dog snacks. Get a treat for your four-legged bud while supplies last by following the link below.
LINK:
Natural Nibbles
If you didn't sign up yet, get on over to the Kashi website and sign up for a sample of their TLC Peanutty Dark Chocolate layered granola bar. The cereal sample is now cleaned out, but I got the bar last week, and it was yummy!
LINK:
Kashi TLC Bar
The Beech Nut Stage 4 Toddler welcome kit is available. If you have a toddler, totally check them out at the link below.
LINK:
Beech Nut Stage 4
Lactaid Fast Act is up. Get your hands on a sample now by following the link below.
LINK:
Lactaid Fast Act
For those with Twitter accounts, you can use your Twitter account to get $5 in Amazon Instant Video credit. With that credit you can rent a movie, television show to watch instantly on your computer or streamed to your TV if you have the gaming systems that help you do so. Either way, it is really easy to do. I did it with my Twitter account, and my family enjoyed that free movie. Just follow the simple steps on the Amazon page at the link below. You tweet and get a great deal. If you don't have a twitter account but would like one head
here
.
LINK:
Tweet for $5 Amazon Instant Video
If you live near a participating Chick-fil-A restaurant, make a reservation now for a free breakfast entree. Here is the skinny directly from their site: From
September 6 – 10, 2011
, participating
Chick-fil-A®
restaurants are giving away a variety of
FREE breakfast entrées
to customers who make a reservation online.
Follow the link below to see what locations near you are participating and sign up now.
LINK:
Free Breakfast Entree at Chick-Fil-A
These can be touch and go, but supposedly these are codes good for the free $1.00 rentals at the Blockbuster Express kiosks. These are supposed to be good through September 2nd.
9HLG4X or 36TTDR9
Find a kiosk by clicking on the link below. I know I have seen them at Safeway.
LINK:
Blockbuster Express
Sign up for a free slow cooker cookbook from Mr. Food. This is an ecookbook.
LINK:
Free Slow Cooker Cook Book ecookbook
You can also download the Gooseberry Patch Sun-Maid Family Favorite Recipe ecookbook.
LINK:
Free Gooseberry Patch Recipe ecookbook
Here are some more great ebooks for your Kindle or Nook. And of course don't forget that there are apps for smart phones and computers for those who do not have these devices.
The Oak Leaves by Maureen Lang
Amazon
Barnes & Noble
I Shall Not Want : Psalm 23 Mysteries Book Two (The Psalm 23 Mysteries) by Debbie Viquie
Amazon
Barnes & Noble
Soon: The Beginning of the End (Underground Zealot Series #1) by Jerry B. Jenkins
Amazon
Barnes & Noble
The Holy Bible ESV (I picked up this version for my Nook when it was free, and I absolutely love it)
Amazon
COUPONS & SAVING MONEY
It is a new month and time to load up your loyalty cards with coupons.
SavingStar (a great way to have savings add up for Amazon gift cards, Paypal cash and more. Read up on how it works, and if you haven't signed up yet, do it now.
LINK:
SavingStar
Another great way to load coupons to your card is Cellfire. We have talked about it a lot. Follow the link below to sign up or just to upload your newest deals.
LINK:
Cellfire
If you haven't registered your Safeway card, do it now, and you can get even more coupons directly on your Safeway loyalty card. Register and activate now and you can get free eggs.
LINK:
Safeway
Sign up for emails and register your CVS Extra Care card and you can get a coupon for $4 off of a $20 purchase. You will also soon be able to send coupons directly to your card. This coupon is for card holders who do not currently have an email on file.

LINK: CVS
CHECK OUT OUR CALENDAR
There are two great free events on our calendar that you have to check out. This Friday you can catch a free showing of the inspirational film "Soul Surfer" at the Chino Valley ball field. There will be free hamburgers, hot dogs, and popcorn starting at 6:30 pm with the film beginning at dark. All this free fun is being brought to you by the Chino Valley Word of Life Assembly of God. They had to cancel because of rain a few weeks ago but it is on again. If you need details jump over to our calendar for more.
LINK:
Calendar
Those of you who want to learn some of the important ins and outs of saving money and do it the free way absolutely must go to the free couponing class that will be held by Practical Saver Kara Rozendaal. Don't miss out on this free class from an absolute money-saving pro. The class will be held on Thursday evening September 22 from 6:00 pm to 8:00 pm at the downtown library in Prescott. Again more details are on our online calendar.
LINK:
Calendar
FREE MUSIC
FreeCCM has lots of great music downloads. Head over now and get free songs from MercyMe, Ashes Remain, The Afters, Caedmon's Call, Chris Rice and Fee.
LINK:
Free Christian Music
GROCERY DEALS
ALBERTSONS
Pork loin back ribs, bone-in previously frozen $5.99 lb 1/2 free or
Pork spare ribs, bone-in previously frozen $4.99 lb 1/2 free (limit one deal per transaction)
Green Seedless Grapes 69 cents a pound
Coke products 12 packs 4/$8.88 with a $25 purchase
Boneless Skinless Chicken Breasts $1.67 lb
Fresh Atlantic Salmon Filet Farm Raised $4.99 lb
S&W Beans 15-15.5 oz 5/$3.o0
Herbal Essence or Garnier Fructis Shampoo, Conditioner or Fixatives 3-13 oz 2/$5.00
FRY'S
Coca Cola or Pepsi soft drinks 12 packs 4/$8.88 with a $25 purchase
Lays Potato Chips $1.88 (limit 2)
Strawberries 16 oz buy one get one of equal or lesser value free
Hebrew National Franks 11-12 oz 2/$5.00
Sweet Baby Ray's Barbecue Sauce 88 cents each
American Beauty Pasta 10/$10.00
SAFEWAY
Red Lion Nectarines 99 cents lb
Ranchers Reserve Boneless Beef Chuck Steak $2.49 lb
Premium Sweet White Corn on the Cob 6/$1.00
Buy 2 12 packs of Pepsi Products or 7-up and get 3 free
Red or Green Bell Peppers 99 cents each
Barilla Pasta 10/$10.00 Select Varieties