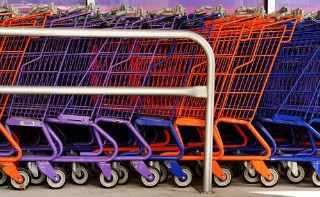 Extreme Couponing from TLC got me to thinking about the ways I get coupons. I have to say that I have never dumpster dived or went through recycling cans. I think sometimes maybe I should, but then again no. The fact is coupons aren't just for newspapers anymore, though I must admit that I am a HUGE lover of the newspaper coupons and will always purchase my Sunday paper and clip away (well except on major holidays when there are no coupons). Here are a few places where you can locate some more coupons.

Online newspapers - Did you know that major newspapers also have online printable coupons? Here is the link for some printable coupons from the Arizona Republic: Coupons

Other sites:

Coupon Spotters
Smart Source
Redplum
Coupons.com
Coupon Bug

Mambo Sprouts (organic products)
Your local grocery store may also have a way for you to print coupons online. So be sure to look up their sites as well.
Also be sure to check out your favorite products web pages. You never know when a great deal will pop up. For example, when I was on Coupon Spotters, I found out that I could get a printable coupon for
$1 off McDonald's
Frozen Strawberry Lemonade, Frappe or Fruit Smoothies (my personal favorite).
Lastly do not forget Cellfire.com What is better than just loading a coupon directly to your shoppers card. No cutting and no forgetting.
PRICE MATCHING TIP
Okay we all know about Walmart's price matching, but did you know that there are other stores that offer price matching? Target, Kohl's and Hobby Lobby also price match AND Lowe's price matches and if you find an identical item at a competitors store Lowe's will actually beat that price by 10%! So don't be shy...know your prices.
FREEBIES
I love, love, love snack bars, and Zone Perfect is definitely one of the tops. They have a sweet and salty bar that you can try now. Just head on over to their facebook page and sign yourself up for a free Sweet and Salty Zone Perfect bar. You also have the option to invite three friends to try it.
LINK:
Zone Perfect Sweet & Salty
I have learned to love cooking. One of my favorite things about cooking is using different spices. It is amazing how the right spices can totally jazz up the taste of the dishes you cook. I have to say that my spice cabinet is overflowing, but there is always room for more. Especially when it is free and it is from Emeril Lagasse. While supplies last you can sign up for Emeril's Original seasoning packet. This is a fabulous way to give your own recipes a kick.
LINK:
Emeril Original seasoning packet
Sign up your children now for a free Lowe's Build and Grow Clinic on May 28th where they can build a biplane! It is seriously cute. While you are at the website you may also like to sign them up for the clinic to build a fun father's day gift of Goofy Golf on June 11th. Follow the link below to get your kids set up for some learning fun.
LINK:
Lowe's Build and Grow Clinic
Like Arby's on Facebook and get a coupon for a free Market Fresh Sandwich with the purchase of a drink.

LINK:
Arby's
International Museum Day is May 18th and many Valley museums will be offering half price admission and other admission discounts. Get all the details at the link below.

LINK: International Museum Day

I don't know about you, but I LOVE chocolate. If I weren't on a diet, I would leap on this offer for a free sample of chocolate from Gimi Chocolate. Oh who am I kidding, I'll order it anyway. :) It is Swiss chocolate, and from what I hear, the Swiss really got their chocolate down. :) Sign up while supplies last.
LINK:
Gimi Chocolate
Okay...I don't know what the freebie is going to be, but I do know that Old Spice will be giving away 10,000 of them today. So if you care to like them on Facebook, you just might get a pretty awesome freebie.
LINK:
Old Spice Facebook Freebie
Clairol is also going to be surprising their fans on the 13th to the 15th of May at 12:oo pm with coupons for a great hair color freebie. Mark your online calendars and stop by.
LINK:
Clairol Facebook Freebie
Sign up for a free sample of Soooo Sweet Stevia if you are ready to break the sugar habit and go for something low cal and natural.
LINK:
Soooo Sweet Stevia
If you haven't taken the opportunity yet, you can still sign up for a free sample of Miracle Whip. I'll be honest, it isn't my thing, but my husband likes it.
LINK:
Miracle Whip
If you have a child entering toddlerhood, you might want to sign up for the Beech Nut Toddler Welcome Kit. This kit contains great coupons with some fabulous savings while you are moving your child past the baby food.
LINK:
Beech Nut Toddler Welcome Kit
iTickets.com has two great downloads this week. Remember that you do have to be a member. Sign up to get Nicole C. Mullen's "Kingdom Come" and Anthem Lights' "Can't Shut Up."
LINK:
itickets free songs
If you like shopping at Zappos, you might want to sign up for Zappos VIP. For a limited time you can get FREE...yes FREE unlimited overnight shipping. :)
LINK:
Zappos VIP