Finally I am done with the California trips. Well done until August 9th when I go back to see how the latest meds (doc has me on Armour Thyroid and Cytomel) are doing. Soooo posting has been kind of stinky. Sorry about that. Here is today's posting from my thrifty tips spot at the station.
Another thing I have been a little lax in is my keeping track of spending. I am okay, but I am really going to make a concerted effort. It really does make a difference. With back to school shopping ahead, I have to stop being such a slacker. :)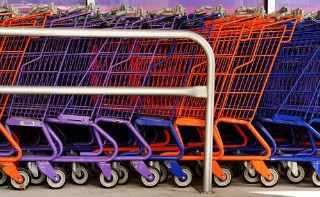 Okay. We are definitely nearing the big back to school countdown. Last week I talked about getting a total inventory of all the kids clothing. If you haven't done it yet, seriously do this. Figuring out what your children need can keep you from over spending.
This week I highly recommend doing the same thing with your kids school supplies. In fact this is something to keep in mind for next year. On the last day of school. Separate the pencils, pens, papers and folders and put away what you think is in good enough condition for next year. We do this every year which usually makes going through all the school supplies pretty easy. I like to box them up if possible. It keeps us from looking around the house for things like the special calculator that my son had to have for Algebra. :)


Now for shopping. Shop around because there are deals everywhere. If you have a computer look around online at the online fliers. If you have a good idea of size, check the online clothing sales too. When it comes to clothes, take advantage of thrift stores, yard sales, rummage sales and consignment shops. Now is a great time to pick up some great items at these outlets as people are thinning out closets and making donations in preparation for back-to-school shopping. Hit those clearance racks at the retail stores. I have been continually stunned at the amazing deals I have been finding at retail stores. I went to a GAP outlet about a month ago and was quite literally stunned by the great deals out there in the clearance sections.


School supplies can be purchased all over, but it is important to get going while the sales are in full swing. Shop at the grocery store, office supply stores, drug stores and mass merchandisers like Walmart and Target. The important thing is to know your prices again, and do not be afraid to shop at more than one store for the best sales. If you take the time to plan your route, you can usually take advantage of the sales without wasting gas.
When buying school supplies don't forget things that might not be on your child's list now but your child will need in the future like report covers and index cards.
You can find these items for a seriously good price now so take advantage while they are inexpensive.
PS I have noticed lots of great deals on hand sanitizer and tissue too. You might want to pick up some of these deals for your child's classroom. I know my son's teachers have appreciated it.
And don't forget whether you are shopping for school clothes or school supplies, bring your lists!


FREEBIES


While supplies last get your hands on a sample of
Oxy Skin Care
. The sample will arrive in two to three weeks!


LINK:
Oxy Skin Care Sample


If you like Estee Lauder, you may want to head to their counter today (July 22nd) between 5:00 pm and 9:00 pm to get a
ten day supply of Estee Lauder Advanced Night Repair Eye or Face Serum
. No purchase necessary!


LINK:
Estee Lauder free 10-day supply Advanced Night Repair Eye or Face Serum


For the time being YOU can get a sample of Nexxus Therappe Shampoo, Humectress Conditioner and the new Humectress deep conditioner from Walmart.com. I love this stuff! I have no idea how long this Walmart free sample will last so hurry on this one!
LINK:
Walmart Nexxus Samples


Walmart also has a free sample of
Schiff Mega Red Omega 3 Krill Oil
. Check out the details at the link below.


LINK:
Walmart Mega Red Omega 3 Krill Oil


Nature's Bounty is offering a
free pedometer
again! We got one a little while ago, and my son loves it. If you have wanted an easy way to monitor your steps and walking this is a cheap way to get at it.


LINK:
Nature's Bounty Pedometer


Choose You is a movement created by the American Cancer Society that encourages women to put their own health first in the fight against cancer. Choose You challenges women to make healthier choices, and supports them in their commitment to eat right, get active, quit smoking and get regular health checks. Register now and you can get your own
Choose You flower pin
. A pretty little reminder of how you should do things to improve your health.


LINK:
Choose You Pin


FreeCCM has a free download this week of

Todd Agnew's "Give Me Jesus."

They also still have songs by Chris Rice, Laura Story and Jeremy Horn.


LINK:
Free CCM