YEP. It is Thursday, so I am posting my day job from my day job. I actually do not have internet at home right now. Some sort of snafu apparently. Anyway, again check us out at www.radioshine.org or if you are in Arizona at 90.9 FM,101.9 FM or 90.7 FM in Phoenix and Northern Arizona.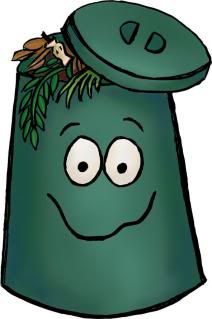 Today I thought I would talk a little bit about composting. With the use of composting, you can make your soil better for a good garden. And remember you can garden at any size whether you use pots, a raised garden, or even have a good stretch of land to cultivate.
Composting tips:
How to make a composter out of a garbage can. There are links all over the place for this fairly easy composter. Below is a very easy to follow article from About.com
LINK:
Make a Trash Composter
You can also purchase a repurposed garbage can from the city of Phoenix at a city disposal facility for just $5! Follow the link below for details:
LINK:
Phoenix Composter
The University of Missouri also has a great page with how to make several kinds of composters. Check it out below.
LINK:
University of Missouri - How to Build a Compost Bin
What to compost?
It is suggested that you avoid meat, dairy, fecal matter from household members including pets (just didn't really know of a gentler way to say it than that), weeds, bones, diseased plants, needles from evergreens, eucalyptus, walnuts, charcoal, cooked food waste, dishwater, fish scraps and grains. This list I got from Jonnie McCoy's book Frugal Families.

FREEBIES
Give a pint, get a pint: United Blood Services and Blue Bell Creameries are partnering to thank Arizona blood donors! From June 1 to July 5 blood donors will be thanked with a voucher for a free pint of Blue Bell ice cream in appreciation for their giving. To make an appointment call 1-877-448-GIVE or visit www.UnitedBloodServicesAZ.org. Enter your zip code for the site near you.
Dove has a free sample of Intensive Repair Daily Treatment conditioner while supplies last. I would click on the link below before it is gone!
LINK:
Dove Intensive Repair Daily Treatment
Summer is the perfect time for picnics and sandwiches. Kraft has a way to jazz up those sandwiches with their new Sandwich Shop Mayo, and they are offering free samples while supplies last. Follow the link.
LINK:
Kraft Sandwich Shop Mayo
On June 1st through 7th you can request to Glidden paint samples for you and then request 2 for a friend. All for free. A great way to check a color out before you commit.
LINK:
Glidden paint samples
You can also print out the coupon at the link below for a free 2 oz sample of Benjamin Moore paint. You must bring this to an authorized Benjamin Moore paint dealer. Limit 1 per customer, must be 18 years of age or older, and coupon expires on June 30, 2010.
LINK:
Benjamin Moore Paint Sample Coupon
Nexcare bandaids is trying to inspire others to give blood, and they are asking for help. Sign up and they wills end you two Nexcare "give" bandages to help spread the word and inspire others to donate.
LINK:
Nexcare Give Bandaids
Free Admission to Museums from Memorial Day through Labor Day for active duty military personnel and their families.
Blue Star Museums is a partnership among Blue Star Families, the National Endowment for the Arts, and more than 600 museums in all 50 states to offer free admission to active duty military personnel and their families from Memorial Day, May 31, 2010, through Labor Day, September 6, 2010. Follow the link for more details and particulars.
LINK: Free Museum Admission

Free Museums In Arizona:
Arizona State Museum
Tucson, AZ
Desert Caballeros Western Museum
Wickenburg, AZ
Heard Museum
Phoenix, AZ

Museum of Northern Arizona
Flagstaff, AZ
Phoenix Art Museum
Phoenix, AZ
Scottsdale Museum of Contemporary Art
Scottsdale, AZ
The Mini Time Machine Museum
Tucson, AZ
Jiffy Mix has a new recipe booklet out with new recipes, nutrition facts and even some camping recipes. One per household. Get yours by linking below.
LINK:
Jiffy Mix Recipe Booklet
Okay you know how bacon has become the new condiment? I have seen bacon flavored lip gloss and scented candles. You can get in on the bacon trend without the extra calories by trying
J & D's bacon salt. I bet that it would taste good on a tomato sandwich. Get a sample of J & D's Bacon Salt and some stickers (not sure if they are just plain or smell like bacon) by hitting the link below. You know you want to!
LINK:
J & D's Bacon Salt Sample
While supplies last you can sign up for a sample of Nature's Made Chewable D just for signing up for Nature's Made Wellness Advisor.
LINK:
Nature's Made Chewable D
John Frieda has a Sheer Blonde Highlighting Activating Shampoo and Conditioner sample giveaway at their website while supplies last. Give it a go by following the link below.
LINK:
John Frieda Sheer Blonde
Don't forget about signing up your children ages 5 to 12 for the Home Depot Kids Workshops. Saturday, June 5th workshop will be for a wooden soccer game.
LINK:
Home Depot Kids Workshops
Saturday May 29th Lowe's Build and Grow Clinic project is a race care with a Memorial Day paint theme, and on June 15th the project is an awesome picture frame that will make a great gift!
LINK:
Build and Grow Clinic
Do you have kids who like stickers and motorcross. You might want to sign up for the free O'neal Motorcross stickers. When I was a kid I would have plotzed over this!
LINK:
O'neal Motorcross
FreeCCM.org is offering a free download of Jonny Diaz song "Love Like You Loved." They also still have free downloads by 33Miles, Mike Farris, Joy Whitlock and Mark Harris.
LINK:
FreeCCM
Get some amazing free summer music from Tooth & Nail Records, BEC Recordings and Solid State Records! 15+ songs! Fill out your information and they will email you the download link.
LINK:
Summer Music from Tooth & Nail, BEC & Solid State
Five free CD downloads from ionworship.com. Follow the link and click on "Shop" (left side bar). Once you are on the shop page click on Freebies.
LINK:
ionworship.com free music
Head over to one of my favorite sites, New Release Tuesday and download a copy of Jimmy Needham's "Moving To Zion" as well as
LINK:
New Release Tuesday
Check out Homeschool Freebie of the Day to download a PDF of "Making the Most of Your Summer Break." This is a great resource compiled from over 200 homeschooling families. You will definitely want to save the site, because Homeschoolfreebieoftheday.com is always full of great resources.
LINK:
Home School Freebie of the Day "Making the Most of Your Summer Break"