Thank you to Kathy Carlton Willis Communications for the book for review.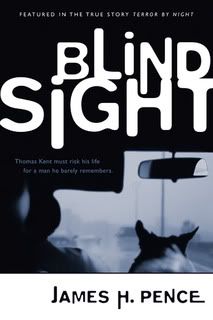 List Price: $9.99
Binding: Softcover
Page Count: 416
Trim Size: 5 1/2 x 8 1/4
ISBN: 978-1-4143-3479-0
CPC Sub Category: Suspense
Release Date: September 2009
ABOUT THE BOOK (Back Cover):
Remember the promise . . .
Save my children . . .
All Thomas Kent wants is to die . . . but a mysterious e-mail and a voice from the past stir him to fight for his life and the lives of a family he doesn't know. The leader of a powerful and dangerous cult threatens the country's future, and Thomas holds the only evidence for its destruction. As the cult's plan enters its final phase, Thomas must cast his fear aside and act before it's too late.
ABOUT THE AUTHOR (From the Publisher's Website):
James H. Pence
Jim Pence, his wife, Laurel, and his two children, Christopher and Charlene, live near Greenville, Texas, where he directs Tuppence Creative Ministries. Tuppence is both a prison ministry and an outreach aimed at encouraging Christians to develop and use their creative gifts for God's glory. Jim turned to writing in 1987 as a helpful means of expression after the death of his infant daughter, Michelle. Nearly ten years later, "A Road Not Chosen," Jim's narrative account of his and Laurel's experience was published in Dallas Seminary's Kindred Spirit magazine.
Jim graduated from Dallas Theological Seminary in 2003 with an MA in Biblical Studies. In addition to Blind Sight, Jim is also the author of How to Do Everything with HTML (Osborne/McGraw-Hill 2001) and Cascading Style Sheets: A Beginner's Guide, (Osborne/McGraw-Hill 2001). His first novel, a young adult thriller titled Friendly Revenge was released in October '99 by Hard Shell Word Factory and was a finalist for an Eppie Award. The 2nd edition of his HTML book, re-titled How to Do Everything with HTML and XHTML was released in November of 2003. Jim is currently working on a new suspense novel, tentatively titled Angel of Mercy.
Jim's op-ed columns have appeared in The Dallas Morning News. Through his op-eds, Jim seeks to provide a Christian perspective on world events, highlighting the need for our culture to turn back to God. He has also been published in The Writer magazine and in the 2001 edition of The Writer's Handbook. Jim is also the founder and co-director of The Greenville Christian Writers' Conference.
Jim is also a gospel chalk artist and vocalist, and frequently uses his art and music to share the Gospel of Christ with inmates in the Texas Department of Criminal Justice. Jim's ministry through art and music reinforces his message that Christians should cultivate their natural abilities and discover how they can use them for God's glory.
My Review:
Do not read Blind Sight before you go to bed if you have a specific bed time. You will NOT want to put it down. At least that is how I felt. That was refreshing. The story had characters I liked and characters I hated. Each one was realistically drawn out and all seemed to fully react and act the way one might expect. The story starts off with a bang and keeps you curious through out. It is definitely an easy read, because it does not lose steam!
The story was told through several of the characters although the main plot is centered around Thomas Kent's efforts in helping this family. I was enthralled by the workings of the cult. It was pretty creepy how things operated, and although I know this was a book, I am also aware that there are specific ways to make a person fold under pressure and totally weaken them. It is also an amazing story of how power can corrupt, and how a painful past if not faced and resolved can be so very damaging.
Obviously there is a religious element and struggle in the novel. It lent the message clear for me that God has a plan and we are probably not always going to know what it is. The important thing is to know He is there.
Blind Sight is a book that is not only entertaining, but it reminded me that God doesn't guarantee an easy life, but He will always be there.
I don't have a star rating, but I would give this a 4.25 star rating if I did. The main thing for me is whether I would recommend this book to others, and the answer is YES. Definitely!